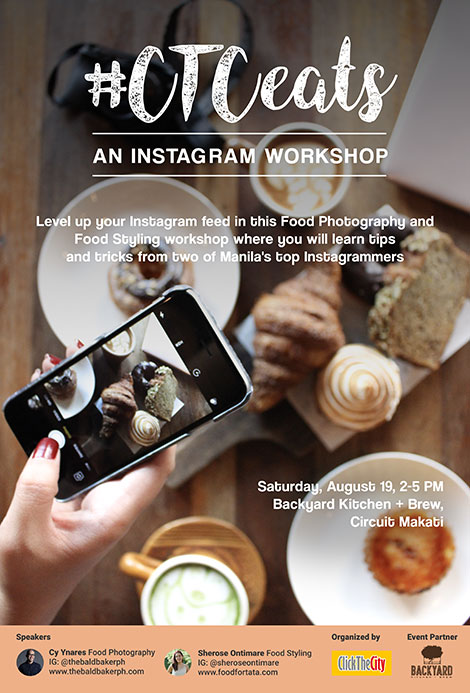 This fun food-filled workshop will teach foodies the basics on how to style, shoot, and share better food photos to make their Instagram feed stand out from the pack. All the Instagram essentials, tips, and tricks will be shared to participants by two of Manila's top Instagrammers popular for their picture-perfect feed and drool-worthy food porn. Cy Ynares (@TheBaldBakerPH) and Sherose Ontimare (@SheroseOntimare) will be the workshop speakers, both self-taught in both food styling and food photography, which proves that a formula of passion, practice, and love for food can bring you more beautiful photos (and followers) on your 'gram!
Aside from learning how to level up your food Instagramming and Instagram-worthy food styling tips and tricks (slay that flatlay!), workshop participants will also get to interact with food in a styling and photography exercise and will get to savor some of the latest offerings of Backyard Kitchen + Brew.
This Instagram workshop is ClickTheCity's first #CTCeats event to encourage food-loving users to share what they love and what they discover around the metro on Instagram using our official foodie hashtag. So whether you're a foodie, a traveler, a restaurant owner, or simply hungry for your next best meal, just check out @ClickTheCity on Instagram and browse through #CTCeats to discover new restaurants, favorite food, and other recommended eats shared by ClickTheCity fans.