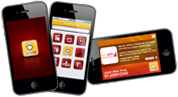 ClickTheCity App
Fit your lifestyle guide in your pocket.
ClickTheCity App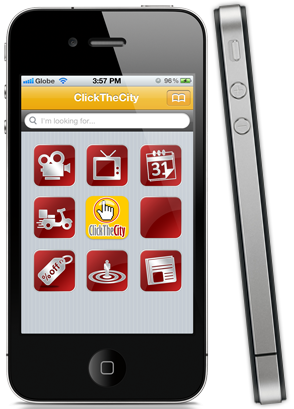 Put us in your pocket.
ClickTheCity can now be easily accessed with your mobile device! The ClickTheCity App fits everything you love about our site into your pocket. Access our Movie and TV Schedules, Events, Food & Dining Guide, Utilities and Privileges -- all in a simple, sleek and user-friendly interface.
The ClickTheCity App is specifically designed for the mobile phone's screen and functionality to make browsing a breeze. It also uses the handset's GPS capability, allowing location-based services.
Highlights
Movie Guide
TV Guide
Restaurant Guide
Event Guide
Search
LBS Functionality
Privileges Membership
News Streams
A Peek Inside:

Movie Guide
Find out what movies are showing when and where, at which malls, and at cinemas near you. Read recent movie press releases and movie reviews, and view movie trailers and featurettes straight from your phone.

TV Guide
Browse schedules for your favorite shows from both local and cable channels. Find out what movies are showing on television and read TV updates and press releases.

Event Guide
Find out what events are happening near you. Take your pick on what activities and shows interest you for the day or for the week. Browse music events, live bands, sales and bazaars, food events, family events, talks and workshops, sports events, mall events, and more.

Restaurant Guide
Hungry? Find a restaurant near you. Browse through our food and dining listing and access restaurant details: contact information, location map, menu, other branches. View photos of their dishes and their interiors, read through feature articles, and watch Clipcast features.

Utilities and News Streams
Be updated with the latest news while you're on the go. Browse updates on news, business, sports, traffic, forex, and lotto results.

Privileges
Meet your new lifestyle card! Privileges lets you avail special offers and discounts from participating Merchants. Search for a deal near you using the NearMe function, or search by city. Choose your favorite coupon, pick a participating branch, generate the coupon and flash it for deals. more info