While we safely wait for the return of indoor dining in restaurants, we've been taking our restaurant cravings to-go, thanks to many food delivery options opening up since the past year. Aside from KBBQ, another sorely missed in-store experience is the Japanese-style hotpot. Choosing from a smorgasbord of meats and toppings, pouring in your broth, swishing your thinly sliced meats, sauce-dipping action… The dining experience even before you've grabbed your chopsticks to dig into your food is already something unique and memorable on its own, and best shared among a group of people.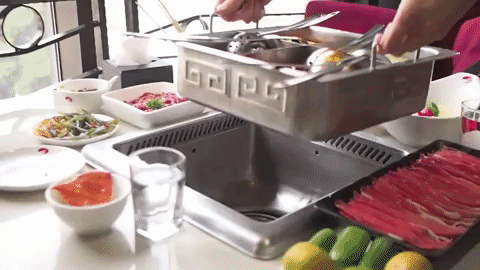 Hotpot On The Go
Nabe Japanese Izakaya + Hotpot amps up their food delivery game by offering another item to complete your overall hotpot experience at home. For only P400, you can now own your portable Nabe hotpot stove, a "plug-and-play" electric hotpot perfect to keep your broth warm all throughout your feast!
The Nabe Pot is now available through their website, along with Nabe's food menu that includes your favorite meats, toppings, balls, soup bases, and sauces. Their online store is a one-stop shop for all your hotpot-at-home needs as you can collect and select items to mix and match, making your very own hotpot combination that aligns with your cravings.
How to Hot Pot at Home
The Nabe Pot comes in a box that includes the 2-in-1 hot pot and stove and its power cord. The pot has two cooking levels (low and high) that you can easily switch on and off. It's extremely easy to use even without instructions, but the box also comes with a printed step-by-step guide to make sure you make the most out of your Nabe Pot experience.
You simply pour water into the pot and mix in Nabe's soup base. Their Soup Base (P155 per serving) is good for 1 liter of broth and perfectly fits the Nabe Pot. There are 16 soup bases to choose from. There's sukiyaki, soymilk sesame, konbu, shoyu, spicy miso, and hot and sour to name a few. You'll never be bored mixing and matching, for sure!
Once your broth is boiling, you can add the frozen ingredients. Toss in Nabe's Assorted Balls (P270 per 200g) and other toppings that need to cook longer. Add the thinly sliced meats last, since they cook fast! Nabe's assorted meats are sold per 100 grams on their website. There's a lot to choose from, like pork belly, chicken thigh fillet, and beef short plate. Additionally, the meat selection is also within a reasonable price range of P60 to P120 per 100 grams. So you can mix and match and buy your Nabe pot to enjoy a home hotpot experience that won't break the bank.
Our weekly highlights and entertainment guides, straight to your inbox
Lastly, enjoy your meats with Nabe's Dipping Sauces! There are three to choose from: Sate (P80 per serving), Gomadare (P50 per serving), and Ponzu (P65 per serving). Because of the number of soup bases and dipping sauces, including the variety of meats and toppings, each hotpot meal can be different from each other. There are many combinations possible in your home hotpot experience with Nabe.
ALSO READ:
GUIDE: Hotpot at Home for Pick-Up and Delivery in Metro Manila
Nabe's On-the-Go Balls: Snack on Chewy Hotpot Treats for only P199
Order your Nabe Pot (P400) portable hot pot and stove, and Nabe's hot pot menu items at nabe.fredleygroup.com. They are open for delivery daily from 11am to 9pm, and are also available for Take-Out and Pick-Up. For more information and updates, follow Nabe on Instagram and Facebook.