The month of love is just around the corner, and what better way to welcome the season of romance than to share your favorite swoon-worthy streams with everyone – and get a chance to win an online shopping spree?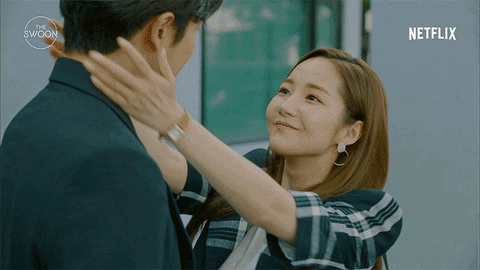 My ClickTheCity is playing cupid for our new giveaway, as we invite our online reviewers to take your love affair with your favorite kilig movies and shows to the next level. Join our #FaveIbig giveaway by posting your reviews on my.clickthecity.com and get a chance to win a shopping spree with Lazada gift cards worth P1,500! From K-Drama titles that you love, timeless romantic dramas or romcoms you never tire of rewatching, to highly recommended series with couples that you ship hard – share and review it all on your My ClickTheCity page with our official giveaway hashtag #FaveIbig to join the promo.
Reviewing anything on My ClickTheCity isn't complicated (unlike your ex), just share the link of the movie or show you like by searching for it on ClickTheCity's search engine to access our database of movies, TV shows, and K-dramas. Just copy the URL of your title to share on your My ClickTheCity page.
If you're looking for some #FaveIbig inspiration, here are some Valentine's Day appropriate entertainment guides to get you started:
10 of the Cutest Couples We Love to Watch on Netflix
8 Romcom Films for Your Movie Date This Valentine's Month
12 Bittersweet Movies That Will Get You Through Valentine's Day
8 K-Drama Couples We Love to Love (and Where to Stream Them)
8 Feel-Good Romantic Comedies on Netflix
Already added-to-heart (and cart) some items in Lazada you've been wanting to buy for your loved one or for yourself? Just show some love on My ClickTheCity with your #FaveIbig reviews and you might be one of the 3 winners of a P1,500 Lazada Gift Card!
Our weekly highlights and entertainment guides, straight to your inbox
How to Join:
1. Create your My ClickTheCity page by signing up at my.clickthecity.com. My ClickTheCity is ClickTheCity's review platform where you can Review Anything and share anything easily with the review community!
2. Review Anything from ClickTheCity's movie and show listing and share it on My ClickTheCity. Search your favorite kilig-inducing titles through ClickTheCity's search bar and share the link on My ClickTheCity to rate and review. Just copy the link from ClickTheCity's website, and post it on your My ClickTheCity page to rate and review. Don't forget to use the official promo hashtag #FaveIbig in your review to qualify for the giveaway!
3. There will be three (3) Winners of P1,500 worth of Lazada Gift Cards that will be drawn randomly via online raffle. One (1) valid user review is equivalent to one (1) entry, so the more you rate and review using #FaveIbig on My ClickTheCity, the higher the chances of winning!
4. Promo runs from January 21 to February 14, 2022. #FaveIbig reviews posted on My ClickTheCity before and after the promo duration will not be eligible to win prizes.
5. Winners will be announced online through ClickTheCity's social media accounts and will be contacted via email on how to redeem their prizes.
6. The prize is not transferable, not exchangeable for, or convertible into cash, credit, or other goods and services.
7. Surf Shop, Inc. is not responsible for lost or delayed e-mail.
8. The promo is open to all Philippine residents.