Let me get this out of the way first before I profess my love for RuPaul's Drag Race—I'm no expert about the show. All I know is that, it's one of the shows that I look forward to watching with no specific mood necessary. Once a season starts, I feed my Drag Race fix every week like my life depends on it. It also doesn't help that a lot of friends on my Facebook feed watch the show so there's that FOMO (this is probably the first time that I used this term) feeling creeping in if you missed out on an episode. So, it's safe to say that I'm updated about the show as any fan would be.
My fascination about RuPaul's Drag Race began when I was still a Managing Editor for an online magazine around 2017 and our editorial team were already so into it that they were using the lingo (i.e. What's the Tee?, kiki, fish, shade, etc.), talking about specific queens, and who they're rooting for. And as for me, I know nothing about it other than it's named after RuPaul, one of the most iconic and statuesque drag entertainers. I know of RuPaul through her song "Supermodel" and her appearances in movies like The Brady Bunch Movie and To Wong Foo, Thanks for Everything, Julie Newmar. What convinced me to watch it was when my co-workers showed me the winning and now iconic lip-sync of Sasha Velour—it was drama and gloriousness at the same time. From then on, I made it my mission to watch RuPaul's Drag Race from the beginning until its current season, Untucked, and All Stars.
Sometimes, when you're too tired with life, all you want to do is watch a show that's a combination of America's Next Top Model, Project Runway, and America's Got Talent in steroids and watch the marvelousness of it all happen right before your eyes. Here are a few reasons why I live for this show.
The Talented Queens
I think my life would have been utterly boring should I never knew who Bianca del Rio, Shangela Laquifa Wadley, Alaska, Manila Luzon, Alyssa Edwards, Detox, Katya Zamolodchikova, Bob the Drag Queen, were. All queens who joined and won RuPaul's Drag Race were tremendously talented. Imagine creating all those looks for them to display every challenge and beating their faces to achieve that perfect mug. It takes extraordinary people to be able to take on every category head on with such passion, knowledge in sewing, and glue-gunning.
The Judges and Guest Judges
Aside from the gazelle that is RuPaul, you have Jersey girl Michelle Visage, style guru Carson Kressley, and TV personality Ross Matthews as Mama Ru's mainstay squirrel friends. They can be ruthless, cutthroat, and nitpicky, but you know that they only want to challenge the queens week after week. If you hear Michelle say, "stop relying on that body," queens should better listen. Aside from the usual panel, the show would also invite celebrity judges who are also fans of the Drag Race like Khloe Kardashian, Todrick Hall, LaToya Jackson, Ariana Grande, Billy Eichner, Christina Aguilera, Courtney Love, Lady Gaga, Miley Cyrus, and more.
The Drama, Tee, and Shade
What's life without drama? Boring! But seriously, all the drama, tee, and shade you can watch in RuPaul's Drag Race Untucked and while the ladies are in the workroom. On stage, the queens are all battling for the title to be the next drag superstar, but backstage, as Ru would say, "they ain't nothing but some messy ass queens." Tension rises as animosity starts to build up between opinionated and zealous contestants. Who can forget how Aja condescendingly told Valentina how she's perfect, she's beautiful, she looks like Linda Evangelista, she's a model? Or when Phi-Phi O' Hara yelled at Sharon Needles to go back to Party City where she belongs? Or when Laganja Estranja felt like she's very attacked? Or when Shangela said that she doesn't have a sugar daddy, she never had a sugar daddy, if she wanted a sugar daddy, yes, she could probably go out and get one, because she's what? SICKENING! My Lord, all these memorable scenes are entertainment gold.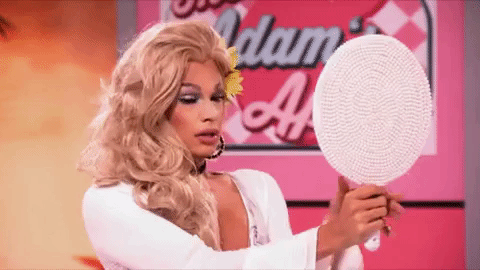 The Lip-Syncs and Reading
Not only do the queens have to be catwalk ready every week, they also must be "lip-sync for your life" prepared. In this part of the show, you'd witness how queens battle it out on who stays for another episode. At this point, all the tricks are out in the bag: double (sometimes triple) wig reveal, costume underneath a costume, multiple death drops, and splits. Another thing that's a favorite of mine is a mini challenge wherein the queens read each other because reading is what? FUNDAMENTAL! Here, you can see how witty these contestants are. Dissing each other with consent as long as they're wearing the reading glasses and until the library is still open.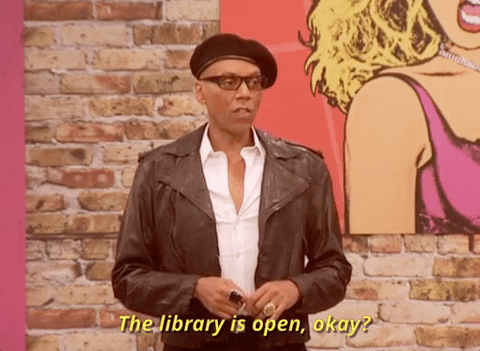 Its Diversity and Back Stories
RuPaul's Drag Race represents different kinds of queens—from pageant queen to comedy queen, from fishy queen to club kid queen. They all have their herstories to tell; how they began doing drag and thriving in the industry that they love. Some had been doing the drag life for years and some have only been in drag several times. Even though everyone has a unique quality, all of them have the same goals: to be able to represent themselves unabashedly and be the next drag superstar.
Through the years, venues in Manila like Nectar and O Bar have been spots for Drag Race queens to showcase their performance. Jiggly Caliente, Ongina, Adore Delano, Detox, Sasha Velour, Alaska, and more had packed shows here in the Philippines. Just recently, I watched one of my favorite queens Bianca del Rio in her sold out show at the Samsung Hall. What RuPaul's Drag Race created is a growing community of people who are not only tuned in to be entertained, but also to learn the value of acceptance and the importance of getting rid of prejudice.
Speaking of community, I tapped a few fans of the show who met and worked with some of the queens and here's what they have to say about why they love watching RuPaul's Drag Race and their favorite queens.
Jill de Leon (Fashion Stylist):
I love RPDR because it's all my interests rolled into one wonderful show. From the comedy, artistry, makeup, and fashion, what's not to love? I also love that they shone the spotlight on the LGBT community and that they educate the audience on its history and struggles. My all-time favorite queen is Violet Chachki. She just oozes confidence, which I try to channel on my anxious days. Her style is just on a different level and her aerial performances takes my breath away every time.
Irvin Rivera (Photographer):
The marrying of fashion, camp, sass, and drama hooked me to RuPaul's Drag Race. I love to watch it simply because it is highly entertaining. It's also nice see a glimpse into the life of the different queens competing for the crown. It's enlightening to see and appreciate the broad spectrum of drag queens and how at the end of the day, when the make-up is removed and everything untucked, they are all humans like us. The RPDR queen who first caught my attention was Raja. It was way back in season three and when there's a parade of queens looking and acting like "pageant queens," Raja slayed and served fashion and edge on the runway.
On shooting Raja and Sharon Needles: Raja's shoot is memorable because I never realized that it will actually happen. I just finished watching the show and thought, I want to shoot Raja, so I slid in to his DM asking if we can do a photoshoot together. I wasn't expecting anything at all when a few minutes later, Sutan responded with "Let's do it. What's the plan?" I was literally ecstatic and shaking after that. The photo shoot went well, and it was so much fun seeing Raja weeerq! Raja can pose, Raja can do make-up, and Raja is fashion!
As for Sharon, the opportunity came when I was assisting a fellow photographer who is shooting Sharon's album cover. After their shoot Sharon asked me if I want to shoot some portraits. Yaaas! Are you effin kidding me? Sharon's energy was a 10 despite shooting the whole day prior to our shoot. Sharon was accommodating, sweet, funny and sexy.
Gelo Arucan (Multi Hyphenated Unicorn):
The show is very entertaining. I really love how it showcase the talents of the drag queens with various challenges that tackled every aspect of drag. It's also not afraid to tackle socio-political issues—whether it's part of a challenge or just a discussion in the work room. RPDR also started introducing other types of drag and not just what we've been accustomed to seeing. It pushes the envelope of mainstream television and it's nothing like anything we've seen before, that's why 11 seasons after, I'm still very much hooked on the show. My ultimate favorite RuGirl is Sharon Needles. She really has a different aesthetic and was not afraid to present her own type of drag in the show. She stuck to her identity even if the judges gave her flak. She is proof that it's always okay to be different and it will make you a winner. Next to Sharon, I really love Sasha Velour because she also brought something different to the table and carried out her vision as a drag queen.
BJ Pascual (Photographer):
Aside from the fact that I champion anything LGBTQIA++ related, I just love the whole creative process in general—from the makeup, costumes, and the concepts behind the looks, it's like creating a fashion editorial, but with one look to tell the story, every damn week. After watching half a season, that's when I realized that this has got to be the most difficult reality competition EVER! Oh, and of course there's the DRAMA. My all-time favorite Drag Race queen is Violet Chachki. I'm a very visual person and I just feel like her creativity and taste level has yet to be matched. And I love that she came on the show a fully realized queen and never looked back.
On shooting Manila Luzon: We had a super early call time and Manila had almost no sleep because she had a show the night before. We had two separate locations, three boy looks and five drag looks. We shot for two magazines (Team magazine cover and a Preview feature) and she was a pro all throughout.
—
You can stream all seasons of RuPaul's Drag Race on Netflix. New episodes of RPDR Season 11 are available every Friday, along with new episodes of Untucked! on Netflix.