It was only last May that John Wick returned to the cinemas on for its third installment, "John Wick: Chapter 3 – Parabellum."
For fans of the legendary assassin's saga, it was another awesome time in the theater seeing Keanu Reeves kicking ass, and for longtime fans of the actor since his years as Neo, it was another big screen reunion for Reeves and Laurence Fishburne, who plays the Bowery King in the John Wick universe and in The Matrix, Morpheus. The classic 90s sci-fi trilogy also celebrates its 20th anniversary this year.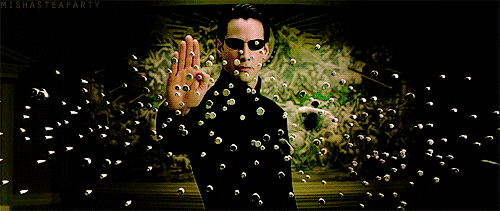 Another action movie that celebrates a milestone this year is, yes, another Keanu Reeves starrer: Speed, an essential viewing for any die-hard action film fan. The movie also got a sequel, and Reeves also got to reunite with Sandra Bullock over two decades after 'Speed' in a romantic film called 'The Lake House' back in 2006. But let's fast forward it to the present year, because Keanu is in another film!
Just last May 31st, Netflix released their original rom-com film starring a pair of actor-comedians, Ali Wong and Randall Park: Always Be My Maybe. And yes, while this is a story of two childhood friends reconnecting again and finding old sparks, it's also about Keanu Reeves absolutely stealing the show as (spoiler alert) himself.
As the love interest of Sasha (Ali Wong), Keanu plays himself and pokes fun of himself — we don't want to totally spoil the movie if you haven't streamed it yet but basically it was a legendary performance that involves some surprising action. Wong shared in an interview that the actor was improvising in his scenes and has lend a lot of his ideas for his character in the movie, proving that this man isn't just all about slick action films — the dude's hilarious.
2019 isn't even halfway done, but we still have a lot of Keanu Reeves to pass around. Immediately next on his list is 'Toy Story 4,' where he lends his voice to 'Duke Caboom' a daredevil stuntman toy that joins Woody, Buzz Lightyear, and the rest of Bonnie's toys in an all-new animated adventure.
Our weekly highlights and entertainment guides, straight to your inbox
There's also the confirmed John Wick: Chapter 4 that has a scheduled release on May 2021, and the excellent news of Bill & Ted coming back to the big screen, reuniting Alex Winter with Keanu Reeves in a film that follows up after Bill & Ted's Excellent Adventure (1989) and Bill & Ted's Bogus Journey (1991).
It seems like there's no stopping the actor to star in more films and we're not complaining at all. He's also expressed his interest to play John Constantine, a role he did in 2005 in Constantine, based on the 'Hellblazer' DC Comics. Can someone make that sequel happen?!
Still want more Keanu Reeves content just like the rest of us? We leave you with a couple of bits to keep you entertained today: Hello Peril's 'I Punched Keanu in the Face' written by Randall Park (if this song is alien to you, then you still haven't seen the Netflix movie so go watch it now), and a Paula Abdul classic music video that stars none other than our favorite actor:
'John Wick: Chapter 3 – Parabellum' is still showing in cinemas nationwide. Find showtimes and book your tickets online today!