Through the years, Christmas films have given us some of the most iconic characters who have become symbols themselves of the rich Christmas popular culture. Kevin McCallister, Jack Skellington, The Grinch, and Scrooge are but some of the names that had been tied to the holiday season, and while some may have been already literary classics, we must also give credit to their big screen adaptations that introduced their meaningful stories to a much bigger audience.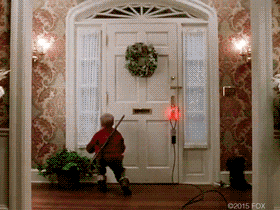 So if you're getting a little bit nostalgic and want to revisit these characters or you want to see how Christmas films have evolved through the years, let's take a trip down the memory lane and check out some of the Christmas films from the early '80s until today that are all worth watching this holiday season!
1. Gremlins (1984)
Directed by: Joe Dante
Starring: Zach Galligan, Phoebe Kates Kline, and Howie Mandel
From Academy Award, Emmy, and Golden Globe-winner Steven Spielberg and director Joe Dante, this film was set during the holidays but was screened in theaters around June. Gremlins revolves around the small lovable creatures that turn into nefarious little monsters when fed after midnight. When a young man ignores the warning about their dangerous diet, the whole town becomes infested with these critters causing definite mayhem to the locals.
Available on Netflix.
 
2. Die Hard (1988)
Directed by: John McTiernan
Starring: Bruce Willis, Alan Rickman, and Bonnie Bedelia
Another Christmas film with a mid-year release, Die Hard is the movie that launched a five-part franchise and debuted one of Bruce Willis' most notable roles: John McClane. Die Hard is an action film which follows NYPD officer McClane who plans to spend Christmas Eve with his children and estranged wife, during a Christmas party at her workplace. But terrorists took over the building and everyone becomes a hostage, and only McClane can save them.
 
3. Home Alone (1990)
Directed by: Chris Columbus
Starring: Macaulay Culkin, Joe Pesci, and Daniel Stern
Anyone who has been alive since the '90s would probably have a good clue who Kevin McCallister is. Home Alone opens with the McCallister family in chaotic confusion as they prepare for their trip to Paris. This results to their youngest son Kevin, being left behind. Soon, two burglars showed up to try to break in, but Kevin tramples their nefarious plot with his funny and cunning antics.
 
4. Tim Burton's The Nightmare Before Christmas (1993)
Directed by: Henry Selick
Starring: Danny Elfman, Chris Sarandon, and Catherine O'Hara
Tim Burton is known for the dark and gothic style in his films. His produced stop motion movie The Nightmare Before Christmas is one of the most popular Christmas films from the '90s. It tells the story of Jack Skellington, the beloved pumpkin king of Halloween Town. After some time, Jack got bored of his town's same old routine, so when he stumbles upon the colorful Christmas Town, he grabs the opportunity by kidnapping Santa Claus and taking over the holidays.
 
5. Elf (2003)
Directed by: Jon Favreau
Starring: Will Ferrell, Zooey Deschanel, and Peter Dinklage
Before Jon Favreau helmed the direction of films like Iron Man, Iron Man 2, and The Lion King remake, he first directed a film starring Will Ferrell which will later become one of the most popular comedy Christmas films from the early 2000s. Elf tells the story of Buddy, a human who was raised amongst the elves of the North Pole. When he learns that he is actually human, he travels to New York to meet his biological father who happens to be a serious businessman.
 
6. Bad Santa (2003)
Directed by: Terry Zwigoff
Starring: Billy Bob Thornton, Brett Kelly, and Tony Cox
This R-Rated Christmas film will bring the holiday cheers to audiences who like dark comedy. Every Christmas, Willie meets up with his partner Marcus to dress up as Santa and his elf in order to rob malls on Christmas Eve. As Willie's life gets worse, he meets an awkward boy who might actually need him as Santa, and as their bond deepens, he actually gets a piece of Christmas magic himself.
 
7. The Polar Express (2004)
Directed by: Robert Zemeckis
Starring: Tom Hanks, Daryl Sabara, and Nona Gaye
Another animated film, The Polar Express follows the story of a doubting young boy who boards the so-called 'Polar Express' and embarks on a journey to the North Pole, rediscovering the Christmas magic that would always come to those who believe in it.
Available on Netflix.
 
8. Jim Carrey's A Christmas Carol (2009)
Directed by: Robert Zemeckis
Starring: Jim Carrey, Gary Oldman, and Daryl Sabara
We can't make a Christmas film list and leave out a big screen adaptation of this Charles Dickens classic. From the creators of The Polar Express comes the animated recreation of A Christmas Carol with Jim Carrey lending his voice to Scrooge. The mean and miserly old man, Ebenezer Scrooge, hates Christmas, spending the holiday season being rude and unkind to people around him. One night in his chamber, he is visited by the ghost of his dead partner, Marley, who wanders the Earth weighed down by heavy chains. Marley warns Scrooge that the same will happen to him because of his greed and ill-mannered nature. In the next three nights, Scrooge is then visited by the Ghost of Christmas Past, the Ghost of Christmas Present, and the Ghost of Christmas Future, who each brought him to different times and places, giving him a chance to a change of heart.
 
9. Krampus (2015)
Directed by: Michael Dougherty
Starring: Adam Scott, Tony Collette, and David Koechner
If kids in Santa's nice list would get their most desired gifts, then what would the naughty kids get? A sinister punishment, if we base it on Central European folklore. This is where the film Krampus is based, where a goat-like demon and its malevolent underlings crash on the home of a dysfunctional family after their child loses the Christmas spirit.
 
10. Dr. Seuss' The Grinch (2018)
Directed by: Yarrow Cheney, Scott Mosier
Starring: Benedict Cumberbatch, Pharrell Williams, and Rashida Jones
The green and furry villain of Christmas from Dr. Seuss has been depicted in different films but we'll be tackling this one from Illumination Entertainment where Benedict Cumberbatch voiced the iconic character. The Grinch and his loyal dog Max live in solitude at Mount Crumpet. But every year, Christmas in Whoville causes him annoyance and when he couldn't take it anymore, the Grinch poses as Santa and steals the Christmas cheers from everyone.
 
11. Let It Snow (2019)
Directed by: Luke Snellin
Starring: Isabela Merced, Shameik Moore, and Jacob Batalon
This Netflix film is based on the bestselling novel of the same name which was written by John Green, Lauren Myracle, and Maureen Johnson. A snowstorm hits a small town during Christmas Eve, causing the lives of eight high school seniors to collide. Come Christmas morning, nothing will be the same for them.
Available on Netflix.
 
12.  Klaus (2019)
Directed by: Sergio Pablos
Starring: Jason Schwartzman, J. K. Simmons, and Rashida Jones
This year's animated Christmas flick from Netflix, Klaus tells the story behind the legend of Santa Claus. Jesper is a spoiled young man who wastes his time lounging when he should be doing his trainings at the postal academy. As a lesson, his father makes him an official postman and assigns him to a faraway town called Smeerensburg, where feuding locals wouldn't avail of postal services. Jesper seeks the help of an old toymaker named Klaus, and together they'll be setting off a legend that would last for generations.
Available on Netflix.
Which of these films have you already watched and which one is you favorite?
--
Homestream image from the Gremlins Facebook page.