Crime, Drama, Thriller | R-16 | 1 hr 50 min
Solar Entertainment Corp.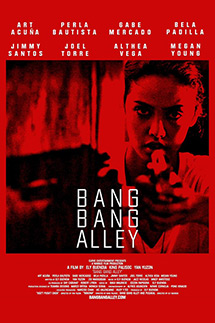 The omnibus film Bang Bang Alley opens with a ten-minute short with the same title. It concerns a bodyguard named Julie Andrews (Jimmy Santos) enjoying a night at a videoke parlor, when a song from an adjoining room sets him on the path to violence. It's a stylish little segment that gains much from having Jimmy Santos cast against type. The segment sets the tone for the rest of the movie: stories that examine people caught in the middle of bursts of sudden violence. Like the segment itself, the rest of the movie is a little uneven. But there is plenty of style to go around.

Yan Yuzon directs Aso't Pusa't Daga. Jing (Bela Padilla) is a reporter that managed to live through a massacre. She's chilling in a safehouse, waiting for her chance to testify against the mastermind behind the massacre, Governor Fabella (Joel Torre). The story is interesting in that it presents shades of gray to an issue that most would consider black and white. And it's got enough talent in the acting department to actually let that argument play out in a compelling way, despite being delivered through long conversations. The segment does struggle to find a satisfying conclusion, the plotting in its back half feeling a tad clunky. But the segment does present a conversation worth listening in on.

Makina, directed by King Palisoc, is the most satisfying of the segments. Emman (Gabe Mercado) works as a driver for a home service massage company. One night, while off to fetch one of the masseurs, he accidentally runs over an old lady. He tries to carry on as normal, but the event weighs heavy on his mind. And as his personal life falls apart, the added pressure pushes him into unstable territory. This segment features the steady rhythm of a well-oiled genre machine. It opens by lighting a fuse, and invites the audience to watch it burn. Gabe Mercado is terrific playing the lead. One look into his face tells you his relationship with the world, the darkness all bottled up inside of him, just waiting for that fuse to finally run out.

Ely Buendia's Pusakal has some intriguing ideas in it, but it doesn't entirely work out. Abbey (Megan Young) is hiding out in a remote location after having shot the scion of a political family. There, she is cared for by Manang (Perla Bautista), a woman whose past isn't entirely free of incident either. There is some grand statement about Philippine society in here, with two people borne of completely different worlds united through the immediacy that violence inevitably brings. But it all feels a bit clunky. The storytelling just isn't as clear as it could be. It doesn't help that this is the segment that features the worst sound.

As a whole, Bang Bang Alley is more than worth a look. Makina is worth the price of admission alone, as it presents a story of violence that isn't just about people pointing guns at each other. It posits a penchant for brutality that might be latent in any person backed into a corner. The other two segments, while uneven, still present a range of ideas that aren't very well represented in our current cinema. While somewhat flawed, Bang Bang Alley does shake things up enough to make things interesting.
My Rating:


Related Content
More from ClickTheCity
Editors' Picks
1