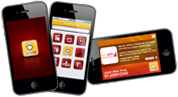 ClickTheCity App
Fit your lifestyle guide in your pocket.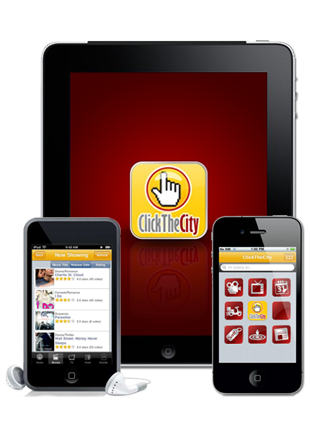 Get App: Version 5.1.4 (Published on App Store: Feb 10, 2016)
Highlights:
Movie Guide
TV Guide
Restaurant Guide
Event Guide
Search
LBS Functionality
Privileges Membership
News Streams
While these information are available using your mobile browser, the App is specifically designed for the iPhone's touch screen functionality making it a breeze to browse through the content, especially when used with the phone's GPS capability.
Additional Information:
Most information are from Metro Manila, Philippines
The App requires Internet connection
App Price:
Free
Language:
English
Requirements:
Requires iOS 6.0 or later
What's New!
ver 5.1.4

Published on App Store: Feb 10, 2016

Updated Ticket list and Ticket UI
Added Send Ticket function
Updated Tickets promo module (with or w/o input)
Uses verified mobile# in Delivery
Fixed Favorites bug
Other minor bug fixes

ver 5.1.1

Published on App Store: Jul 23, 2015

Added advance booking in 'Upcoming Movies'
Separated 'Order Now' and 'View' Menu
Added raw images on galleries
Replaced MoPub

ver 5.1

Published on App Store: May 30, 2015

Supports ticketing on upcoming movies
Added calendar picker for movie schedules
Set Metro Manila as Cinema default

ver 5.0

Published on App Store: Apr 25, 2015

updated user registraion
added ticketing service (w/ Robinsons MovieWorld)
bug fixes

ver 4.7.8

Published on App Store: Jan 17, 2015

Replaced homescreen icons to comply with apple requirements
Revised movie home showcase
Fixed weather layout bug
Fixed location bug when saving a delivery address from nearby
Fixed movie malls schedule bug
Add rewards button toggle

ver 4.7.7

Published on App Store: Dec 12, 2014

Revised movie home page
Fixed delivery cart - additional instructions
UI revisions
Bug fixes

ver 4.7.6

Published on App Store: Nov 1, 2014

Mobile Ordering (Delivery)

Added merchants nearby preview
Added promo on merchant list
Added FINDS in Homestream features

Other updates and bug fixes

ver 4.7.5

Published on App Store: July 16, 2014

Mobile Ordering (Delivery)

Added Finds by ClickTheCity module
Added Recent Order tab
Added deep link to Product page
Fixed coupon bug

Others

Added Loot Box share button
Fixed TV Favorites bug
Fixed Homesteam tap-statusbar-to-scroll-to-top

ver 4.7.2

Published on App Store: May 6, 2014

Added sharing for articles
Added sharing for movie, branch and profile info
Revised homestream navigation
Revised add of delivery address routine
Revised title header for articles
Fixed Delivery product details bug
Revised sponsored card layout
Pointed TV section movie info to new movie details page
Updated Google Maps SDK
Update Mopub SDK

ver 4.7.1

Published on App Store: April 17, 2014

Revised user review layout
Revised now showing layout
Revised upcoming movies layout
Added a more-images/trailers indicator (Movie details)
Forced landscape for playing videos
Added user demographics based on user rating
Revised location provider (weather updates)
Added handler for location fix timeout
Fixed home screen analytics
Fixed delayed user review
Fixed weather bug
Fixed mopub bug

ver 4.7

Published on App Store: March 30, 2014

Added content homestream (includes weather, articles, trailers)
Revised movie details, added cast/profile, user reviews
Revised movie schedule (tap long press schedule to report schedule)
Added deeplink for login and cast/profile
Sort by distance establishment's other branches listing (includes add new branch)
Grouped account details and rewards info into one view (Privileges card view)
Minor improvements & bug fixes

ver 4.6.9

Published on App Store: December 10, 2013

Fixed PayPal bug
Added local search
Revised ticker UI
Revised inbox (messages, coupons, orders)
Revised newstream

ver 4.6.8

Published on App Store: December 2, 2013

Added Home Ticker
Added Inbox
Updated search to use new API
Updated establishment reporting
Videos resumes when app wakes from sleep/background
Added MoPub keywords and geolocation targeting
Other updates and bug fixes

ver 4.6.7

Published on App Store: October 17, 2013

Added news feed, lotto, forex, lootbox
Fixed google analytics issue
Fixed webview layout for iPad
Fixed pin layout

ver 4.6.6

Published on App Store: October 1, 2013

Supported get directions through Waze
Grouped listing for Privileges nearme
Added Privileges about page
Added merchant pin for claiming Privileges
Supported bigger movie poster
Added Mall info page
Fixed gallery bug
Added more deeplink pages
Updated Google Maps SDK
Updated Google Analytics SDK
Expanded Mopub to food, tv, movies, and events
Other fixes related to iOS 7

ver 4.6.5

Published on App Store: August 16, 2013

Added deep linking
Added new ad service
Minor revisions
Some bug fixes

ver 4.6.4

Published on App Store: July 16, 2013

Added Memberships feature
Added Rewards points
Revised layout for privileges cross promotion (movie schedule)
Added coupon security (accessible on device where generated.)

ver 4.6.3

Published on App Store: June 13, 2013

Now uses google maps instead of the default ios map
Revised map display for food and drink section
Revised map display for adding delivery address

ver 4.6.2

Published on App Store: June 5, 2013

Bug fixes

saved coupons sorting
membership card duplicates
favorites bug (tv section)
other minor bugs squashed!

ver 4.6.1

Published on App Store: May 28, 2013

Added multitasking support
Improved gift sending navigation
Updated add delivery address
Revised event details view
Updated content flagging in movies
Background syncing of claimed and saved coupons
Updated PayPal, Google Analytics and Flurry to comply with non-use of Unique Device Identifier

ver 4.6

Published on App Store: Feb. 2, 2013

Added Food section

List restos with related articles/coupons
List based on selected keyword
List sort option: nearest, popular and feature
Allow users to change search location via map
Menu links to Mobile Ordering
Allow users to report incorrect info

Added Travel section
Updated Search

Added Local search
Updated search result to include related articles/coupons
Allow users to report incorrect info

Updated Mobile Ordering

Category filter
Shipping option

ver 4.5.1

Published on App Store: Dec. 6, 2012

Fixed save coupon bug
Added delivery schedule in confirm page

ver 4.5

Published on App Store: Nov. 22, 2012

Mobile Ordering

Added instruction option
Added multiple payment support
Readied Send as gift functionality

Others

Added 4-inch screen size support
Revised Privileges payment scheme
Revised Movie section
Added Upcoming Movies
Added flagging of incorrect movie sched
Bug fixes

ver 4.4

Published on App Store: Jul. 24, 2012

updated ordering to handle product with multiple grouped items
updated promo module to handle non-exclusive promos and product based promo items

ver 4.3.4

Published on App Store: Jun. 27, 2012

Added Privileges+ module (to handle multiple memberships)
Added Paypal payment support for Privileges
Updated Privileges icon
Revised ClickTheCity Account Page to list memberships
Added email newsletter setting
Updated analytics

ver 4.3.1

Published on App Store: Apr. 5, 2012

added reset pin function
added content sponsorship module
added default name in add delivery address
added auto-checking of new app splashpage
improved merchant splash page
added message_type for queue messages
moved to new analytics account
added flurry analytics

ver 4.3

Published on App Store: Mar. 14, 2012

Mobile Ordering

Added promo module
Added features view and sorting options on merchant list

General

Auto refreshes invalid signature key
Uses installation id instead of device id (requires device reconfirmation)
Updated analytics
Other minor bug fixes

ver 4.2.1

Published on App Store: Dec. 29, 2011

Privileges Section

added support for lower ios versions.

ver 4.2

Published on App Store: Dec. 11, 2011

Privileges Section

added functionality to handle more privileges cards

Delivery Section

Added company name in the delivery address
Added map snapshot view in confirm address page
Added paging on merchant list to view more merchants
Changed the content mode of merchant logo on headers to wrap the content (center)
Changed the label of "Delete Order" button to "Cancel Order"

Others

Modified the procedure on how to load the splash page and button ads.

ver 4.1

Published on App Store: Oct. 21, 2011

Mobile Ordering update

Added merchant product highlight page
Added per store menu functionality for upcoming merchants

Privileges update

Added image on coupon offer

ver 4.0.3

Published on App Store: Sep. 14, 2011

ver 4.0.2

Published on App Store: Sep. 2, 2011

fixed introduced bug that affected lower iOS versions

ver 4.0.1

Published on App Store: Aug. 30, 2011

Fixed bug in cross promotion of privileges in the movie schedules.
Changed the noimage logo (supports retina display).
Other various bug fixes

ver 4.0

Published on App Store: Aug. 11, 2011

introduces 'Mobile Ordering' facility:

an easy to use ordering service right on your phone
view menu (food pic, description and prices) to help you decide
PIN protected ordering
keeps track of your order history

section 'Resto' was replaced by 'Mobile Ordering'

food info can still be accessed using search or nearme
food features are now located in new Features section

updated 'Privileges' section:

unregistered users can now browse the privileges section
privileges nearby has been integrated in movie schedules

updated Registration

centralized registration system for Privileges & Mobile Ordering
added security: pin and device authorization
enabled users to link/unlink device to their account
existing registered users will be prompted to migrate to new system

new 'Features' section (formerly Utilities)

consolidated all articles and videos for easy reference
curated twitter streams, forex and lotto results can be found here

updated main menu buttons
various updates and big fixes

ver 3.3.2

Published on App Store: Feb 16, 2011

Fixed introduced bug in version 3.3.1 when showing event listings of Shows & Events section.

ver 3.3.1

Published on App Store: Feb 15, 2011

Around me updates:

Establishment grouping to work with category filters
Fixed refresh bug

Increased time to cache current location
Fixed favorites bug

ver 3.3

Published on App Store: Jan 26, 2011

Improved 'Near Me' and 'Establishments Nearby' to allow more categories
Integrated Privileges offer in Directory Listing
Added auto-load on search results, food listing and events listing
Fixed problem on getting current location
Updated Search interface
Updated main menu icons to high res
Some minor updates on other interfaces

ver 3.2

Published on App Store: Nov 25, 2010

Added Favorites: bookmark your favorite cinemas, movies, tv channels, and restaurants.
Added Claim button on Privileges
High res app icon
Optimized start up: threaded cache deletion
Replaced TV channel logos
Fixed webkit bug
Other bug fixes

ver 3.1.1

Published on App Store: Oct 22, 2010

memory leak fixes to address frequent crashes

replaced xml parser
improved memory handling (dealloc)

fixed event details display
other various bug fixes

ver 3.1

Published on App Store: Sept 30, 2010

Added Utilities section: curated locally relevant twitter streams, forex and lotto results
Privileges Section: hovering category selection

ver 3.0

Published on App Store: Sept 16, 2010

now a FREE app
iOS 4 tested
new main menu to fit more options
added Events Guide
added Privileges Guide
utilize content caching for better browsing
movie guide update: included 3D info
food guide update: improved image gallery handling
food guide update: added event listing in resto page

ver. 1.0

Published on App Store: Sept 18, 2009

Take ClickTheCity with you anywhere you go! Specifically designed for touch screen, it is a breeze to browse through the content, especially when used with the phone's GPS capability.

App Highlights: Movies, TV, & Restaurant Guide

Addtl Info:

Most info are from Metro Manila, Philippines
The App requires Internet connection