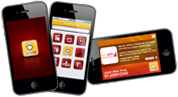 ClickTheCity App
Fit your lifestyle guide in your pocket.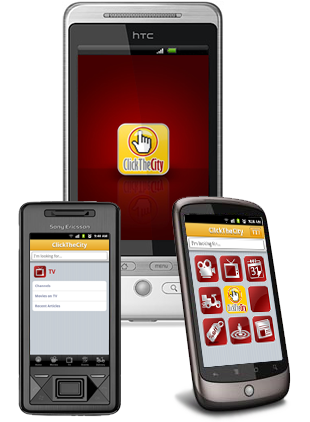 Get App: Version 5.1.8 (Feb 9, 2016)
Highlights:
Movie Guide
TV Guide
Restaurant Guide
Event Guide
Search
LBS Functionality
Privileges Membership
News Streams
While these information are available using your mobile browser, the App is specifically designed for the Android's touch screen functionality making it a breeze to browse through the content, especially when used with the phone's GPS capability.
Additional Information:
Most information are from Metro Manila, Philippines
The App requires Internet connection
App Price:
Free
Language:
English
Requirements:
Requires Android 2.1 or later
What's New!
Ver. 5.1.8

Published on Play Store: Feb 9, 2016

Updated Ticket list and Ticket UI
Added Send Ticket function
Updated Tickets promo module (with or w/o input)
Added PullToRefresh feature in Ticket schedule selection
Uses verified mobile# in Delivery
Bug Fixes

Load Correct Banner ad size
Deeplink
Cinemas not loading with no/limited location services enabled

Ver. 5.1.4/5.1.5

Published on Play Store: July 1, 2015

Removed section filter on Search
Migrated Food APIs to Local APIs
Updated to SMART_BANNER

Ver. 5.1.3

Published on Play Store: July 8, 2015

Delivery merchant list fix
Replaced MoPub
other minor fixes

Ver. 5.1.2

Published on Play Store: June 9, 2015

Supports ticketing on upcoming movies
Added calendar picker for movie schedules
Updated TV and Events section (View and API requests)
Added action button on articles
Added retry alert dialog on failed (daily) initialization
Other minor UI changes and fixes
Updated MoPub SDK

Ver. 5.1.1

Published on Play Store: May 25, 2015

Movie section

advance booking calendar
upcoming movies: add on top movies available for advance booking

Articles

movie articles: floating buy button to deep link to buy tickets page

Mobile Ordering

replace Add to Cart button with floating "add to cart" button

Ver. 5.1

Published on Play Store: April 23, 2015

added 3d tag on tikceting time selection
revised pull to refresh routine
bug fixes

Ver. 5.0

Published on Play Store: April 21, 2015

updated user registraion
added ticketing service (w/ Robinsons MovieWorld)
bug fixes

Ver. 4.8.3

Published on Play Store: February 14, 2015

Connection updates
Clipcast can rotate both landscape and reverse landscape
New grouping on movies home
Updated ads button logo on home

Ver. 4.8.2

Published on Play Store: January 29, 2015

Now with Lollipop (5.0) support
Fixed connection issues
Managed caching of API responses
Fixed other minor bugs

Ver. 4.8.1

Published on Play Store: January 9, 2015

Updated home icons
Limited visibility to devices only up to the API Level 20 (Kitkat)
Does not support lollipop os
Revised image loader
Increased scroll delay and scroll back to first entry when the end is reached in showcase in Movies home

Ver. 4.8.0

Published on Play Store: December 19, 2013

Showcase on Movies home
UI changes and bug fixes

Ver. 4.7.9

Published on Play Store: October 5, 2014

Added FINDS in Homestream
Minor UI updates
Bug fixes

Ver. 4.7.8/4.7.7

Published on Play Store: October 1, 2014

Mobile Ordering: Added merchants nearby
Updated authentication
Some bug fixes and enhancements

Ver. 4.7.6

Published on Play Store: September 5, 2014

Bug Fix on location requests
UI Updated

[Mobile Ordering] Address list
[Mobile Ordering] Merchant list with Promos
[Movies] Cast Images - left aligned
[Movies] Now Showing list
[Movies] Upcoming list
[Lootbox] Promos list

[MoPub] New ad unit for wider devices

Ver. 4.7.5

Published on Play Store: July 12, 2014

Mobile Ordering (Delivery)

Added Finds by ClickTheCity module
Added Recent Orders tab on merchant list
Added deep link to Product page
Fixed coupon/promo bug

Others

Updated Main Header UI
Fixed Privileges coupon generation bug
Fixed Analytics bug in movie sched

Ver. 4.7.3

Published on Play Store: May 15, 2014

Added sharing for lootbox
Updated movie schedule page
Mopub bug fix
Other bug fixes

Ver. 4.7.2

Published on Play Store: May 9, 2014

Ver. 4.7.1

Published on Play Store: May 8, 2014

Added sharing for articles
Added sharing for movie, branch and profile info
Revised add delivery address routine
Revised title header for articles
Fixed star rating images (Movies)
Fixed Image Source link (Movies - Profile Page)
Bug Fixes
Update Mopub SDK

Ver. 4.7

Published on Play Store: Apr 8, 2014

Added Content Homestream (weather, articles, & trailers)
Updated Movies to include Cast/Profile & User Reviews
Added deeplink for Login and Cast/Profile
Sort by distance establishment's other branches listing (includes Add New branch)
Grouped account details and rewards info into one view (Privileges card view)
Bug fixes

Ver. 4.6.5

Published on Play Store: Dec 10, 2013

Privileges

Grouped NearMe Coupon Listing
Revised Branch Coupon View
Coupon Details Participating Branches Sorted by Distance (NearMe)
Rewards Points information added on ClickTheCity Card View
Skip Cardlist View if user has only 1 card

Food

Revised Food Establishments List and Branch Details View
Changed Establishment List "Featured" tab to "Features"

Home
Lootbox

Added Requirements Notification in Lootbox Join Promo View
Added Terms on submit in Lootbox Join Promo View
Other minor layout improvements

Search

Added Local search results

Mopub

Added on Search Results
Updated SDK
Added keywords on ads request

Ver. 4.6.3/4.6.4

Published on Play Store: Oct 19, 2013

Added Lootbox
Added home submenu options
Updated News stream design
Bug Fixes
Included News stream, lotto and forex in MoPub
Fixed Flurry Bug

Ver. 4.6.2

Published on Play Store: Oct 2, 2013

Added Food Section
Added Waze navigation
Added info button on Privileges and Mall
Added bigger movie poster view
Added mobile# verification on Memberships page
Minor interface update
Supported merchant pin on coupon claim
Expanded MoPub Banner Ad

Ver. 4.6.1

Published on Play Store: Aug 23, 2013

Ver. 4.6.0

Published on Play Store: Aug 19, 2013

Analytics update
Deep linking update
Bug fixes

Ver. 4.5.9

Published on Play Store: Aug 15, 2013

Added deep linking functionality
Added new ad serving platform
Fixed sync service issue
Bug fixes

Ver. 4.5.8

Published on Play Store: Aug 1, 2013

Minor improvements
Bug Fixes

Ver. 4.5.7

Published on Play Store: Jul 18, 2013

Added Memberships feature
Added Rewards points
Revised layout for privileges cross promotion (movie schedule)
Added coupon security (accessible on device where generated)
Changed Location API used
Added report functionality for Local
Bug Fixes

Ver. 4.5.5/4.5.6

Published on Play Store: Jun 7, 2013

Ver. 4.5.4

Published on Play Store: Jun 5, 2013

Improved 'Send as Gift' navigation
Background syncing of claimed & saved coupons, ads, and account
Other fixes and improvements

Ver. 4.5.3

Published on Play Store: Apr 30, 2013

Improved adding of delivery address
Added anonymous gift sending
Bug fixes

Ver. 4.5.2

Published on Play Store: Mar 8, 2013

Added back newsstream, lotto & forex (under Favorites)
Added animated background option for non-ctc card
Bug fixes

Ver. 4.5.1

Published on Play Store: Mar 1, 2013

Added Travel section
Fixed merchant category bug
Other bug fixes

Ver. 4.5

Published on Play Store: Feb 15, 2013

Mobile Ordering

Send as Gift
Paypal payment option
Shipping delivery option
Mobile# verification
Merchant filter
Instructions for Merchant

Others

Revised article view
Revised 'Saved Coupons'
Bug fixes

Ver. 4.4.5

Published on Play Store: Jan 12, 2013

fixed cash on delivery bug - change for function
fixed delivery schedule bug

Ver. 4.4.4

Published on Play Store: Nov 27, 2012

Added upcoming movies
Transferred to a different Paypal SDK
Updated cinema list to show all even if no schedule
Added display of 'incorrect schedule flag' for cinemas
Updated the tv section api (except articles)
Revamped the schedule module (delivery section)

Ver. 4.4.3

Published on Play Store: Oct 31, 2012

fixed networkinfo issue for jelly bean
fixed privileges paging for nearme issue
fixed clearing ads issue

Ver. 4.4.2

Published on Play Store: Jul 13, 2012

fixed multiple options selection bug in ordering

Ver. 4.4.1

Published on Play Store: Jul 12, 2012

fixed ui for grouped product options

Ver. 4.4

Published on Play Store: Jul 11, 2012

added loader upon startup
updated ordering to handle product w/ multiple grouped items
updated promo module to handle redeem w/o purchase and product based promo items
added android market handler for app & content sponsorships

Ver. 4.3.5

Published on Play Store: Jun 1, 2012

Updated MO Promo module to handle standard non-code promos
Updated movie details, food details and tv schedule layouts
Updated analytics for content and ads
Fixed pinch zoom issue on imageviewer (menu on food details)

Ver. 4.3.4

Published on Play Store: May 24, 2012

Added Privileges+ module (to handle multiple memberships)
Added Paypal payment for Privileges
Synchs saved coupons
Updated Privileges icon
Revised ClickTheCity Account Page to list memberships
Revised image viewer for menus & branch
Cache to auto expire after 30mins
Added email newsletter setting

Ver. 4.3.3

Published on Play Store: Mar 23, 2012

fix analytics
fix refresh bug in events home
removed /home path

Ver. 4.3.2

Published on Play Store: Mar 21, 2012

added reset pin function
added content sponsorship module
added default name when adding delivery address
fixed send order bug that affected honeycomb tablets (send order, coupons, etc.)
improved merchant splash page. auto dismiss after 6 secs.
added auto-checking of new app splashpage
added /home to the path of home sections
uses new analytics account

Ver. 4.3

Published on Play Store: Mar 8, 2012

Mobile Ordering

Added promo module
Added features view and sorting options on merchant list

General

Auto refreshes invalid signature key
Replaced installation id format (requires device reconfirmation)
Updated analytics
Other minor bug fixes

Ver. 4.2.3

Published on Android Market: Dec 27, 2011

fixed garbled text content bug introduced in 4.2.2 (you might need to uninstall 4.2.2 before installing)

Ver. 4.2.2

Published on Android Market: Dec 23, 2011

fixed incorrect pin error
now also works with wifi only devices
privileges expiry is now account based (from device based)
generates and uses installation id instead of device id (requires device revalidation)

Ver. 4.2.1

Published on Android Market: Dec 13, 2011

added map snapshot view in confirming delivery address
tv channels are now server based to easily add/remove channels
changed the procedure on downloading of splash page from synchronous to asynchronous

Ver. 4.2

Published on Android Market: Nov 25, 2011

added functionality to handle more membership cards
added checking of merchants' delivery schedule
fixed anayltics for tracking pageviews
added company name field in the delivery address

Ver. 4.1.4

Published on Android Market: Nov 14, 2011

fixed crashing of the app upon opening introduced in ver. 4.1.3

Ver. 4.1.3

Published on Android Market: Nov 11, 2011

Updated the Image Loader of the app to improve performance
Fixed the default option of products in the delivery section
Supported paging in the merchant listing in the delivery section
Card memberships are now loaded from the remote server
Other minor bugs fixed

Ver. 4.1.2

Published on Android Market: Oct 25, 2011

new 'Features' section (formerly Utilities)

consolidated all articles and videos for easy reference
forex and lotto results
curated twitter streams

fixed migrate existing registration bug

Ver. 4.1.1

Published on Android Market: Oct 20, 2011

fixed the following bugs

Favorites / Cinema bug
Coupon is not displaying the details
Crashed when changing category in privileges section under location
Crashes when deleting an item on the cart under the delivery section

Ver. 4.1

Published on Android Market: Oct 19, 2011

app can now be moved to SD
centralized location fetch for all sections resulting to faster results
introduces 'Mobile Ordering' facility:

an easy to use ordering service right on your phone
view menu (food pic, description and prices) to help you decide
PIN protected ordering
keeps track of your order history
merchant product highlight splash page

updated 'Privileges' section:

added image on offers
unregistered users can now browse the privileges section
privileges nearby has been integrated in movie schedules

updated Registration

centralized registration system for Privileges & Mobile Ordering
added security: pin and device authorization
users can link/unlink device to their account
existing registered users will be prompted to migrate to new system

updated main menu buttons

Ver. 3.2.1

Published on Android Market: Mar 24, 2011

fixed transparency issue for PNG files coming from the server
fixed transparency issue for ads button

Ver. 3.2

Published on Android Market: Dec 23, 2010

added favorites bookmarking for tv channels, cinemas, movies, and resto
added claim button on coupon
use in-app window for web calls instead of full browser launch
update sponsorship module: push down animation

Ver. 3.1.4

Published on Android Market: Dec 8, 2010

fixed sponsorship module bug

Ver. 3.1.3

Published on Android Market: Dec 7, 2010

added sponsorship module
fix event date range display
tv logo updates

Ver. 3.1.2

Published on Android Market: Oct 19, 2010

fix the following crash reports:

NullPointerException: in ImageLoader.start()
NumberFormatException: in Integer.parse()

fix disabled button after scroll bug in events listing
added new twitter stream: entertainment

Ver. 3.1.1

Published on Android Market: Sept 7, 2010

added more twitter stream: business, tech, sports
revamped code for all views with refresh button
revamped code for search views
changed the list view layout of nearme (across sections)
other bug fixes

Ver. 3.1

Published on Android Market: Aug 25, 2010

added twitter streams event coverage under utilities
revamped lotto and forex page
changed cache directory
revamped related content list of articles
revamped cuisine page in food section
other bug fixes

Ver. 3.0.3

Published on Android Market: Aug. 13, 2010

added utilities section

twitter streams: news and traffic
forex & lotto

revamped coupon section
increased time limit to get location

Ver. 3.0.2

Published on Android Market: Aug 6, 2010

fixed memory problem caused by animated coupon background on certain handsets

Ver. 3.0.1

Published on Android Market: Jul 26, 2010

did some work around on mylocationoverlay for phones with OS bug
added some google analytics in the coupon section
enabled again coupon animation for mobile coupon

Ver. 3.0.

Published on ClickTheCity: Jul 24, 2010 (just downloadable on website)
Everything you love about our site can now fit into your pocket, plus more!
Highlights: Movies, TV, Restaurants, Events, and Privileges