Now more than ever we are getting more food sent to our doorstep and cooking up a storm at home. Whether as a kitchen pro or a foodie that enjoys treating their palate to different lip-smacking flavors, having a stash of delicious condiments can work wonders in elevating dishes.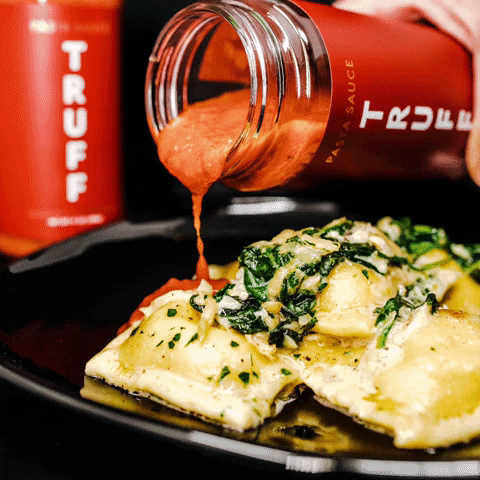 Sauces — to dip, drizzle, douse, or dunk — can truly spice up your food and make a boring plate transform into a lick-the-plate-clean scenario. If you're in the pursuit of expanding your library of staple sauces, going beyond the classic condiments, this list is for you. From locally produced to imported finds, we round up eight awesome sauces you can order online right now to make your dishes extra addicting!
That Famous Orange Sauce for Your Chicken
Raring to recreate orange chicken right at your own home? The Panda Express Orange Sauce is available in bottles, so you can bring home the flavors with your chicken bites and more!
Spicy Honey to Amp Up Your Pizza
Adding hot honey to your slices of pizza gives every bite a uniquely addicting sweet and spicy spin. Spicy Honey was first made popular here in Manila by Gino's Brick Oven Pizza, and now the restaurant sells their squeeze bottles and offers an extra spicy variant if you want to take the heat up a notch!
Oprah's Favorite Truffle-Infused Hot Sauce
Obsessed with anything truffle? Get your truffle fix with TRUFF Hot Sauce, now available locally and in three variants: Black (original black truffle-infused hot sauce), Red (a hotter version), and White (infused with white truffle).
ALSO READ:
Truffle-Infused TRUFF Hot Sauce is finally in the Philippines
An All-Around Steak Sauce Perfect With Any Meat
If you're looking for a replacement for your A1 sauce that's equally as versatile in meats and other savory pairings, check out this local steak sauce from Mad Mark's! Use the MSG-free multi-purpose Bootstrap Steak Sauce in all things meat, such as chicken, ribs, and wings, and see for yourself why this is a customer favorite!
The Sauce Versions of the Popular Korean Spicy Instant Ramyeon
From extremely spicy to nuclear, Samyang's fiery instant noods (a.k.a. buldak) have been slurped by many spicy food lovers, and have become the favorite of the ones who can fully embrace the heat. Now you can recreate the fire noodle challenge or give it your own twist with these bottled Samyang sauces available in different variants. Add it in whatever noodle or pasta dish you're cooking up at home, or use the spicy mayonnaise to give any of your favorite meals a kick!
A Plant-Based Bagoong For Your Fruits
If you're filling up your pantry with more vegan-friendly options, check out this locally made Vegan Bagoong by The Good Choices that will give your Filipino snacks and dishes a punchy flavor without the use of any fermented seafood. Pair it with your green mangoes, singkamas, ensaladas, or serve with kare-kareng gulay.
A BBQ Sauce with Root Beer That Will Level Up Your Fried and Grilled Food
If you're looking to instantly amp up every bite of your takeaway fast food, here's a sauce for you: Mimi & Bros signature Root Beer BBQ Sauce is excellent with anything fried or grilled! Slather it on your burgers, dip your fries, and even use it as your new BBQ sauce for chicken nuggets. It'll be a snack-time staple!
Your Very Own Shawarma Sauce at Home
For lovers of all things creamy and garlicky, shawarma sauce is gold. Did you know Persia Grill is now selling their shawarma sauces by the bottle? Now you don't have to miss the flavors when you're eating at home. Slather it on your kebabs, meats, and more eats. Don't forget to serve extra heapings of rice, as we all know the best shawarma sauces can turn one into a rice monster!
ALSO READ:
8 Kitchen Items You Didn't Know You Needed
Manila Chefs and Resto Owners Share Tips on Extending Food Life During Quarantine
Our shopping guides and recommendations are independently selected and curated by the editorial team. We may earn a small commission from the product links if you decide to shop from them, at no cost to you. ClickTheCity does not accept money for editorial features.