It's a very Appy Day for ClickTheCity! The ClickTheCity Lifestyle App has reached the one hundred thousand mark!
Put ClickTheCity In Your Pocket
ClickTheCity is now part of over 100,000 devices. ClickTheCity Lifestyle App's user-friendly interface makes browsing content fast and easy. With ClickTheCity Lifestyle App, you can check movie, TV and event schedules, watch trailers, even get discounts and freebies using Privileges all straight from your phone.
Enjoy more perks with Privileges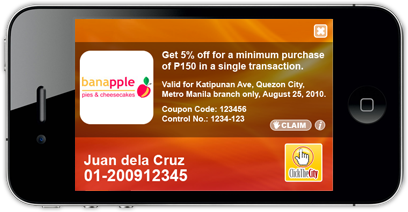 Now with more partner merchants in Privileges, you can enjoy more freebies and discounts in the hottest establishments around the metro. With ClickTheCity in your pocket, you can avail of special offers while you dine, shop, and unwind by just flashing your phone.
With ClickTheCity Lifestyle App, your phone is now the ultimate city lifestyle guide. Don't have the app yet on your smartphone? Download the free app now, and join ClickTheCity in the mobile revolution!

The current version of the ClickTheCity Lifestyle App can be downloaded for free on your iPhone and other Apple iOS devices. An earlier version of the app can also be downloaded for free on Android devices and selected Nokia handsets.
For more information, visit www.clickthecity.com/mobile/apps.