GMA welcomes QTV, their newest 'kapuso'
posted on

Fri, 11 Nov 2005 12:00 AM
GMA fans are of one heart again in welcoming QTV Channel 11.

The newest free TV channel celebrates all women: sister, mother, daughter, kumare, ninang, lola and every other title in between. QTV promises to be your new home on television, with an aim to understand women in a way that no other channel does.

It knows women so well that they've moved the news time slot. Balitanghali airs its news at noon. Anchored by Raffy Tima and Pia Archangel, the hard-hitting noontime news show also dishes out the hottest news and information relevant to women.


QTV will win your heart by touching it with stories from shows such as the good deed-rewarding Pusong Wagi, hosted by Miss Tessie Tomas and At Your Service: Star Power, a spin-off public affairs show where Iza Calzado rallies celebrities to help local communities solve their own problems.

Let QTV touch your life with the brave stories from Women's Desk, a brave show that promotes women's and children's rights.

QTV will also lighten your day with innovative shows such as Love Life where host Love Añover takes on the identity of celebrities, politicians and ordinary folk and lives their lives. Original sitcom O, Mare Ko highlights everyday Pinay lives. The Philippines' most respected dramatic actresses try their hands at comedy. Sandy Andolong is a separated mother of two, Gina Alajar is a happy-go-lucky old maid, Amy Austria plays a not-so-smart OFW and Miss Lorna Tolentino is a happily married woman with a sharp mind for business.

QTV will change the lives on mothers everywhere with shows geared solely for them. Every woman needs a soul mate who shares with her the joys of motherhood and shares in those quiet moments when she can let her hair down, put her feet up and relax.

Moms is one of those programs. Hosted by celebrity mommies Lani Mercado and Sherilyn Reyes, they magazine program tackles unique mommy experiences as well as give practical tips on motherhood. This is going to be the newest tambayan of Kapuso mommies everywhere.

Also catering to other members of the family, QTV offers a show like Candies, a unique teen magazine show that understands the angst, insecurities, confusion as well as the beauty and pleasures of teenage life, and other programs that will further endear the station to women and the important people in their lives.

And of course, what would life be without music? MMS (My Music Station) is an hour of nothing but music hosted by VJ Raymond Gutierrez. The stage is set for favorite artists, songs, music news and behind-the-scenes videos.

Ka-Toque (Lutong Barkada) is a cooking show for everyone who loves to whip up a good meal for their loved ones. Two teams of famous chefs barge into celebrity homes and come up with interesting meals using only the ingredients they find in the kitchen.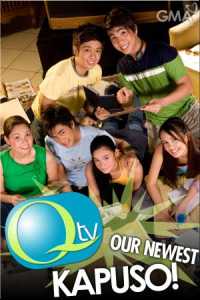 If Ka-Toque feeds your body, let May Trabaho Ka feed your mind with its helpful advice on how to land a job. Every hour, Paolo Abrera and Mariz Umali lead applicants through a series of on-the-job challenges posed by a potential employer. Assisted by a panel of judges, the employer picks the most qualified applicant and gives them a job.

And these are only a small sample of the truly unique programs that QTV has lined up. The Filipino viewing experience has never been richer and emotionally rewarding.

Mom, teen, or lola, no matter what age is, she's always a big fan of someone. And QTV makes sure that the celebrity quotient is always met with shows like Fans Kita--the ultimate fans show hosted by the Starstruck Avengers, giving a sneak peek into the lives of favorite celebs. Another such program is Balik-bayan with Drew Arellano. The travelogue and celebrity profile show in one follows Drew as he joins a special star as they travel back to the artista's hometown.