Something strange is happening on Thursday nights. On the surface, TV5's Rakista is just another show about young people, the type of show that's littered the Filipino television landscape for umpteen years now. The kind that doesn't have anything new to say, and was made more for the purpose of providing a stable of young stars a venue to get noticed by the masses.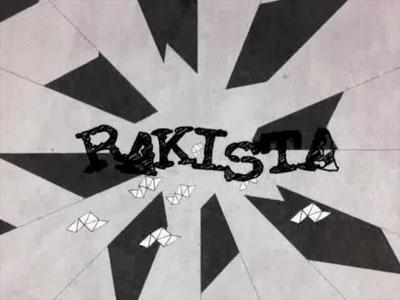 Rakista on TV5. Thursdays, 7 PM.
But a closer look reveals some strange things about this show. First, you might notice that the voice of the narrator is Lourd de Veyra of the Radioactive Sago project, which is insanely cool. Second, you might start to get a whiff of a twisted sense of humor that has never been present in local television, one that's somewhat self-aware, and ready to poke fun at the all the tropes of the genre. And lastly, you get the strange feeling that the inmates are running the prison, that for once, the creative people have been given free reign over what they want to put on screen, without interference from the station.
The end result is something part John Hughes movie, part
The Adventures of Pete and Pete
, a little bit of Joss Whedon, and all Pinoy. It's a striking alternative to what's usually offered to young people on television.
Rakista
tells the story of a bunch of students in university. The title would make you think that it's mostly about a band and the rock scene, but it's really more of a character-driven program, with the band as a backdrop. "It's as much about the swim team as it is the band," co-creator Diego Castillo jokes.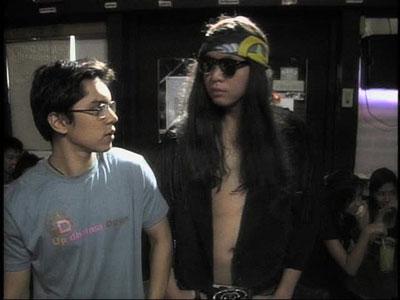 Carlo Aquino as Caloy. Wincy Ong as Sven.
RakistaCaloySven.jpg The best way to talk about it is to just talk about the characters. The main guy is Caloy (Carlo Aquino), a somewhat nerdy, shy kid who grew up being taught the ways of rock and roll by his brother. He's the invisible kid that doesn't really stand out, despite being a really nice guy. He has a crush on CC, the most popular girl in school, who, during orientation, shared a kalamansi slushie with him.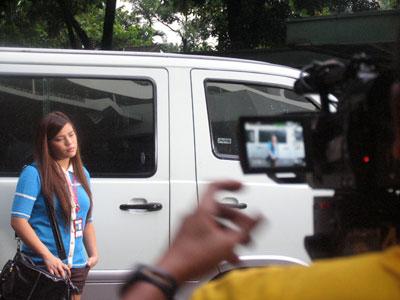 Denise Laurel as CC.
CC (Denise Laurel) is the object of everyone's affection, particularly Caloy's. She's a bit of an artist, and is kind to most everyone she meets. Her favorite Eraserheads album is
Fruitcake
. Much to Caloy's dismay, she's going out with Sonny (Marcus Morales), captain of the swim team, and the most popular guy in school.
Ted (Charles Christianson) is Caloy's best friend. He fancies himself as some sort of ladies' man, but the truth is he's got no luck at all when it comes to that. He's a schemer, and he's constantly trying to get Caloy in on his plans. He has a shrine in his room dedicated to his idols: Randy Santiago, Rico J. Puno, and Hajji Alejandro. It was his idea to start a band, so that they could meet girls. He ends up managing the group.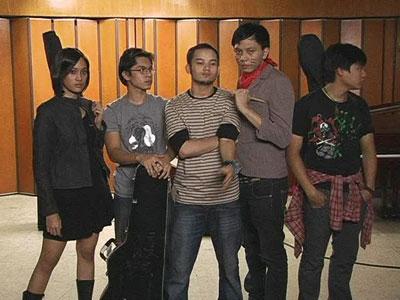 The band. (L-R: Rhea Nakpil, Carlo Aquino, Charles Christianson, Wincy Ong, Alcris Galura)
Caloy eventually enlists a group of outsiders into his band. Sven (Wincy Ong) is the resident oddball of the university. When we first see him, he's staging a protest in the cafeteria, holding a sign that reads, "Catmeat is murder." Bebe (Rhea Nakpil) is a black-clad loner who maintains that she's not emo. Nix (Alcris Galura) is an abrasive musical genius who doesn't play well with others.
We follow these characters as they go through the ups and downs of college life, band life, and life altogether. Every episode is a little bit different. The pilot feels most like a school dramedy, something akin to
Fast Times at Ridgemont High
. The second episode is all about getting the band together. The third, showing this week, is a little episode about failure. And the fourth one is completely off the rails, following Sven as he tries to become part of the Cubao art scene. At one point, the episode becomes a heist flick, before turning into a zombie freakout.
"The show is constantly changing," explains co-creator Quark Henares. "It's liberating in the sense that…[television]'s so fleeting, and we get to do things out of a whim. Like zombies." And amazingly, TV5 is letting them run with it, recognizing that there's really something to the show's absurd sense of humor.
* * *
Thursday. 8 PM. The minds behind
Rakista
are at Shakey's Katipunan, poring over notes with mojos in hand. The second episode has just finished airing, and a sense of accomplishment fills the air.
It's work, but it's terribly relaxed. Everybody's got a pretty good feel for everyone else. They should. They've all worked together for a pretty long time. A lot of them were even students of Quark at Ateneo, where he teaches a filmmaking class. His class has spawned some pretty great directors who just haven't moved out of making AVPs and music videos. Among them: King Palisoc, director of music videos for Pupil, Nyko Maca and Daydream Cycle, Mihk Vergara, director of the joyously animated short
Seth the Destroyer
, and Zig Marasigan, who's directed for Spongecola and Kjwan and has produced two great shorts in
Lab
and
Isang Kwento
.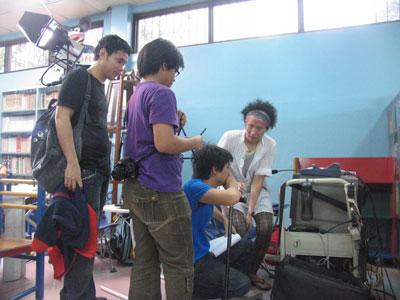 King Palisoc (in blue) directs an episode of Rakista.
The realities of the industry have mostly kept these unique voices from generating more work. Quark sees this as a chance to give these guys an opportunity to create again, to tell stories on a big scale and get paid for it. Now, they're writing and directing episodes, right beside established names like RA Rivera and Erwin Romulo.
A few months ago, before all this started, they were all working on
Rakenrol
, a feature also created by Quark and Diego that's yet to be released. "In all honesty," Diego says, "a big reason we wanted to do this show was because we wanted to work together again." They know they've captured something here, something worth keeping, and the show's just as much about keeping their little family together as it is about telling stories.
* * *
Sunday. 3 PM.
Rakista
is in the middle of shooting in UST, in the educ building. They just have this one day to shoot everything. When you consider that music videos, which are often just four minutes long, are usually shot within the same span of time, it all feels a little crazy. But that's television for you.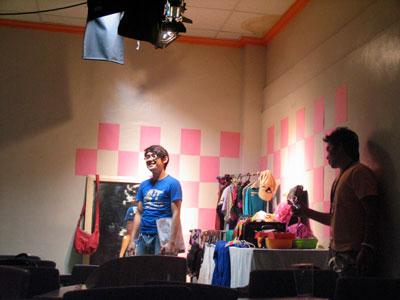 A corner of a classroom becomes something else.
They don't have the time or the money for multiple locations, so a lot of ingenuity comes into play. A corner of a classroom is magically transformed into a dress shop. A doorway becomes a proscenium and its steps become a stage. Everyone moves quickly, struggling to keep up with the demands of the day. The weather's being uncooperative, with clouds mucking up an episode that's supposed to take place in daylight.
But it's obvious that no one's worrying. Spirits are high on set, with everyone still throwing ideas and pushing to make things better. It's striking how much they improvise on set, adding new elements to their scenes, take after take. But that's how comfortable these people are with each other. "We all have the same mindset," Diego explains. "We all like the same shows, and we all have the same weird sense of humor."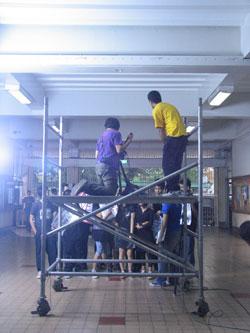 Live on set
There's a lot of talent in front of the camera, but for once, it's the talent behind the camera that's put front and center. These guys aren't afraid to experiment, to go further than they had originally intended. "Let's make this take the best take ever," is proclaimed before every take, and while it's obviously hyperbole, these guys are doing it anyway.
"It's great to be getting paid to do something you love," Quark admits.
7 PM. The crew of
Rakista
have been shooting all day, with no end clearly in sight. They expect to be shooting well past midnight. The shoot hasn't gone as planned, the rain having taken away most of their daylight. But the energy is high, and the laughs are still coming. Even at this late hour this intrepid crew of filmmakers are improvising, adding, trying to make things that much more special.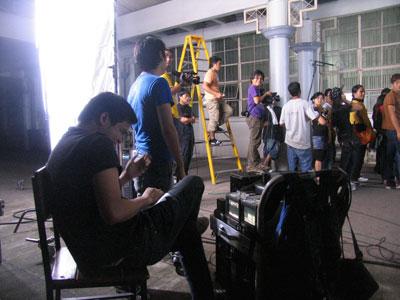 Laughs on the set of Rakista
On set, William Herrera, who plays a relatively minor character, Alvarez, is performing Marc Anthony's speech from Shakespeare's
Julius Caesar
. The sight of it is already a gloriously funny non sequitur, but it isn't enough for the brains behind
Rakista
.
Assistant Director Mihk pipes up "what if he had laurels?"
Diego immediately follows up. "He should be in a toga."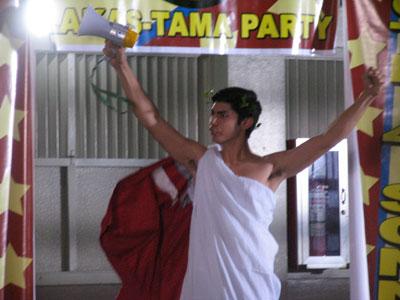 A toga and a laurel is quickly improvised on set.
Everyone starts laughing at the idea. And at this late hour, with a lot more to shoot, everything stops to make one joke that much better. They scramble to put him in a costume, cut small branches off a nearby tree to make a laurel wreath. Because to them, this isn't just a job, and "good enough" just isn't good enough. They love what they've written, what they're shooting, what they're going to put on screen, and with each episode, a little more of that love comes through.
I'm looking for Rakista.