"Hey have you heard of Kanin Club?" I asked my friend Bea one day.
She replied nonplussed, "Sounds nice. What do they have?"
"Crispy dinuguan."
"…"
Bea loves, loves, loves dinuguan. I didn't know that fact until she made swift, deliberate plans to eat at Kanin Club with Marian and I. I had an appointment with the doctor that day, but I cancelled it. Meanwhile, Marian woke up early and did not eat breakfast so she could fully appreciate the beauty of the crispy fried meat and luscious sauce together. Bea? Well, she forced her mom to drive all the way to Sta. Rosa, Laguna (Enchanted Kingdom territory for you Northerners out there) for lunch.
Note that I do not eat dinuguan. Hate that stuff. Marian doesn't touch it either. But after enough raves from similar-minded friends ("I don't eat dinuguan either but $#@* when I tried it there I had the whole bowl!") I decided, why not? Channeling my Tony Bourdain-esque iron stomach, I signed up for Kanin Club's dinuguan promise one fateful Saturday afternoon.
"It's converted a lot of people already," laughs owner Emely Mendoza. Husband and chef Anthony seconds her claims, "We've had Moslems and members of Iglesia Ni Cristo that broke down and had a taste." Of course, nobody forces these customers to go against religious beliefs and personal taste, especially the Mendozas. The culprits (apart from the food of course) can be traced to the diners themselves. Really, visit either of the Kanin Club branches and you'll notice that it's always a fiesta happening. Typical Kanin Club customer behavior: Wait in line, order ahead, sit down, let go of diets and other gustatory apprehensions.
Bea was beside herself with excitement. Slowly the food arrived by course. First came the salads: Thai Green Mango (P172) and the Tomato, Onion, Cilantro, and Kesong Puti (P149). I adore both.
Thai Green Mango
Chef Anthony puts a little twist to the Thai recipe by adding cooked slivers of coconut meat, adding a creamy, smokey, sweet taste. I couldn't quite make out if he did anything different to the sauce, but I think it's similar to the original recipe, which is fish sauce, lime juice, brown sugar, and some chilies. Bea's lovely mother opined that this would go supremely well with curry. She was right on target– but I am getting ahead of myself. The other salad is simply that, tomatoes, onions, etc. Cheeky names I know. I love it because of its restraint and lightness, the perfect way to counteract all the rich, luscious food coming our way.
Tomato, Onion, Cilantro, and Kesong Puti
There was so much food I swear the table joints were creaking. There was Sinigang na Tadyang ng Baka (P366), Spicy Tahong (P216), ItSi BitSi (Sitaw, Bitsuelas, Sigarilyas – P224), Chicken Curry (P209), Calderetang Nueva (P284), Crispy Dinuguan (P261), and three kinds of rice: plain White Rice (P26), Brown Rice (P33), and the Loaded Fried Rice (179). And if you must know, we had dessert afterward. Two kinds.
Fancying ourselves as foodies, we would try each dish with each kind of rice, that way we could determine the best combination. There was only a cup each of the White and Brown rice, but the Loaded Fried Rice is good for two to three people. A good thing to take note of is that in Kanin Club when they say "person" they mean a strapping young man of eighteen years of age. Because there were four of us plowing through the rice and we did not finish any of them. Honest to Blog. And we were eating like people deprived of breakfast.
White Rice and Loaded Fried Rice
Brown Rice
The rice, by the way, is soft and fluffy and perfectly cooked. The Loaded Fried Rice is a meal unto itself I think. My personal favorite, the brown rice, is organic and sourced from a local farm. Kanin Club cooks it with just the right amount of crunch and nuttiness that I look for when eating brown rice. I may not be alone in my preference for it, because you can buy bags of it in the resto itself. Simply inquire inside.
Sinigang na Tadyang ng Baka
The Sinigang na Tadyang ng Baka was absolutely lovely. It is beef ribs and fresh green vegetables cooked in a lip-smackingly sour broth. The meat simply falls off the bone while the vegetables taste fresh and keep their original flavor, unlike in other restos where everything turns into a sour mush.
Chicken Curry
Chef Tony's favorites, the Chicken Curry and the Calderetang Nueva were also worthy choices– this coming from the man who made crispy dinuguan. The curry is thick with coconut cream and loaded with tender chicken pieces. It's not spicy, which is good for those with sensitive palates. I prefer mine to be scarily hot, soI asked for more spice. Ever so efficient, the staff sent over a tiny plate of sliced red chilies and a bottle of chili oil. Perfect. I tried mixing the curry with the Thai Green Mango Salad, as Bea's mom suggested, and the results were absolutely amazing.
Calderetang Nueva
The Calderetang Nueva (if you're curious about any of the names, try asking Mr. and Mrs. Mendoza, who routinely visit the two restaurants. They'll be happy to tell you a quick anecdote about it!) was one of the richest I've ever had. The sauce coats your entire tongue with each bite, leaving a slow, simmering burn even after several spoonfuls of rice. The meat? Mind-meltingly soft. Right about this time I was imagining Kanin Club's kitchen to be filled with man-sized vats filled with boiling slabs of meat.
Spicy Tahong
Next up we sampled the Spicy Tahong and the ItSi BitSi. One thing you will notice with Kanin Club is that they never scrimp on their food. Their spicy tahong was a clattering pyramid of shells, with the curry-esque sauce brimming from each shell.
ItSi BitSi
The ItSi BitSi also served as a great counterpart to all the richness and by no means is it a side dish (notice how in most Filipino restaurants, vegetable dishes serve as side dishes or pampatagal ng umay?). This one is definitely a dish by itself, with the bitter and salty flavors of the local vegetables mingling very nicely with the fried bits of pork.
Crispy Dinuguan
Ahhh, and here we are. The highlight of this foodtrip. The Crispy Dinuguan. What is dinuguan really? It's basically a savory stew of beef and er, blood. For some reason, even though I like my steaks bloody rare, I cannot stand dinuguan. But I was in Kanin Club and gag reflex be damned — I was going to try this dish.
While Bea took a huge serving, taking care to ladle much of the dark sauce on her steaming white rice, I took a teeny, tentative chunk of what appeared to be a really crispy chunk of meat and put it in my mouth, right hand ready with the napkin. If I'd spat it out, I should be shot, because the dinuguan was… dare I say it — heavenly. Bloody goodness.
It didn't have the tang of blood at all. It was the rich sauce of spice and vinegar, chilies, and other things I could not comprehend. The meat was crispy skin, soft meat, and… Ah, it was lovely! Across the table, Marian was taking her first bite of the dish as well. Her eyes lit up like stars. The first thing that came out of her mouth was a long sigh. Paired with the soft mounds of rice, the dinuguan was a deadly combination. I ended up having seconds and thirds even. Add a little more chili oil and it was fantastic.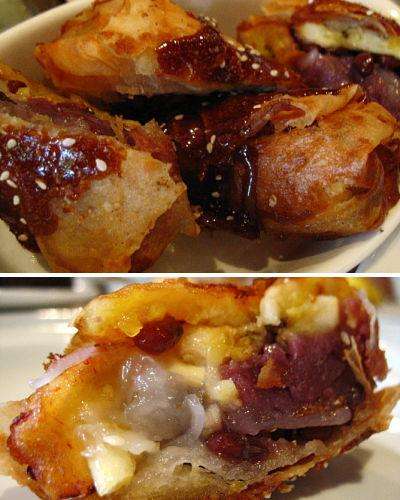 Turon KC
Still, in the midst of our lunch daze, dessert arrived. More innovations from Chef Anthony, this time in the form of the much loved Filipino snack, the turon, called the Turon KC (P90). Their version took the humble fritter to new heights. Don't be fooled by the mass-produced one you see in a ubiquitous bakery chain, Kanin Club's version beats it by a mile. Chef Anthony stuffed the wrapper with sweet beans, ube, macapuno, etc., everything from the halo-halo. I was hesitant to ask for a scoop of ice cream on top (which is also available as the Turon KC ala mode – P135). One serving contains two humongous pieces of turon, thankfully, already sliced into bite-sized pieces.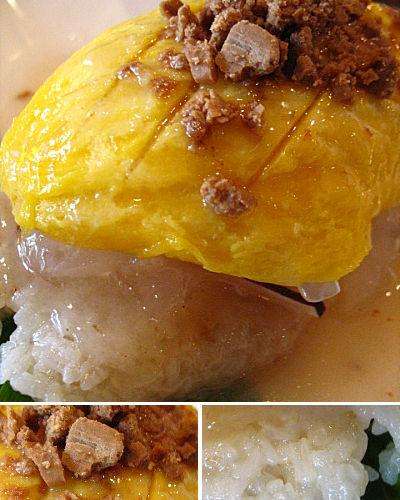 Sticky Rice
The other dessert was the Sticky Rice, another traditional Thai dish made uniquely Pinoy with the addition of a bar of chocnut. A large slice of ripe mango laid in bed with a thick slab of sticky, sweetened rice, topped with a rich coconut milk and crumbled chocnut. Think of it as a pop-art fusion of the Thai dessert with the suman con tsokolate.
After such a dizzying meal, we all had to take cups of tea (Earl Grey, Chamomile, or Peppermint – P68) and coffee (Kapeng Barako – P90) to let things settle down. I could not get over it– I had dinuguan! And… I really, really liked it!
Since its debut in 2007, Kanin Club has grown steadily as one of the must-eat places in southern Metro Manila. In fact, its top-notch food, excellent service has not only gained it a cult status amongst local foodies, but also a spot in the Miele Guide, which is basically the Asian version of the Michelin and Zagat guides to food. Yes, the two tiny restaurants in the South are right up there not only with the restaurant bigwigs of the Philippines but all over Asia.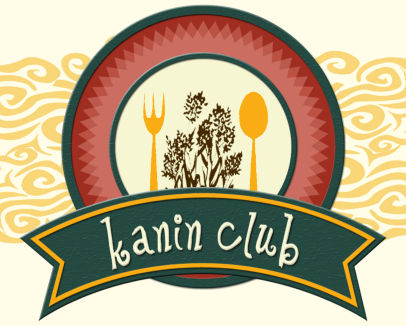 Bea was beside herself with joy. She went right back to Kanin Club a weekend later. Me, I've been there almost every Sunday with my family. That's not counting lunch with officemates and dinner with friends. You really, really get hooked on their food. We're slowly going through all the dishes on their menu and I've still to be disappointed– not that I am looking for it, but seriously, it's hard to find a restaurant that where everything can be described as awesome. If you haven't yet made the trip, I highly suggest you do so soon because the Kanin Club's fanatical members are swelling by the minute.
Kanin Club has branches at Westgate Center, Alabang, and Paseo de Sta. Rosa, Laguna. And good news for the Northerners! Kanin Club is working on their third branch, to be located at the UP-Ayala Technohub in Commonwealth, Quezon City.