'Location, location, location.' There is a good reason why this real estate mantra is repeated, and to experience a living testimony of this is Subic Bay's Courtyard Inn. Conveniently located along Waterfront Road, it is a witness to the beautiful sunsets by the sea and heart-pumping watersports action. It's also the perfect hub for those wanting to try out different food joints without having to ride your car.
Courtyard Inn
​Courtyard Inn is a good accommodation option for both business and leisure. For a company outing, a short road trip to Subic is what you may want to have, and already at one location you can choose your way to unwind - dine, jetski, dive, or perhaps just drink the night away.
As the name suggests, the inn's middle area is open to the sky, with a small playground for the children. There are also computers that you may use, or if you wish to work from your room, free wireless internet is available.
Executive Suite
The rooms are simple and very clean, with a lot of leg room and ample air-conditioning. My family stayed for two nights at their Executive Suite (P4,125 net/night). The suite can 4-6 pax, which can accommodate up to 4 to 6 persons (5th and 6th with additional charge), so it is the best option for barkada trips or family outings. It has one Bedroom with either King or Twin Beds, plus one living room with a pull-out Sofa Bed. Two televisions with cable are available, plus one mini-ref, and the bathroom's roomy sink and shower has hot and cold running water.
Courtyard has 5 Executive Suites availalbe, while their Superior (P2,365 net/night, Queen bed) is 3 while the Deluxe (P3,080 net/night, King or Twin beds) is 31. Accommodations come with complimentary breakfast for 2 at Aresi, daily complimentary supply of newspaper, bottled water, coffee and tea conveniently available in all the rooms. In addition, they give discounts or rebates at Aresi, Gerry's Grill-Subic and Networx Jetsports, since the Courtyard Inn is affiliated with these establishments.
Aresi's is Courtyard Inn's signature restaurant, open from 7am until midnight. It's just right beside the inn, with an entrance from the outside and by the front desk. For breakfast, a must-try is their best-selling Tapsilog (P170) which comes with garlic rice, egg and atchara. I would equally commend their Bangus with Rice (P150) for being that simple yet comfort-food happy breakfast meal.
Baked Cheesy Chicken Dip
My brother and I could not get enough of their Baked Cheesy Chicken Dip (P255), which was super thick that it I didn't really consider it a dip but rather a very gooey spread.
The serving size of this appetizer is huge, much more dip in proportion to the crispy focaccia crackers, so you may want to add P40 to get an extra serving of the bread. Slather the extra rich, ultimately cheesy dip on the bread, and enjoy.
Chop Chop Salad
Another personal Aresi's favorite is the Chop Chop Salad (P250), which I figure is called so because of it's 'chopsuey' feel, with a little bit of everything mixed together.
Even people who tend to pass on salads will like this, as it is very chunky and you are bound to like something in the mix. Not scrimping on the ingredients, the salad has: grilled chicken, ham, tomato chunks, shitake mushrooms, cheese, bacon bits, veggie bits and arugula. And coated with a very generous drizzling of their signature dressing, this makes the dish an amalgam of colors, textures and flavors. Order this to share, since the serving is pretty big.
Aresi Iced Tea
If a cool drink is what you need this summer season, try their sweet and refreshing Aresi Iced Tea (P60), and do not miss out on the gigantic serving of Strawberry Daiquiri (P110).
Strawberry Daiquiri
The big red drink is a perfect afternoon date cocktail to share, with a luscious mix of Tanduay, lemon tonic, strawberry syrup, shaved ice, accented with a little cherry on top. Good luck figuring out how to start drinking this frozen delight, it's quite a challenge.
Networx Jetsports
​Just right across Courtyard Inn is Networx Jetsports, where one can rent Jetskis and other aquasports services. You can ride a Jetski for 30 minutes (P2,000) or 1 hour (P3,500); rent out a Banana Boat for your barkada (4-7 persons, P250/pax); or perhaps try Parasailing (P1,500/pax, 10 minutes airtime).
For those who frequent Subic to do their watersports, you may opt to 'park' your jetskis (Storage - P2,000/month) and jetboats (Storage - P4,000/month), to save you from the hassles of lugging your stuff back and forth every road trip.
Just with the Courtyard-Aresi's-Networx triad alone, you can fill up your trip to Subic pretty well. For those looking for a familiar flavor, Gerry's Grill is right across Courtyard Inn. Walk a little more along Waterfront Road, and you can enjoy al fresco dining by the sea at Scuba Shack (call 047-2527343, 047-2526084). This is also the oldest dive center in Subic Bay.
Gerry's Grill
Sucba Shack
Right behind Courtyard Inn is Tappan Park. Named after Capt. Benjamin Tappan, it is said to be the oldest park in the Olongapo area. During our stay, there was a Sunday Market held there, from 6am to 6pm, offering wet and dry goods, and other delicacies.
Go to the back of the Courtyard, and a few minutes of walking will lead you to Dewey Avenue's San Roque Chapel, and other restaurants and cafes like Xtremely Xpresso and Mocha Blends.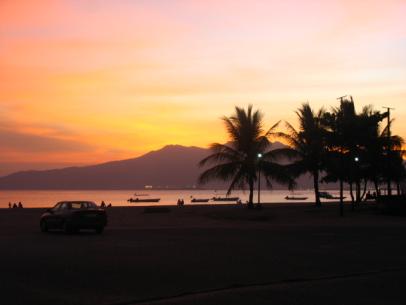 View from Waterfront Road
From great food to watersports, Courtyard Inn keeps everything fun within walking distance. So now you can take your sweet time to enjoy all these Subic treats and more conveniently at that!
Courtyard Inn, Aresi and Newtworz Jetsports are all located along Waterfront Road, Subic Freeport Zone, Olongapo City For more information on accommodation, dining and watersports services, visit www.courtyardinnsubic.com and www.networxjetsports.com