National Arts Center
posted on

Mon, 7 Feb 2005 12:00 AM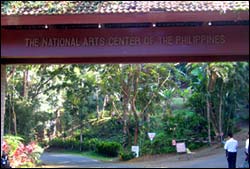 Established in 1976 as a haven for young and aspiring artists, the National Arts Center (NAC) is tucked away in mythical Mt. Makiling, Laguna. Its various buildings and facilities designed by National Artist Leandro V. Locsin are scattered over 13 hectares of the Makiling Forest Reservation and also houses the Philippine High School for the Arts, a government-run secondary educational institution for gifted young artists.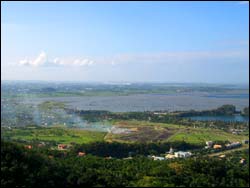 The NAC's unique location is a perfect vacation hideaway and its laid-back and contemplative atmosphere sets the mood to relax, unwind and recharge one's energies. The view from the NAC, especially of Laguna de Bay, the largest freshwater lake in the country, is especially breathtaking.
The NAC offers several facilities for short-term rental, ideal for family gatherings, art camps, seminars, retreats and large conferences or conventions.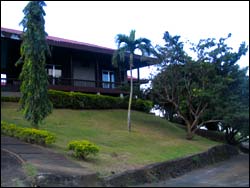 Pugad Adarna (Executive House)
The Pugad Adarna is composed of several interlinked structures enclosing a swimming pool and garden. Situated on top of a ridge, each of the venue's nine rooms has a veranda with a commanding view of Laguna de Bay, Mt. Makiling, nearby towns, and on clear days, even the skyscrapers of Makati and Ortigas.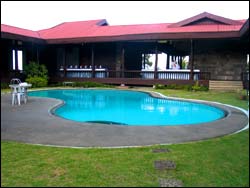 Ideal for family outings and intimate gatherings, the venue also has a kitchen and dining area/lounge which can also be turned into a function hall. All of the bedrooms are fully air-conditioned with individual toilet and hot and cold shower. It has a total bed capacity of 34. Use of the pool is exclusive only to guests of Pugad Adarna.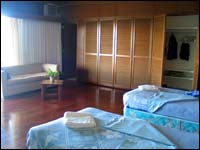 This is where former First Lady Imelda Marcos used to stay whenever she was at the NAC.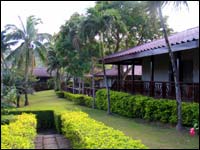 Pugad Aliguyon (Marvilla Cottages)
The Pugad Aliguyon is a cluster of cottages linked by walkways. Each cottage has two rooms with varying bed capacities and a veranda where one could enjoy the fresh mountain air and enjoy the view of the surrounding forest. Furnished with overhead fans, built-in closets, toilet and bath in each room, the cottages can accommodate up to 98 persons. The venue is ideal for billeting participants of seminars, retreats, conventions and other activities involving large groups.