Sometimes, good things totally come out of left field.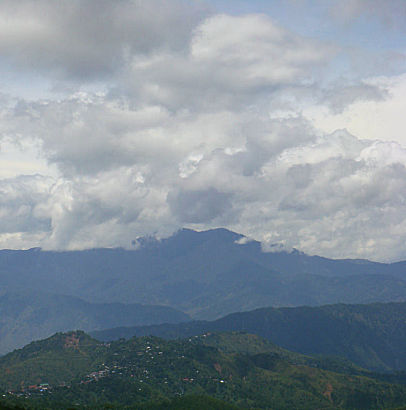 This was my sentiment the first time I discovered
Wood Nymph
.
When I moved up north to the land of chilly mountains, I did not think that a restaurant with a mystical-sounding name would serve authentic and appetizing Korean fare. Located at a short curb along
Baguio City
's Military Cut-Off Road, Korean residents and local town folk alike flock to this log-cabin type of house-turned-restaurant.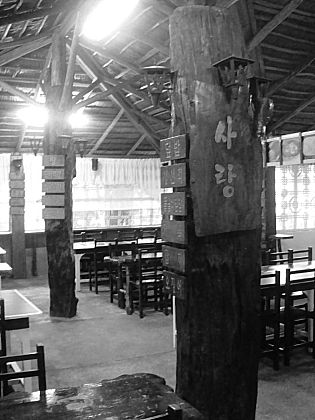 With the hint of sesame oil and chili wafting in the air, I knew I was at the right place.
Upon placing our orders, the server returns quickly with a collection of side dishes called
Banchan
. Different Korean restaurants have its own line-up and may vary from day to day and can have anywhere from 3-8 little bowls for its appetizers. However, the staple in almost all restaurants would be
Kimchi
...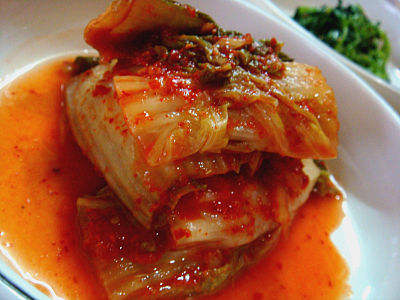 ...Seasoned Spinach, Caramelized Dilis, Caramelized Potatoes, Pickled Chili Radish and
Seasoned Bean Sprouts
.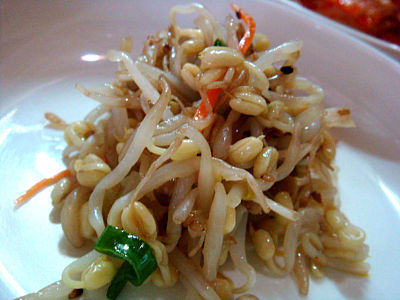 Several times when we cleaned out our little saucers of
Banchan
, servers swiftly handed additional servings right before the entree makes its way to the table.
One dish that Wood Nymph serves generously is
Jap Chae (P180)
. Made of glass noodles tossed in sesame seeds, scrambled eggs, assorted meats and vegetables, Jap Chae carries a sweet-salty flavor and is a good meal in itself with a great number of ingredients mixed into it.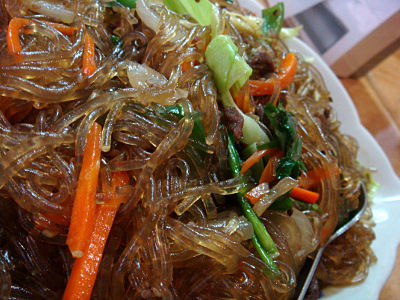 Jap Chae
Although aesthetically familiar, the
Kim Bap (P100)
looks like a common Japanese maki. However, unlike the maki, the meat in the Kim Bap is cooked, stuffed with sautéed spinach, carrots, scrambled eggs, cucumber and sautéed beef, all rolled into sesame-seasoned rice and seaweed wrapper. It is flavorful in itself that dipping in soy sauce may sometimes seem unnecessary.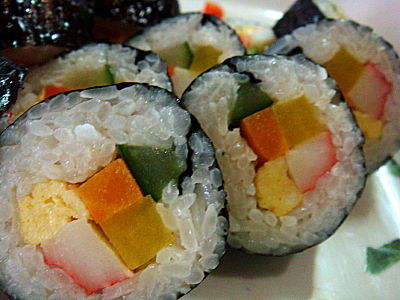 Kim Bap
Years ago, Wood Nymph served the Kim Bap as described --- rich in taste and succulent. In my recent trip last July, however, I noticed that the beef in the roll has been replaced with crabsticks and the rice seemed a tad bit dry. I am not sure if it's a change in recipe, if the beef was out of stock or a sign of cost-cutting. Either way, Wood Nymph's recent serving of Kim Bap wasn't what I was accustomed to and it was a bit of a damper.
On the other hand, one dish they marinade and serve well is their
Galbi Gui (P250)
--- seasoned beef grilled or served on a sizzling plate. It was a choice worth having on the table as the fragrance hits the spot even before taking the first bite.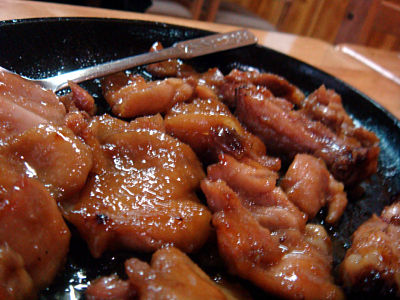 Galbi Gui
The interiors of the place really look as if you ate in someone's wooden dining room and outdoor patio and simply give one a very homey atmosphere in their gustatory experience. Like its ambience, the food is simply served sans any styling whatsoever.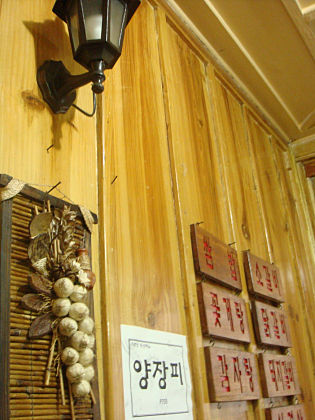 Really, Wood Nymph is all about finding your way to a place that serves fuss-free but hearty portions of mouth-watering Korean fare at a price that is easy on the wallet.
Like the monkey that greets you at its entrance, Wood Nymph is quite the surprise but a low-key jewel of Baguio City that leaves its steady patrons faithful and happy.
Wood Nymph is located along Military Cut-Off Road, Baguio City. Open 10am to 10pm daily, Wood Nymph can be contacted through phone number (074) 446-0272.