Dazzling Davao
posted on

Wed, 9 Apr 2008 12:00 AM
Considered as the window to the island of Mindanao,
Davao City
is home to various national prides. The alluring orchid called the waling-waling, the intriguing endangered Philippine Eagle, whose sanctuary is at the foot of
Mt. Apo
, the country's highest mountain are among the tourist attractions in this bounteous province. No wonder my friends and I opted for an adventure trip to Davao City, one of the world's largest cities.
Davao City is located in Davao del Sur, Mindanao. It is accessible by land, air and sea travel from major points in the country. This well-known tourist destination is only 90 minutes away from Manila by plane. We arrived at the modern Davao International Airport at around 6:30AM. Ms. Bambi, our tour guide, gladly welcomed us to this bustling city.
Distinctly Davao
Our first taste of Davao's gastronomic delights was at
Dencia's
. This popular restaurant, just across the JSGaisano mall side entrance, serves breakfast bestsellers like
lugaw
(congee) and
tokwa't baboy
(tofu and pork meat).
After our yummy breakfast, we stopped over at the lovely and well-maintained
People's Park
. This four-hectare park has a 425-square meter visitors' center built with a durian dome design and an open plaza with a walk-through rainbow drive featuring some collections of potted palms. What I found fascinating are the
lumad
sculptures of Mindanaoan artist
Kublai Millan
.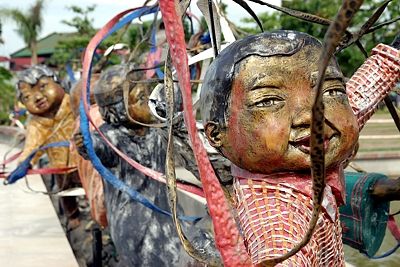 Photo by Charles Dominic Samonte Diño
Wide-eyed, big-cheeked sculptures of natives are portrayed in different scenes like farming, harvesting, playing, and sweeping. An estimated 1,101 species of plants and trees from rainforests worldwide can also be found here. Not surprisingly, it has become a city landmark where city dwellers enjoy hanging around.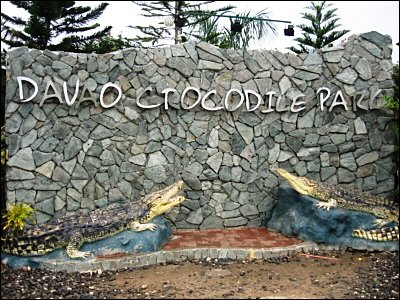 Natural attractions abound in this city. The
Crocodile Park
and
Butterfly House
are both situated in the
Riverfront Complex
in Ma-a. We first explored the Crocodile Park that houses the country's biggest crocodile named Pangil.
There is also a mini-zoo that allows visitors to have close encounters with various animals. It was quite an experience wrapping an albino python around my neck. Just a stone's throw away is the lush Butterfly House that is home to beautiful and colorful butterflies. It is a must-see attraction.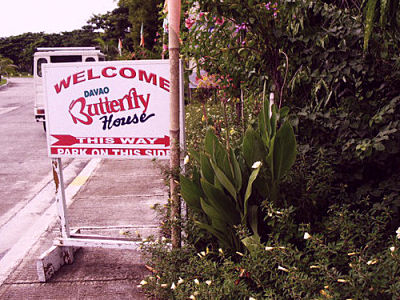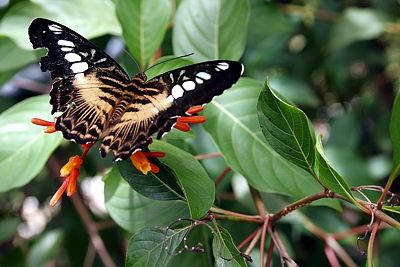 Photo by Charles Dominic Samonte Diño
To recharge ourselves after a hectic morning, we headed to our hotel,
Waterfront Insular
.
This first class business resort hotel has cozy open air corridors perfect for sightseeing. The rooms are tastefully furnished with neat bathrooms providing us a comfortable stay.
Food tripping was one of the highlights of our trip. We sampled the different dishes like chorizo, chopsuey, sizzling sisig, sizzling boneless bangus, tuna belly at the scenic River Walk Grill. We were even tempted to try the exotic crocodile meat. It would have been an extraordinary dining experience but it was out of stock that time. Of course, we didn't miss the chance to taste the mouthwatering durian shake and mango float.

After lunch, we heard mass at the nearby St. Joseph the Worker Parish. From there, we strolled around Gaisano Mall, the biggest mall in Mindanao, along J.P. Laurel Avenue, Bajada. We then took our dinner at Gerry's Grill.

For a night of fun and entertainment, we checked out a comedy bar, Joke Hall. The performers kept us laughing until the wee hours. My friends even had the chance to belt out some songs onstage.

Discovering Davao

It was a drizzly Sunday morning, but we still explored the hotel's amenities. The swimming pool and adjacent beach offer a soothing atmosphere to guests. We had a delectable breakfast buffet at Café Uno. The restaurant serves mostly international cuisines that will surely satisfy your appetite.

We boarded the van and after an hour's drive, we arrived at the idyllic and sprawling Malagos Garden Resort. This 12-hectare art and nature theme park is a top-notch tourist spot. Known for its wildlife farm hosting butterflies, indigenous birds and other wildlife species, and famed orchids, tropical plants and fruit trees, this attraction is both educational and entertaining.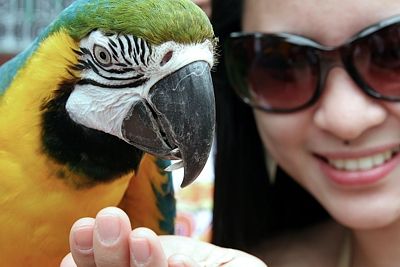 Photo by Charles Dominic Samonte Diño



Though we didn't catch the much talked about bird show, we had the opportunity to interact with the birds and other animals. Afterwards, we had a leisurely walk through the verdant Waling-Waling Forest. It was a breath of fresh air from city life's hurly-burly.

After our nature adventure, our guide took us to Golden Egg Ihaw-Ihaw. It is a roadside resto near Mintal. Our Davao food trip won't be complete without trying the hito (catfish), a popular delicacy. Aside from that, we ordered other home cooked meals like tilapia, native chicken, adobo and tinola. Adding fun was the videoke right in front of us. Eating combined with singing was extremely enjoyable!



We had a quick stopover at one of the fruit stands to buy suha (pomelo) for pasalubong. We then visited the famous Lola Abon's Durian Candy factory. It is a small house that sells high quality made durian candies. It was a treat choosing from a wide range of products like mangosteen stick bag, langka yema, durian ice cream, langka candy, and durian choco. We all left the store with bagfuls of goodies.

Delightful Davao

It is true that one simply does not get bored in Davao City. A 10-minute boat ride will allow you to bask in nature's splendor at Paradise Island Park and Beach Resort, one of the most visited resorts on Samal Island. The resort teems with robust talisay trees, white sand, clear waters, and scenic mountains.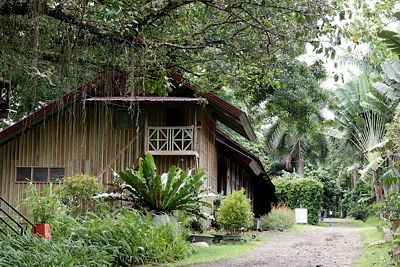 Photo by Charles Dominic Samonte Diño



We rented four cottages for our overnight stay. The air-conditioned cottages have native thatched roof, amakan walls and private verandas. I really adored the room's indigenous interiors. The resort boasts of various activities like island hopping, swimming, kayaking, and trekking for fun loving guests.

In the evening, we dined al fresco while savoring the cool sea breeze and romantic music by the serenaders. The food was good but the service was slow. So, better to order ahead of time.



The following day, we went swimming and snorkelling at the beach. I found it totally refreshing to just do things at our own pace. Indeed, it was a great opportunity to pamper ourselves amidst the lovely surroundings.

From the resort, we embarked on another road trip to Malagos watershed. This is one of the city's main watersheds managed by Davao City Water District. Various groups have been actively involved in protecting and preserving the watershed as part of the government's nationwide campaign to conserve and protect the environment. We walked around the vast and well-kept forest for some photo ops.

For adventure seekers like me, don't just imagine, make it happen. Escape to Davao's best kept secrets and experience a rejuvenating holiday getaway.


I'm looking for:
Davao Crocodile Park
Malagos Garden Resort
Paradise Island Park and Beach Resort