La Trinidad
posted on

Mon, 7 Jan 2008 12:00 AM
We all know about Baguio City. But have you ever driven down to
La Trinidad
, Benguet to check out the strawberry fields of the
Benguet State University
? I was there twice this year. Strawberries there are dirt cheap. But if you're in the mood, why not pick some yourself.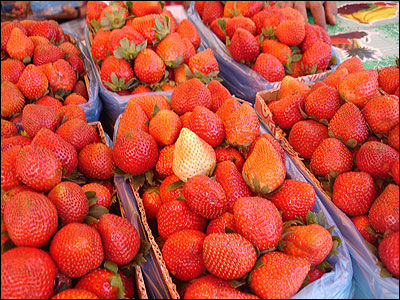 Driving to La Trinidad is no longer leisurely though. The once picturesque vistas have been destroyed by informal settlers. It looks like Baguio City does not have the political will to stop this unabated urban growth.
Anyway, right beside the boundary arch between Baguio City and La Trinidad is the entrance of one of Baguio's hidden secrets, a Chinese temple called
Bell Church
. Not many people know about it since it's quite far from all the other city attractions. And today, it is easily obscured by all the urban chaos that sadly accumulated along the way to La Trinidad. We decided to stopover for a few minutes to check it out.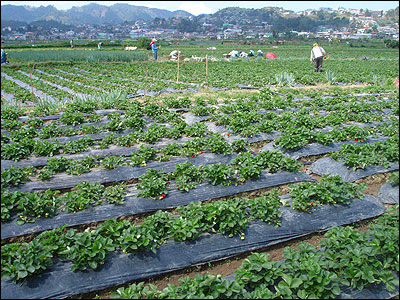 We then proceeded further down to look for the strawberry fields. We easily found the place. You simply made a left in front of the last gate of BSU where a large sign pointed you towards the strawberry fields. We had planned to pick strawberries but since a lot of people had visited the day before, all the ripe strawberries had been harvested already. If you picked your own strawberries, the price at that time was
PHP200
per kilo. Anyway, we just walked around the fields and took photos.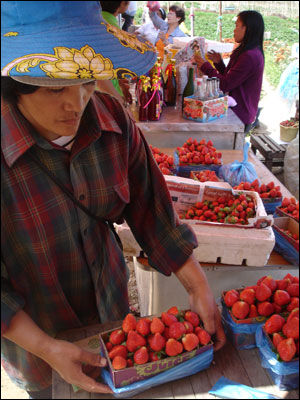 Of course, the strawberries there were relatively cheap since they were in season and you were buying them at the source. One kilo of small strawberries was just
PHP60
. I got the larger strawberries for
PHP80
a kilo. There were really large choice strawberries at
PHP100
a kilo. I regret not buying more to take back to the lowlands.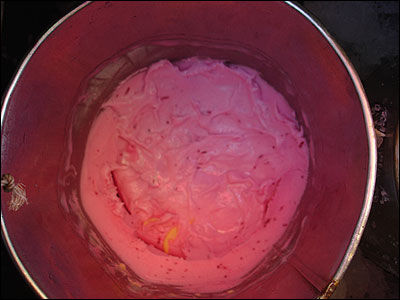 In Baguio City, we had strawberry flavored taho on the street. Taho vendors added strawberry bits and syrup to it. In the BSU area, the sorbetero naturally had strawberry ice cream with strawberry bits. Yummy! I also bought a serving of fresh pinipig (or
duman
to us Kapampangans) which I had been munching on since that morning.
From the strawberry fields, we went to the
Benguet Provincial Capitol
to meet up with a friend. Before lunch, he brought us to the store of the Entrepreneurial Project of BSU to buy some local treats.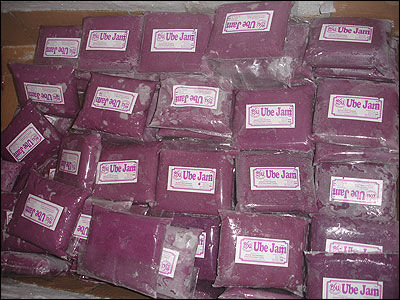 Aside from the staple peanut brittle, strawberry jam and ube jam (their ube jam is quite popular), you had pure Arabica mountain coffee
(PHP50 for 250g)
; honey products such as creamed honey, raw beepollen and propolis, and honey wine with herbs; yacon and bignay wine; yacon and lemon grass herbal tea, powdered roasted soybean drink; chayote champoy, santol candy and pineapple-papaya jam among others.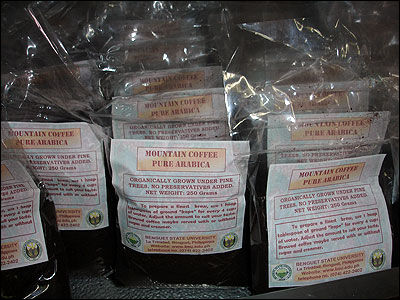 We then walked across the street to this hole-in-the-wall type of place for lunch at the
Strawberry Fields Arcade
at
Gladiola Center
in front of BSU.
Jolly Yan Meals
is hidden in one corner but people flock to it since meals are cheap but tasty. The "meat plus meat" package (two meat dishes or your choice) served with mountain rice and soup was just
PHP45
. Another option was "meat plus veggie" just for
PHP35
.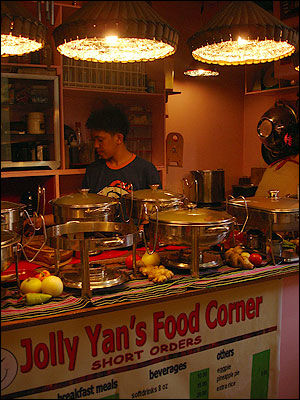 You can also check out
Kalei's
. The place and ambiance is much better than where Jolly Yan is located. And the food is just as affordable with its "meat plus meat" at
PHP50
. But I still think the home-cooked meals of Jolly Yan are worth the visit.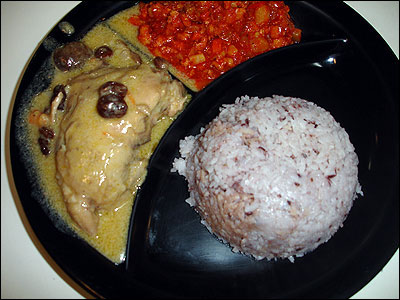 Anyway, I had to rush back home do some work. So after our trip to the store, we drove down via
Kennon Road
since we wanted to check out the scenery. Kennon Road is actually a heritage road and its stunning natural scenery should be protected from unsightly urbanization and vandalism. Sadly, during the elections, campaign graffiti was all over the place, from posters to paint on rocks.
For most people, since the trip back to Manila is relatively long and tiring, they just keep on driving as fast as they could down Kennon Road. And as a result, we rarely notice the scenery along the route. I'm sure we've all seen the waterfalls along the route. But have you ever stopped to check them out up close?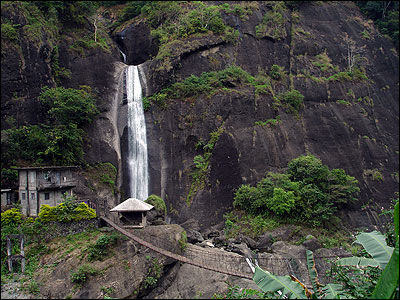 Bridal Veil Falls
actually caught our fancy since there was a pedestrian suspension bridge that connected it to Kennon Road. So we parked the car in front of a store and crossed the makeshift bridge. Below us was a mountain stream that emptied into a vast riverbed further down the road. I guess the falls got its name from the fact that it resembled a bridal veil as the water cascaded down the smoothened rock into a small pool.
I really think that the entire length of Kennon Road should be declared a protected cultural landscape because most of the scenic route - the picturesque view of the mountains, lush vegetation and pine trees - is still intact. There is a need to regulate the construction of new structures in order to protect the historical fabric of our country's oldest mountain road which was completed in 1905. I hope the National Historical Institute or the National Museum act fast before it's too late.