Christmas has finally rolled into town. Without a doubt, the season is the best reason to eat, drink, and be merry. And seriously—what would Filipino Christmases be without the boxes of sapin-sapin mysteriously appearing in the refrigerator? Or the pillow-soft bibingka and fragrant puto bumbong welcoming you as you stumble out of Simbang Gabi? Hungry yet? Then get on as we go all around the metro for the best kakanin in town.


My Top Five Kakanin

Bibingka

First off let's start with the ubiquitous bibingka. The Christmas staple is now available all year round, but the certainly the best time to have it (meaning eat as many as one can handle) is during the holidays. Something about the chill in the air and the twinkling lights that make the fluffy rice cake taste infinitely better.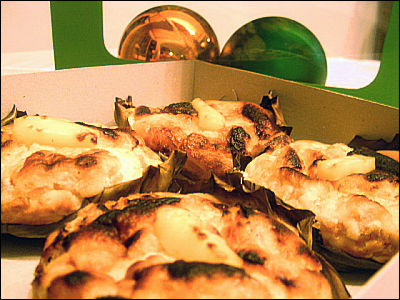 The dish is traditionally made from rice flour, clarified butter, sugar, and egg yolks. This is cooked in a clay oven with the hot coals above. Before it is served, more butter or margarine is spread generously on top, followed by desiccated coconut meat and sugar. If you adore bibingka, one brand to try is the mini-bibingkas of
Bibingkabon
. The cakes are absolutely heavenly! Owner Pinky Hilado has them prepared with real rice flour and mixes the grated coconut in the batter—making it easier to stuff in your mouth in one go.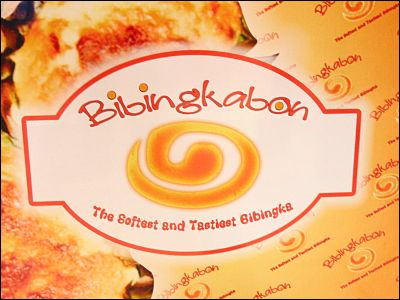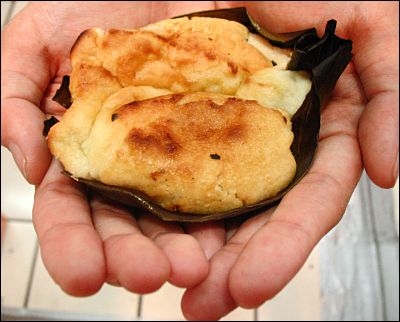 Bibingkabon stalls are found in the following places:
Sta. Lucia East Grand Mall
,
Starmall
, and
Shopwise Libis
. Each bibingka is freshly made -- you'll rarely find one sitting out because they are snapped up as soon as they come out of the oven!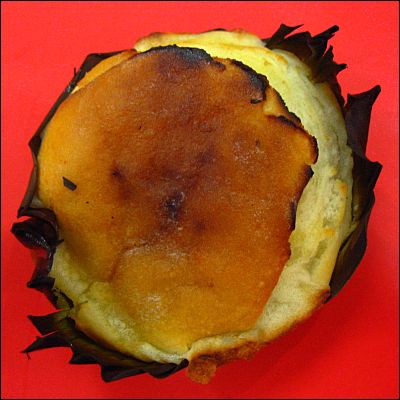 Plain ones go for
P15
while Specials—with salty red egg and creamy cheese-- go for
P18
. If you're feeling generous in time for the company Christmas party, you can order by bulk two to three days ahead for a minimum of
P3,500
.
Puto Bumbong
If you find yourself in front of a bibingka stand, chances are, a stall selling puto bumbong is nearby. This curious dessert is made of sticky purple rice, steamed through bamboo tubes, wrapped in banana leaves, and served with a swipe of margarine or butter, grated coconut and sugar.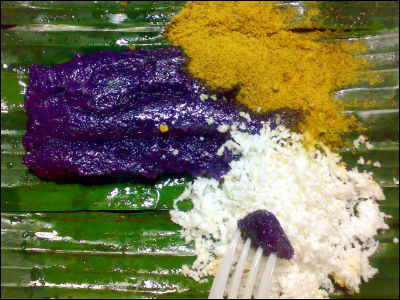 If you should ever get stuck in traffic (and you will be, as Filipino Christmas tradition dictates) along the South Super Highway, pass by the
Shell Station
right after the
Magallanes Town Center
. Squeezed in a teeny, tiny corner beside a donut shop, is the aptly named…
Shell Magallanes Bibingka Corner
. While their bibingka is definitely one of the best in town, try out the freshly made puto bumbong. Their cooks have been there for the longest time and they are quite deft when it comes to preparing these sticky delights.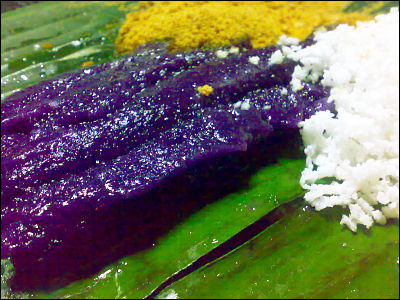 The puto bumbong is gloriously sticky sweet and infused with the scent of the banana leaf wrapper. For
P25
a pop, it is cheap means to tide your hunger, or calm things down when the traffic gets awry. Which brings us to our third kakanin:
palitaw
.
Palitaw
Yes, those palm-sized, milky-white treats are another good reason for stopover.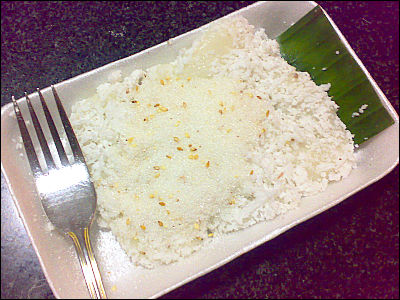 The Bibingka Corner sells them for
P20
. Request for extra coconut or sugar and they will easily acquiesce.
Sapin-Sapin
Whether they are homesick balikbayans or your Am-boy/-girl cousin spending the holidays with you, nothing spells festive Pinoy dessert more than
sapin-sapin
.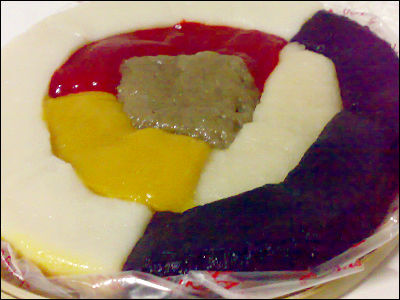 The multi-colored, round-shaped kakanin made with rice flour, coconut milk, sugar, and ube, is a perennial dessert favorite.
Dolor's Kakanin
makes one of the best. The main branch is located in Malabon City, and smaller ones in Banawe Ave., Quezon City and Along McArthur Highway in Monumento. The dessert originated from the northern part of the Philippines but has since travelled down to other provinces and is now widely available.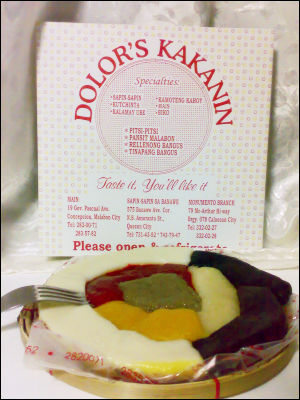 Dolor's version is absolutely delicious even if, at first glance it seems common looking; one bite of the glutinous dish reveals the densely packed flavor of the sapin-sapin of yore. Each layer is meticulously fleshed out and the ube never overpowers the delicate rice and coconut milk flavors. The large size costs
P160
and the smaller one
P120
.
Suman Latik
For our fifth kakanin, we have the
suman latik
. Filipinos, used to the heat and humidity of the tropics, will always feel cold enough to wear a jacket during the so-called "brrr" months. The moment a slight bite hits the air, we run and look for the nearest thing to warm our stomachs. The sputtering, gurgling mess that is suman latik is definitely the best thing to warm us up.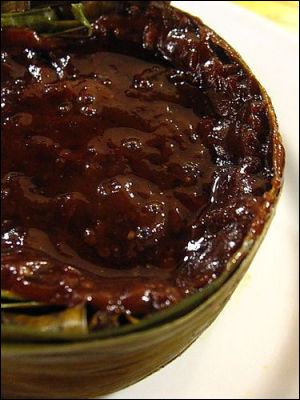 Tsoko.Nut Batirol
serves a fine version that will giddy up a good chunk of endorphins in your brain. The dish arrives at your table steaming hot with the thick latik bubbling up. As you dip your spoon into the kakanin, you realize it's in that fantastic half liquid, half solid state. Eating the dish requires some dexterity, but your efforts are justly rewarded when the mixture hits your tongue and your taste buds go into overdrive. Tsoko.Nut's version doesn't scrimp on the latik—even going as far as putting both sugar and rice in equal portions.
The dish is quite rich, and small as it may seem it is best shared with another person. You will have to because you cannot eat suman latik—or any of the abovementioned kakanins for that matter—without a hot cup of traditional
tsokolate
. Why go anywhere else when Tsoko.Nut serves a fantastic cup of tsokolate ah? Some might recoil at the idea of drinking hot chocolate with sweets (usually bathed in butter at that) but Filipinos usually wave those kinds of worries away. You can never have too much of a good thing, especially during the holidays.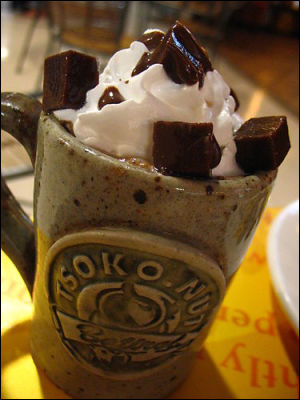 Those with a serious sweet tooth can push the envelope and order
Tsokonut Ah with Gulaman
, which takes a regular cup of tsokolate ah a step up the indulgence scale by adding buttery whipped cream, gulaman cubes made from tsokolate eh—which is the thick, syrupy hot version of the tsokoloate. To top it off, even more tsokolate eh is drizzled on top of the cream.
Well there you go—Top Five Kakanins to check out during the holiday break. Go on—eat, drink, and be merry. There is no better way to bust your gut during the holidays. Hey, it only comes once a year!
I'm looking for:Bibingkabon
Contact Timmie at 0917-7941984, or email bibingkabon@gmail.com
Glenn's Bibingka (Shell Magallanes Bibingka Corner)
Shell Station along South Super Highway
Dolor's Kakanin
19 Gov. Pascual Ave. Concepcion, Malabon City Call 282-0071, 283-5782
Sapin-Sapin Sa Banawe
575 Banawe Ave. Cor. N.S. Amoranto St., Quezon City
Call 731-4352; 743-7947
Tsoko.Nut Batirol