Dakak Resort
posted on

Sat, 21 Jul 2007 12:00 AM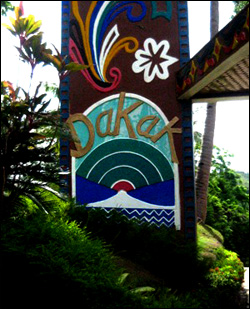 The sea waters do not form waves in
Dakak
, at least when we hied off there to catch the last days of summer. The green waters of the
Sulu Sea
inch very slowly towards the shore, pressing against the sand noiselessly.
This is not surprising, since the beach is on a small island cove sheltered from the elements. When you lie down on any of the beachside hammocks under the coconut trees, there is no sound of the waves that will lull you to sleep. The sea is so still that you can actually see sand ripples, undisturbed, under the water.
In everything else, though, the resort is brimming with action. There are two swimming pools, an outdoor whirlpool with a view of the beach, bowling lanes, and tennis courts. Guests can play golf (no need to bring your own equipment as they have clubs and gloves for rent) or go horseback riding or mountain biking around the grounds.
At
Dakak's Aqua Sports Centre
, water enthusiasts can borrow jetskis, kayaks, and hobie cats, although the rates are notably higher than most resorts'. You can also go water-skiing, fishing and scuba diving. Sunset cruises, island tours, and visits to Dapitan City's tourist spots can be arranged.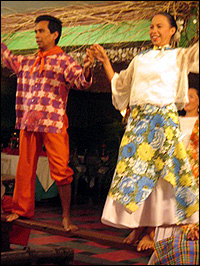 At night, the restaurant roars to life with renditions of native songs and dances by the resort staff. They perform
pandango sa ilaw, sayaw sa bangko
, and
tinikling
while you enjoy your dinner of fresh seafood.
After the show, staff members mingle around the guests to patiently teach them the basics of
tinikling
. It's not as hard as it looks, as long as you concentrate on the counts, lest your feet get trapped between the bamboo poles. To cap the night, you can order from the bar's wide selection of hard drinks and cocktails, while a live band plays nightly.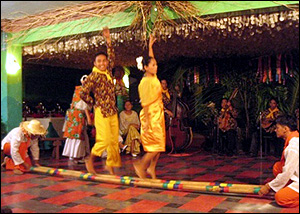 In keeping with the resort's tropical theme, the cottages are constructed with bamboo and nipa leaves; its window panes are made of capiz shell. The beachside cottages are highly recommended, as hermit crabs are crawling right outside your door, lining your path to the beach.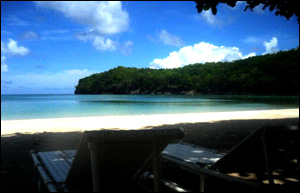 White bamboo lounge chairs and tables are laid out along the stretch of this private beach, where you can pass time just watching the sun set. The sand, though not Boracay-powdery, is white, fine, and cool on the feet. You need not put on aqua shoes or even watch your step as you wade in the waters, as the beach has no corals, sharp rocks, jellyfish or sea urchins. Even in waters as shallow as three feet, you can already spot schools of translucent fish swimming by. Swimming is not a problem as there are no wild currents that will drag you to the deep.
My only problem with the resort was that the phones were not working, so we could not request for softer pillows from our cottage; we still had to walk to the reception area. One other thing is that the road leading to Dakak is rather rough, filled with potholes and even muddy in some parts. It would be best to arrange for the hotel van to pick you up from the airport and to take you around the city, as there appeared to be no public transportation going to this exclusive resort. But if you do want a place where "you can get away from it all," Dakak is a good bet for lazy, tranquil nights by the beach.
I'm looking for Dakak.