Enigmata Tree House
posted on

Wed, 13 Jun 2007 12:00 AM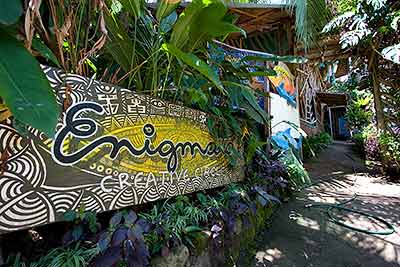 I found the
Enigmata Tree House
during my pre-vacation internet research for
Camiguin
. It was listed in a website under backpacker's accommodations. I was already so excited to be finally visiting the island with seven volcanoes and the most beautiful white sand bar I've ever seen in pictures. But reading about Enigmata was what really got me eager to hop on a plane bound for Camiguin.
Enigmata literally means "to open your eyes," it was created by a circle of Mindanao artists who urge visitors to "enter the journey inwards the creative circles of the mind." If you find the chance to visit the grounds of Enigmata, you will confirm that those who developed it did take that creative inward journey to embellish this surreal place.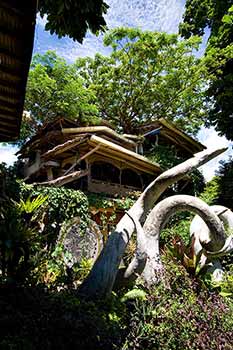 The tree house was once owned by a foreigner who used it as a vacation house, which he affectionately called Tarzan's Nest. The tree house is built around a giant acacia tree and is hidden behind thick foliage. Along the driveway and around the grounds of this hillside structure are huge sculptures which were created by renowned Mindanao artist Kublai Millan.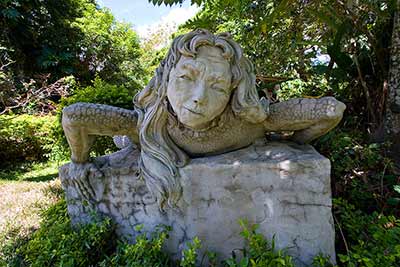 At first sight the tree house would seem to be just that… a tree house made of wood, bamboo and rattan. But as I got closer, the finer details astonished me. Almost every corner of the tree house is filled with murals, small sculptures and other random forms of artwork which definitely gave the place character. I was especially drawn to the Okkil-ish (cut-out wood) stairs and the recycled bottle art pieces found around the place.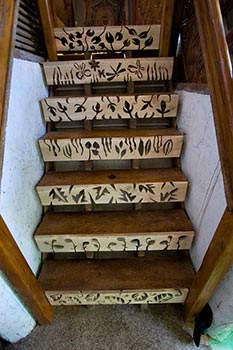 The trunk of the giant acacia tree is visible in the rooms to further enhance the natural feel of the place. Even the toilets are painted with a very back-to-nature feel to it. My suite's toilet was painted with an image to depict what I believe is the Katibawasan Falls. True to its vision, Enigmata inspires you to be one with nature and lets the artist in you to come alive.

The room I stayed in was the Shell Garden Suite (P 800.00 for two) which is on the second floor of the tree house. It has a lovely tropical forest mural on one side of the wall and paintings by various female artists on the other. Strewn around the room are shells of different shapes, sizes and colors. I was told that the extensive collection of shells in the room was put there to educate visitors on the types of shells the Philippines exports. Most especially, the shells were there to discourage visitors to purchase such shells.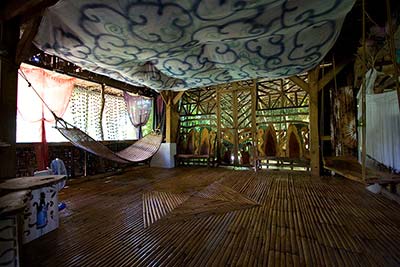 In the center of the room is a huge seating area which features a swinging bench on one side which is made of a sturdy hardwood. On the other side of the seating area is a duyan, which is perfect for those lazy afternoon naps. Let me warn you though, time moves very slowly at Enigmata, I remember being surprised to find that a fifteen minute chat seemed like an hour.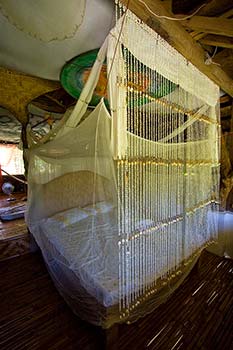 The highlight of the Shell Garden Suite is the bed. It has a very whimsical vibe with its amakan head board, sheer white drapes and shell curtains. They also hung a painting of a diwata beside the bed to supposedly watch over you while you sleep.

Once night starts to settle, the crickets and other insects will start chirping. To be honest, it's a very unsettling feeling to try to sleep to the sound of insects if you are used to the blaring sounds of the city. At first I was terrified and was convinced that I would not be getting any sleep for the rest of my stay, especially since I could hear a tuko right outside the window. But after a while, I don't know whether I relaxed or was just so tired, I eventually gave in and fell asleep to the sound of nature.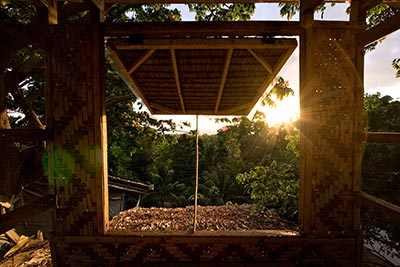 Waking up in Enigmata is an even better experience. Imagine rising to the relaxing sound of chirping birds and a magnificent pink and orange sunrise peeking through the window. Perfect.

Enigmata is definitely the perfect place to relax and commune with nature. But I have to warn those city slickers who have grown accustomed to the comforts of technology; there is no TV or air conditioning in any of the rooms, just lights and an electric fan. Being cut off from the things that we have been accustomed to may be scary for some, but for others, like myself, it's a pleasant break from my technologically dependent life.

I'm looking for: Enigmata Tree House.

How to get there:

To get to Camiguin from Manila, you can catch a plane to either Cebu or Cagayan De Oro (CDO). Cebu Pacific has daily flights to both destinations.

From CDO: From the CDO airport, get a ride to the Agora Market in Cagayan de Oro City. When you are at the market, ride the bus which will take you to the Balingoan Bus Terminal in Misamis Oriental.

Once off the bus, you can either ride a tricycle or walk to the Balingoan Port. Ride any of the ferries which leave for Camiguin every hour until four in the afternoon (schedules may change without prior notice). Camiguin has three ports, Benoni, Guinsilaban or Balbagon, it doesn't matter where you land because there will be jeepneys and multicabs waiting for passengers.

From Cebu: There are flights from Cebu to Camiguin every Mondays, Wednesdays and Fridays. Please inquire at the airport for more information.

How to get around:

To get around Camiguin, commuting may be quite a problem so I suggest you hire a multi cab for a day tour (P 1500). You can ask the people over at Enigmata to book your multi cab for you. Please ask for Mang Dhodhong (0928-3373478), he knows all the good sights in Camiguin and will even exert extra effort to get you to all the sights if you are pressed for time.