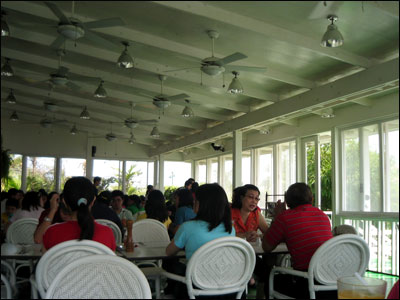 By now, Breakfast at Antonio's has already established itself as one of the must-go places when heading up to Tagaytay. Yet there is something about the spectacular view or the all day breakfast meals that make people drive past the radar complex along the ridge to come back to this popular hang-out. Situated in a spacious, American colonial-style house with large windows and white walls, the restaurant has an airy indoor dining area and an outdoor terrace for those who would rather dine al fresco. Whether you're situated indoors or outdoors, there's always a view of the volcano or of the pine trees in the area. There's even a view from the bathroom. The breezy, country-style restrooms have open windows that extend from the ceiling halfway to the floor, allowing an unobstructed view of the mountain range and greenery below.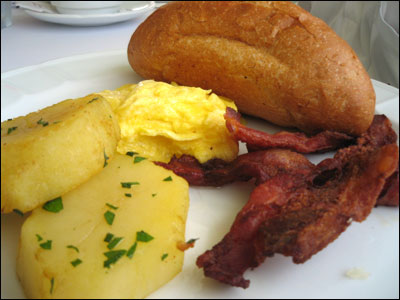 For the first-timer, selecting an order can be quite mind-boggling. The place offers a very wide range of breakfast items.
Breakfast Basics
is a good choice: two eggs, done any way you want, and
French Panini
, are served with
Bacon Strips (P275)
or
Farmers Ham (P265).
Another popular item on the menu is
Fritatas
, whipped eggs which are cooked open face.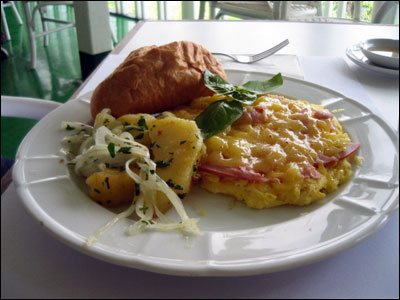 There's a
vegetarian
version
(P245),
but the
Italian variety
, with chorizo bilbao, sour cream and gruyere
(P305)
makes for a spicy wake-upper. Regulars also recommend
Eggs Benedict (325).
The poached eggs are topped with rich Hollandaise sauce, with English muffin on the side. Another must-try is
Corned Beef and Eggs (P365).
This is not the usual stuff that you get from the can, but consists of two slabs of tender beef, served with sauerkraut and scrambled eggs. If you're the type who must have rice in the morning, opt for
Chorizo and Eggs (P410)
which consists of chorizo bilbao, two eggs done any way you like, house potato, panini/garlic rice and herb roasted tomato. There's also the pricey
Steak and Eggs (P950),
which features broiled US black Angus sirloin steak.
The menu also has the requisite salads, pizza, pasta dishes, and pancakes.
Milkshakes
(
P155
for each serving) and
fresh fruit juices
(at
P145
a glass) are on hand to complete your meal. You may have no need for dessert afterwards as all the dishes here, although pricey, are very filling. Perhaps the only problem is that despite the screens on the windows, a few large flies could be seen swarming around the indoor tables. For its picturesque views, attentive staff and endless array of food choices though, Breakfast at Antonio's still remains as one of Tagaytay's favorite foodie eateries.
Breakfast at Antonio's is located in Bagong Tubig, Tagaytay City. For reservations and inquiries please call (046) 413-0975.