When I couldn't find a place to stay in La Union for a surfing trip, I went over to the Manila Surfers' Association's blog, to check if they could provide leads to resorts. There were a few, but they were quite far from the event location. It would be such a hassle to drive back and forth.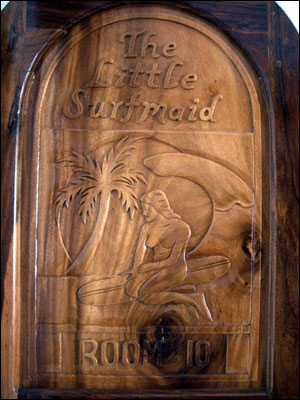 Just when I was about to lose hope, in the lineup of San Juan resorts was a new name:
Little Surf Maid
. Intrigued, I decided to inquire if they still had available rooms. Omar, the contact person indicated in the blog, quickly replied. It's not often that I get this sort of prompt service here in the country, so I was really pleasantly surprised. It wasn't long before I finally reserved a room.
Come the day of the trip, I was biting my fingernails all the way to La Union for fear that my group and I would not have a place to stay. Another fear that was gripping me was that the bathroom could potentially be filthy. Call mewhatever you want, but a dirty bathroom can ruin a great trip for me. It's the only thing I ask for when I travel.
All my apprehensions melted away when we finally drove up to the resort's brick-laden driveway. It led to a large, carved wooden door. I was filled with awe. The building towered over most of the resorts along the beach.
Even at the break of dawn a Little Surf Maid representative was already up and about, ready to receive us. As we were led upstairs to our room, I couldn't help but gape at this wonderfully clean structure. There were large windows by the staircase landings that let in the sunlight. Seeing our room was an even better experience as I soon realized that we had a balcony with a view of the sea. We could actually check out how the waves were at any given time without leaving the room!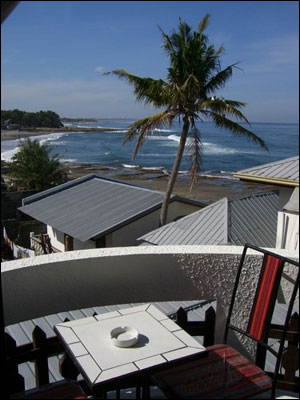 Our room, as in every other room in the resort, also had a carved wooden door with our room number etched on it. Upon entering I was in for a surprise; we had a king-sized bed covered with Cordillera-themed sheets, a little elevated closet with a safety deposit box and extra sheets should it get too cold.
We also had a receiving area (in case we decided to invite guests to our lovely pad-for-the-weekend) where there were two armchairs, a TV, and a mini refrigerator. A fan was also on hand should we decide not to use the air-conditioner.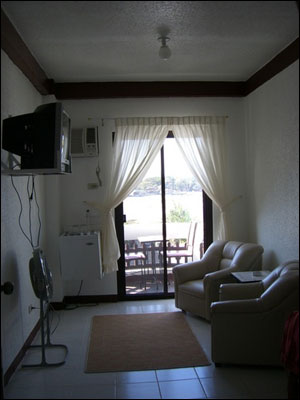 The best part of it all was that the bathroom was pristine! They even provided us soap, face towels and bath towels.
When the sun came up, we were able to see more of the place. They had a bar and dining area that faced the sea, so we had breakfast under the sun, watching surfers ride the waves.
Upon further inspection of the resort, we clearly saw that everything was well-thought of. They had storage areas for surfboards, and even a terrace by the beach where people could hang out and check out the surf. Shower areas were provided by the shore so that you could clean yourself off before entering the resort. There were various areas where you could hose-off and clean your board.
The service at Little Surf Maid was also superb - especially for a place that was just starting out at that time. Every member of the staff was nice and courteous. The only drawback we experienced was one of the waitresses getting our breakfast meals mixed up. But we're willing to let that go.
Of course, all the fanciness comes with a more upscale price than what we're used to in La Union. Usually, resorts or inns in the area are of the no-frills kind as they usually just provide a clean bed and a bathroom (that you may share with others). No complaints there on my part. But if you're feeling a little luxurious and would like some pampering after battling the waves of San Juan, then stay at Little Surf Maid. Believe me, you can't go wrong with this place.
Images provided by the writer.Price Details:
Room Rates (for Holy Week)
Room for 2 without balcony: P2500
Room for 2 with balcony: P2900
Room for 3 with balcony: P3500
Room for 4 with balcony: P3900
All rooms come with TV, Refrigerator, and Air Conditioning. Regular rates: deduct P400 from price. Please contact Omar for reservations and inquiries at (0910) 687-0548.