Taal Volcano Trek
posted on

Wed, 14 Mar 2007 12:00 AM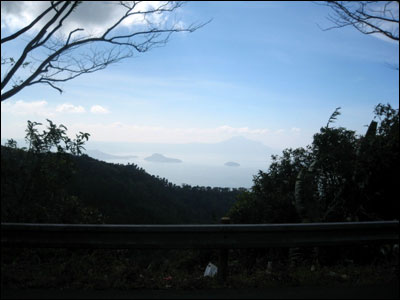 Taal Lake Yacht Club
, minutes away from the ever so popular
Tagaytay Ridge
, now offers us a totally different Taal experience. For everyone who's gotten tired of 'just looking' at Taal Volcano or for anyone simply looking for a new and fun adventure, the
Taal Volcano Trek
offered by the Yacht Club gives us a totally up-close experience of Taal. The Volcano Trek lets you climb up to the rim of its actual crater. All you have to do is take the 20-minute drive down to
Talisay
(a fishing village in Batangas where the boats take off) and head to the Yacht Club. On the drive down, you will probably see several other characters holding up signs that say 'Boat Ride to Taal', and some might even start chasing your car so beware. But Taal Lake Yacht Club offers the best value for your money, so just keep on going and find your way to the Club.
For
P1,500 per boat
(fits 6 people maximum so to save bucks, try and get 5 of your friends to tag along so that the total only comes to
P250/person
), you get a guide to go with you to the volcano island, free entrance to the Yacht Club, free parking (most other resorts in the area charge for this luxury), free use of showers and toilets at the Club (believe me, after going up to the crater, you'll be totally covered in dust and sweat that you'll be kissing the shower afterwards!), and free use of one of the huts at the Club, just in case you and your friends or family want to hang out for a couple more hours when you get back from the island. The hut is a perfect place to picnic, have a few bottles of beer, or simply just to hang out (food and drinks are available at the club). Additionally, the Tall Lake Yacht Club claims to prioritize safety. "All of our
bangkas
have cellphones. In case of problems, we have our own rescue boat, a dispatcher at the club, fire extinguishers and life vests for everyone on the boat. None of the other boat operators have all of these," says
Peter Capotosto
,
owner of the Yacht Club
.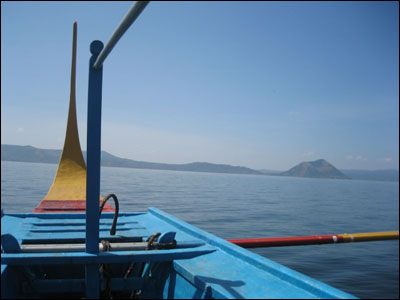 Taal Lake Yacht Club offers three different treks. Aside from the most common
'tourist trail'
, they offer a couple of '
secret trails
,' the first of which is a
horse ride
that actually lets you go all the way into the crater and even swim in the lake. The other '
secret trail
' is a
walking trail
through the forest to the top of the ridge, but like the first secret trail, you can also opt to go down into the 'crater lake' for a swim. But since I didn't have a lot of time (or funds) to do those 'secret trails' that apparently took much longer than the regular 'tourist trail', I took the most common route. And seeing as Taal Volcano has actually been on Alert 1 (which means that even if chances of an eruption are very small, there are a number of gas vents in the volcano, some that are harmless but also some that can open up to release sulfuric gas), I opted for the 'tourist trail' just to be safe. However, to all of you panicking right now, please note that most of these gas vents are found only on the trails leading down into the crater, which is why going down to the 'crater lake' isn't exactly being encouraged right now. Goes to show just how active this volcano still is! Please worry not, though, as I assure you that the regular 'tourist' trail is safe.
Upon arriving at Taal Lake Yacht Club, I was almost immediately ushered into our boat and was on my way to
Volcano Island
within minutes. My adventure began with loads of new trivia about Taal Volcano, all of which I learned from our
bangkero
,
Mang Greg
. Did you know that the Tagaytay Ridge, where Starbucks, Taal Vista and all those other places are now, is actually the rim of the volcano? And, that Taal volcano is famous for being 'an island on a lake in an island on a lake, in an island on an ocean'? Well, I didn't and all the new knowledge just made me all the more excited to get to the top. We arrived at the foot of the volcano in twenty minutes. Upon landing, I was greeted by a madhouse, really, with everyone trying to sell me everything from dust masks to overpriced bottles of water, to those ridiculous looking giant straw hats to 'protect you from the heat' to horse rides. If this bothers you, just politely but firmly say 'no' to the vendors and walk away. With my guide's help, I was able to bypass the vendors and head straight to the tiny Tourist Center where you have to register and pay
P50 for landing tax
if you're walking, and
P500 if you plan to take a horse
with a guide.
Now, here's the tricky part: it's really a choice between toughing it out by hiking the long, steep trail on foot (takes about 45 minutes) or doing the 'tourist thing' and hopping on a horse that can get you to the top in half an hour. The latter is more popular because it's faster, a lot less tiring and because of the novelty of the experience. I did the latter and even if it was mildly terrifying since my horse was so eager to run and gallop and there were several uphill climbs that made me curse and hold on to dear life, much to the amusement of the other foreign tourists climbing up with me. I was glad I went on horseback since the sun was beating down so fiercely that day and walking up to the top would've been like hell. But if you're physically fit then by all means go for the hike as it'd be easier to stop for photo ops, too! After half an hour, I finally reached the top.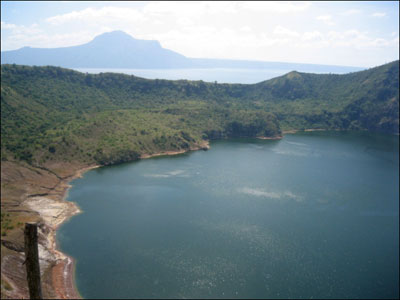 As I got off my horse, though, yet another tourist trap welcomed me. 'Ma'am, would you like to buy your driver some drinks?' a lady asks. And since I did feel like my guide deserved a drink after all that, I went ahead and paid
P25 for a tiny bottle of Coke
for her before climbing up the last few steps to the lookout point on the edge of the volcano's rim.
As exhausting as the climb was, and as mildly harassing as the vendors and tourist traps on the way up were, the sight of the gorgeous lake inside the crater made me forget everything. In an instant, I felt extremely peaceful and detached from everything else, just looking at the calm and peace that the vision of the 'crater lake' was. It is hard to describe how beautiful it is up there and how surreal the whole experience was for me. I relished in actually being able to look down into a volcano's crater that looked too beautiful to ever have been something so destructive. I could have stared down at it all day. What you'll see is simply a lake inside the crater, a tiny island in the lake, and interestingly, several gas vents further inside the crater blowing out steam. There are also little pockets in the lake where the water was obviously boiling. It's incredibly relaxing being up there, even if the lookout point was nothing fancy, just a bunch of shacks and nipa huts with a few benches and tables where you can get
fresh buko juice (P30)
, a bottle of
beer
(
P50
– they'll say P100 first, so be warned), or
fresh mangoes
(
P20
per fruit). Bring your own drinks and snacks to save money since everything on the island is insanely overpriced.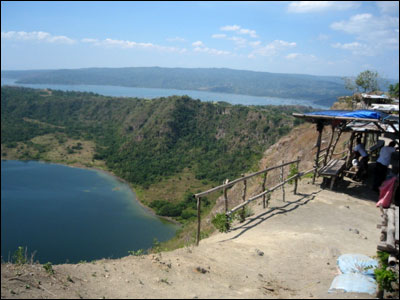 After half an hour of just chilling at the top and staring at the magnificent view I finally decided to brave the horse ride once again and head back. The way down is more relaxed and you get to appreciate the scenery more as you see Taal Lake. After another 30-minute steep and dust-filled horse ride down, I met up once again with Mang Greg, our bangkero, and after paying the
P20 docking fee
, we were on our way back to Talisay.
The whole trek lasted about 2 ½ hours for me (including boat ride to and from the island), but it all depends on whether you take a horse or not, and on how long you intend to stay at the lookout point. Once you get back to Taal Lake Yacht Club, you can use their shower rooms to wash off all the dust and hang out in one of their huts for lunch or merienda. You can order from the nearby restaurants or you can bring your own food; you can even use their grill to cook fresh
tawilis
, a local favorite, from the lake. It's best to go on the trek in the morning since it does get a bit crowded up there in the afternoon and also so you can get back to the Yacht Club in time for lunch. Don't forget to wear sunscreen. And if you're asthmatic, bring a mask as you'll be covered in dust by the end of the hike. There is no minimum age limit for the trek. In fact, they get a lot of kindergarten field trips every year; the trek is really for the entire family.
Going up Taal Volcano is an incredible experience, if not for the adventure, then for the breathtaking beauty of the view from up there. This coming summer, instead of going to the beach, why not try something new? Taal Lake Yacht Club is now an easy alternative option. Besides, Taal being an active volcano, one of the reasons why we should go visit Taal and see the crater now is - as Taal Lake Yacht Club owner, Peter Catoposto puts it - 'Well, you never know, it might not be there next year!'
For more information on the trek, visit: http://www.sailing.org.ph/tlyc/volctrip.html.