The Romantic Vieux Chalet
posted on

Wed, 7 Feb 2007 12:00 AM
'
Vieux Chalet
is a family restaurant, couple's haven and a meditative retreat for people looking for a quiet reprieve – it's all of that balled into one!' says Florence (or 'Flo' as she prefers to be called), the eclectic and chatty representative of the Hassig family. Flo hasn't always been in charge of the PR for the restaurant; her mom, the dusky Susan Hassig, has been spearheading this task for the past twenty-two years but has recently decided to slowly but surely pass on the baton to her gregarious daughter.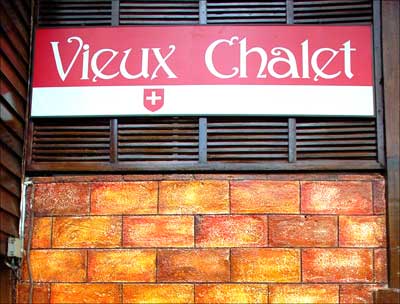 'It's about time that Flo took over, don't you think? For twenty-two years I've been saying the same thing over and over again! Now, it's her turn,' confirms Susan. Yes, Vieux Chalet has been delighting its guests for over two decades – yet so many Manilenyos have yet to make the trip to Antipolo City to experience the country charm that Susan has nurtured (then with the help of her late husband, Tony), one that continues to thrive today.
Rico, Tess, Flo, and Susan Hassig
You can expect to be greeted by Rico, their all-around server. He is quick to offer you a quick tour of the grounds (when it's not so busy) upon request and does not hesitate to offer you their signature drink, the
Lemongrass Cooler
(P58.50), a sweet refreshment that goes down easy despite the lemongrass 'kick.'
With cooler in hand you can explore the rest house within their property, which is split into two rooms: a larger room that can accommodate 10-12 people (perfect for family outings and overnights), and a couple's room that's enveloped in Frida Kahlo's vibrant colors, except here, the paintings adorning the walls are the works of another artist – Vieux Chalet's very own Susan Hassig.
Family Room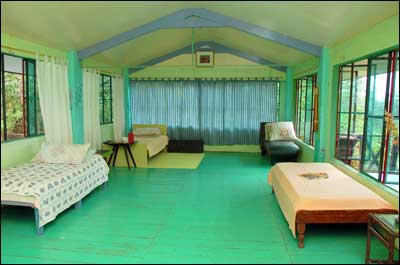 Couple's Room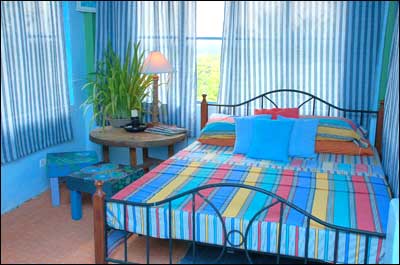 'Two hours isn't enough to spend here. People end up staying much longer than they had expected. Sometimes they decide to stay the night if the rooms are free because once you experience the calm of this place, you don't want to leave and go back to
that
,' Flo says as she cocks her head towards the Manila skyline fronting the restaurant.
The view from the dining room is panoramic, spanning Eastwood, Ortigas, Makati, and the South of Metro Manila. On any given day couples are found seated comfortably, sometimes in the midst of barely audible chatter, but always in awe of the incredible reds, oranges and purples that paint the sky during sunset. People melt into their seats, happily savoring the serenity that sweeps through the property with the mild winds.

And when people aren't caught up in the rapture of the scenery, they are usually pretty taken by the food. Vieux Chalet serves up European cuisine at affordable prices. House salads are hefty and good enough for 3-4 people, often slathered with homemade vinaigrette (P325.00). Try the Swiss rosti (plain potato pancake, P185.00), which goes well with the Lamb Shoulder (P725.00 for two), a house specialty that is served with herbed organic rice, soft and tender with a choice of red wine or butter sauce.

Other house specialties include the pizza (made upon request and not on the menu, P395.00) and the Vermicelli pasta with parmesan and eggplant (P165.00 with a glass of the house red). Susan enjoys having a glass of wine (and conversing) with guests; but no worries if you want to be alone with your date – she won't take it personally if you opt to enjoy the hours in quiet seclusion. Don't forget to ask about their beef, cheese and chocolate fondue specials for Valentine's Day (price TBD), and to end every meal with their creamy and homemade Belgian chocolate parfait (P65.00).



Swiss Rosti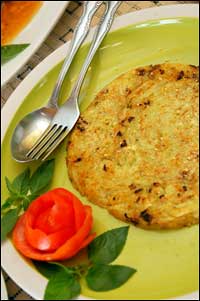 Lamb Shoulder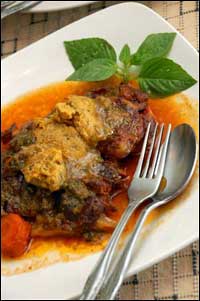 'Vieux Chalet is the perfect place for Valentine's Day. But people should know that we are also open every other day of the year. Even on Christmas Day and Holy Week!' confirms Flo. So while there's still a week left until February 14th, you should start making reservations now as there's a large chance that you'll be turned away as a walk-in on the day of. And if you can't make it to Vieux Chalet next week, then go ahead and make the call for the week after.

'Leaves swaying in the wind? Wine with dinner? Romance? That's every day here at Vieux Chalet.' Mere observations from the Hassig women.

For reservations and directions to Vieux Chalet in Antipolo City, please contact Vieux Chalet at 697-0396. The restaurant is open every day from 7 a.m. to 10:30 p.m. including holidays. The family room can accommodate up to 12 people for P4,000/night, inclusive of breakfast; couple's room is P1,500/night (for two), inclusive of breakfast, or you can opt to have an extended massage, use of the pool and a hearty Swiss brunch for P3,500/night (for two).

I'm looking for Vieux Chalet.