In its claim to be the country's most ecofriendly resort,
El Nido Resorts in Palawan
and its surrounding villages in this island municipality recently held an ecoreef installation ceremony at
Tres Marias
, a former coral reef and dive site which has been badly damaged by dynamite and other forms of illegal fishing near
Miniloc Island
.
"The beauty of the Philippines is second to none. It is very fragile," observes Duane Silverstein,
Seacology
Executive Director and main mover of the foundation for the preservation of island biodiversity in the world. "Dynamite fishing and other illegal methods have banged up Palawan's coral reef," he added.
The world's first artificial reef designed to rehabilitate damaged corals, Ecoreefs are made of ceramic stone ware that is ideal for the settlement of corals and other invertebrates. They are white ceramic modules shaped like a stag horn coral about the size of small coffee tables. Anchored on reef rubbles, the structures attract fishes and tiny polyps, the creatures that actually create coral reefs.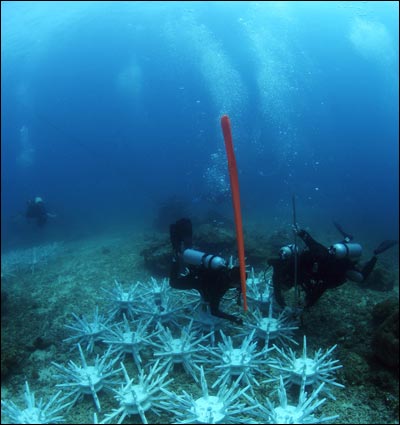 By all means, reef regeneration is not a quick solution strategy. In the past, other environmental NGOs have used structures made out of tires as artificial reefs. Some groups have even parked wrecked cars and parts of ships to facilitate coral restoration.
With support from
Seacology
, a US-based non-stock, non-profit organization, through a US$20,000 grant to El Nido Foundation Inc., El Nido town, in partnership with the resort, is the recipient of 626 pieces of Eco Reef modules which were installed at Tres Marias. El Nido is only the second site in the world to have this kind of installation, the first being
Bunaken National Park in Indonesia
. It is the hope that the installation in Tres Marias, particularly the community's initiative to manage and conserve El Nido's coastal resources, will be a consistent and longterm effort.
The El Nido municipality has mobilized a support group which not only seeks to help the neighboring communities but further raise the awareness among the youths on the importance of coral reefs in sustaining fish biomass in the area.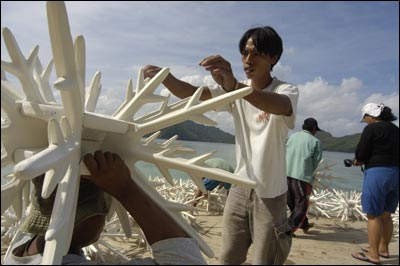 Seacology is one of the world's premier non-profit environmental organizations with the sole purpose of preserving the highly endangered biodiversity of islands through the world. In the Philippines, the organization has worked closely with several islanders and has enjoyed strong local support and has consequently led to long term benefits.
The work of the organization in El Nido, Palawan has been started as early as 2003. In response to the area's declining fish population and degraded coral reef, ten El Nido villages have established a no take zone totaling approximately 2,000 acres. Working with the El Nido Foundation, Seacology provided EcoReef modules to facilitate reef restorations. It is expected that the eco-reef installations will jumpstart the community's involvement in various efforts to conserve El Nido's precious coastal and marine resources, which is the main livelihood and food source of at least seventy percent of the town's populace.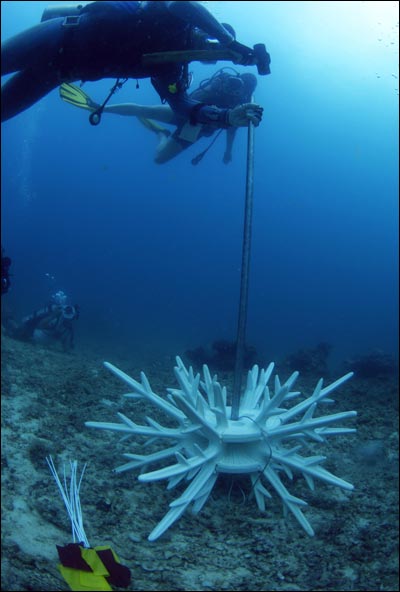 El Nido is considered a showcase of Palawan's geology and diverse wildlife. Its majestic limestone cliffs are estimated to be 250 million years old. They stand guard over clear waters with innumerable species of tropical fishes and corals. El Nido's forest is host to more than 100 species of birds, a large number of which is endemic to Palawan. Being one of the most important sites of biological diversity in the country, the Philippine government has elevated the status of El Nido from a marine reserve to a protected area.
Images provided by Vic Albornoz Lactaoen