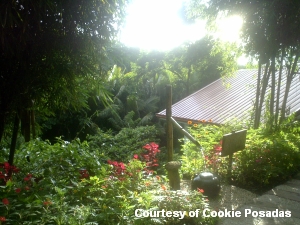 In the quiet suburban town of Alfonso, Cavite, is a restaurant known to beguile many with its lovely English garden and a timeless organic menu. Recently voted as Best for the Body by Time Magazine, Sonya's Garden serves a hearty four-course meal that begins with a salad of handpicked greens from her own garden. A wide array of garnishing—fresh chunks of fruit, shredded egg, pine nuts, steamed corn, cucumber slices and grated parmesan cheese—allows the guests to create a salad suitable to their own taste. The finishing touch is a choice between two distinct salad dressings, a sweet innovation of the traditional Ceasar and creamy vinaigrette sauce.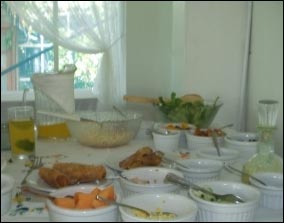 Next, freshly-baked bread is served alongside various choices of toppings. There's basil pesto, mushroom pate, kesong puti in olive oil, anchovies, and a tomato-based spread that you can mix and match. All throughout the meal, a refillable pitcher of fresh dalandan juice is yours to enjoy.
The entrée is a generous helping of pasta with two kinds of sauce. One is cream-based topped with chunks of chicken, another is a variation of red sauce made from sundried tomatoes. A delectable display of pasta add-ons is offered, such as steamed shrimps, capers, olives, and shitake mushrooms.
Desserts are mainly Filipino in origin, which includes the traditional turon and sweetened camote in rich syrup.