Tiangge Check: Greenhills Shopping Center
posted on

Fri, 23 Dec 2005 12:00 AM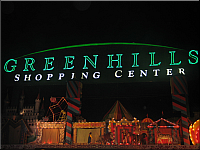 There was a time when only the rich went to the Greenhills Shopping Center. Over time, though, it evolved into one of the biggest centers housing flea markets in the country. Its destiny to be a tiangge behemoth was realized that it even landed in Vogue magazine once.
Now, people from all walks of life go here for various reasons. Greenhills is the place to get the latest cell phone models not yet out in the malls and at cheaper prices at that. Apart from this, old cell phones may also be traded for newer ones, repaired, enhanced, etc. The tiangge stalls are in the middle, where the imitation clothes, shoes, bags, watches, coats, accessories, electronics, and toys are--all at a discount if you know how to ask for it.
The jewelry stalls are innumerable, and you could get dizzy from the blinding white pearls on display, plus the glitter of the crystal accessories with Swarovski elements. Handicrafts line the side entrances and the hallways. Rows of furniture are on the second floor: Blims have various sala sets, office tables, bookshelves, to CD towers; La Ferriera Arts & Crafts have wrought-iron day beds, four-poster beds, side tables, eight-seater dining tables, shelves, swinging couches, garden sets, bar stools, consoles; other types of furniture made of wood, rattan, etc.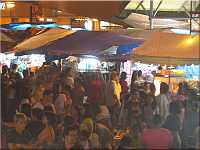 Unlike Divisoria that is solely for bargain-hunting, Greenhills has grown into a complex that offers something for everyone in the family. After a billion-peso renovation within the last two years, it has added more establishments for limitless activities. Plus, virtually the whole complex is now air-conditioned. The Shops feature boutiques and other beauty shops just like those found at a regular mall. There are modern movie theaters, a bowling alley, and places of worship within one roof.
Restaurants are now found all over: from the fast food places at Virra Mall on one end, to the fine dining places at the Carpark on one side, and the coffee shops at Theater Mall on the other end. Here at the Theater Mall are two modern, state-of-the-art cinemas, plus the Music Museum where many big artists' concerts and stage plays are held throughout the year.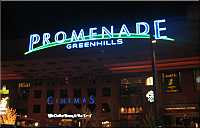 More dining places will be found across the Theater Mall at the Promenade, the newest structure boasting of mall hours that extend way beyond 9 PM, the hour that the rest of Greenhills closes. Besides numerous restaurants, the Promenade also has three new cinemas, a karaoke club, bookstore, and arcade for kids.
On occasion, a night market--also known as Bangketa Fair--opens at the GSC Parking 1 from 6 PM onwards. At Christmastime, a Christmas Carnival is featured, with nightly shows every 30 minutes between 6 PM and 10:30 PM. This is a longtime tradition that began in the C.O.D. mall in Cubao but has since been transferred to Greenhills. The Carnival is not a full-blown show with a meaty story as with a stage play, but it is worth watching for the few minutes it is held for the characters made out of wood that showcase distinct Filipino artistry.
Check out other tiangges:

Divisoria may be chaotic but every conceivable thing you need is here.

Tiendesitas is the newest destination offering Pinoy's best every day.

St. Francis Square reopens its doors to offer convenient shopping at low costs.