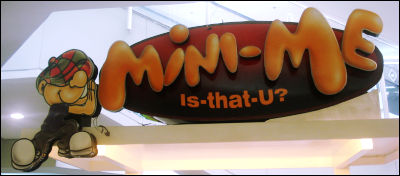 If you're neither a celebrity nor a superhero, the thought of having a miniature version of yourself might seem far-fetched. However,
Mini-Me Is-That-U?
, a business that has generated significant buzz the past year, has made this possible through the manufacture of caricature statues.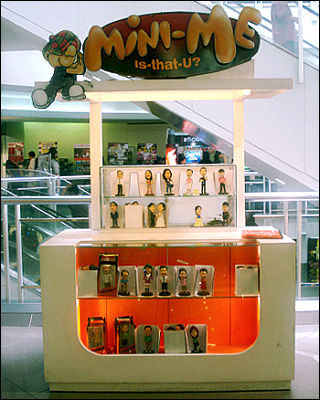 The first time I passed by the Mini-Me stall in
SM Megamall
, the statuettes immediately caught my eye. I was instantly drawn in to look at their creations and to browse their catalogue. I could only stare with awe at how much detail each caricature statue has which makes it different from the one next to it. If you're looking for something unique to give yourself or someone you know, then nothing could be more personalized than this.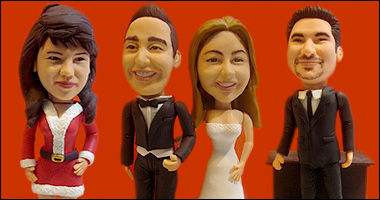 The Story of Mini-Me

Mini-Me Is-That-U? was established in February 2004. It was the brainchild of
Glenn Gwyn Ko
and
Thomas Lin Miranda
. Though not artists themselves, the business partners had a simply brilliant idea of creating miniature versions of people as a special gift that would last a long time. With this in mind, they hired 4 artists and went through a rigorous product development stage. Starting with likenesses of themselves and their family, they experimented to find the right material and the right process to come out with the perfect long-lasting doll that they are manufacturing now.

By December 2006, it was finally time for the business to open its first outlet on the third floor of SM Megamall Building B. Since then, the aptly small Mini-Me stall has gotten a lot of attention because of their one-of-a-kind product. Customers have flocked to get their very own Mini-Me's created for themselves, for family and friends. Even an American Idol finalist who stopped by the Philippines recently has shared his very own Mini-Me on his MySpace page. Since starting a year ago, Mini-Me Is-That-U? is quickly becoming a recognizable specialty store.
The Product
Mini-Me boasts of high quality clay and resin statuettes that are individually created and hand-made. Through the complicated process of finishing these statues, each creation is guaranteed to be as unique as the person they are fashioned from; and it all starts with a photo or two.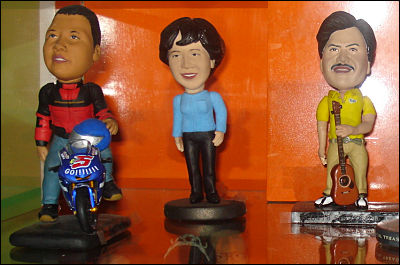 Clients are asked to submit close-up photos of the subject, preferably with the expression or emotion that they wish the caricature statue would have. The bigger and more detailed the picture, the more accurate the recreation of the subject will be. Aside from that, body position, additional accessories or apparel need to be specified. The Mini-Me team will then render a likeness of the subject in 3D using the computer. After which, the creation of the actual Mini-Me begins.
Every bit of these 6 to 7-inch masterpieces is made from a clay/resin mixture and is hand-crafted by their artists. Once the details are done, the statue is oven baked; and it comes out as the finished product.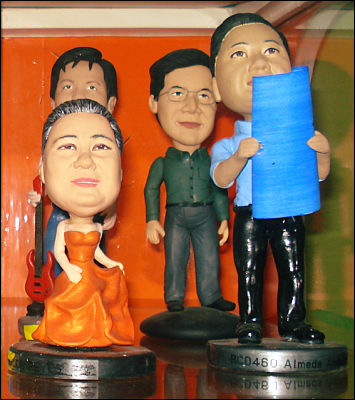 You can have your very own Mini-Me doll for
Php2,500
. Any extra accessories, props, expressions or gestures would mean an additional charge depending on complexity. Production time usually takes two weeks; but for an additional
Php700
, you may rush the project down to a week. Orders can be made through their outlet at the 3rd floor, SM Megamall Building B or through their website at
www.minimeisthatyou.com
.
So whether you're having one made for yourself or a loved one, for decoration or simply for something to stare at, the Mini-Me is guaranteed to be a keepsake anyone would treasure.
I'm looking for Mini-Me Is-That-U?