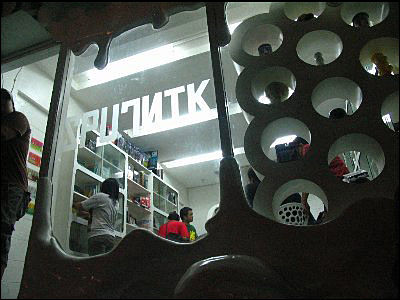 I've always maintained that the only thing Cubao still lacked was a good comic book store. Sure, we had a couple of big bookstores that sold comics, but they mostly stuck to a pretty mainstream catalog of books. Where could one get a copy of the critically acclaimed
Scott Pilgrim
? Or
Strangers in Paradise
? Or any of indie darling Daniel Clowes' stuff? Or a slew of other great graphic novels that the big bookstores just aren't hip enough to know about?
Enter
Sputnik Comics
. Located at Cubao's budding bohemian artist district, the
Cubao Expo
(formerly the Marikina Shoe Expo), Sputnik Comics promises to be the alternative comics lover's paradise.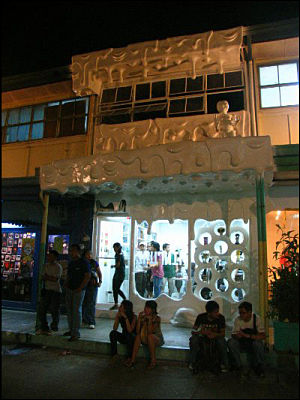 The store itself is a marvelous little work of art. It's almost worth going to the store just to see it. The façade is an absolutely mind-blowing fiberglass installation by up-and-coming artist Leeroy New. It's a drippy, sci-fi masterpiece that people should really see in person. The store looks like it grew out organically from the space, like some sort of architectural alien baby. Even in the quirkiness of Cubao Expo, it really stands out.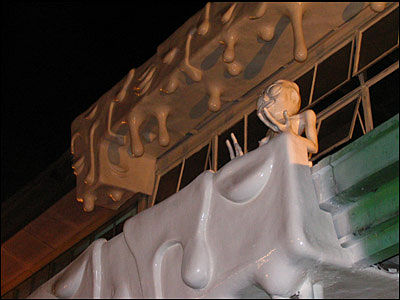 The inside is just as interesting. Sputnik's mainstream comics section is small compared to the large bookstores and other comic shops, and it's even placed somewhat in the back. While the selection is still pretty good, it's obvious that the capes and tights crowd aren't the main focus of the store. The very first shelves are all about the alternative stuff. Instead of Marvel and DC, the main attractions are Top Shelf Comix and Oni Press. Instead of
Batman
, it's
Scott Pilgrim
. Instead of the
X-Men
, it's
Ghost World
. That's progressive retail right there.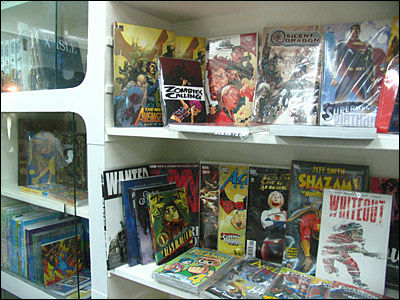 The selection is incredible, and is certainly unique from the normal Manila comic book store fare. Practically every great comics creator that's never worked in the mainstream is well represented. It's a strange thing to actually see these books in person. I'd only heard of them on the internet, where a bunch of people would be talking about these fantastic books that I could never get my hands on. They have a good-sized Manga section, too, featuring some really great unusual fare. It isn't all
Naruto
in here.
And it's not just comics. Sputnik does toys as well, though it's a tad more eclectic than what you'd usually find at Toy Kingdom. What's really exciting, though, is Sputnik's very own line of toys:
Third World Art Toys
. This is an effort to create quirky, locally produced toys for the local market. Leeroy New will be sculpting the molds, and the toys will be cast in vinyl. It's great stuff, and certainly something to watch out for.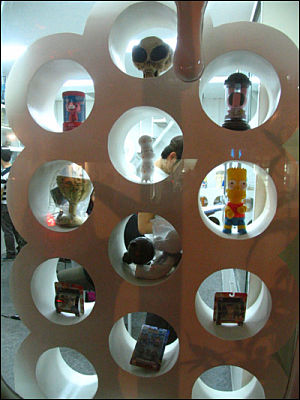 What I really love about Sputnik Comics is that it just has a great vibe. It's all just very relaxed, and everyone in the store is really helpful. They'll really try to help you find a book that you want. The world of alternative comics can be a pretty daunting journey to take, but the people at Sputnik (particularly Ramon, the owner) are more than ready to be your guides. Ramon will personally tell you what's good, and what you might like given your tastes. That's just the kind of place comic book stores should be.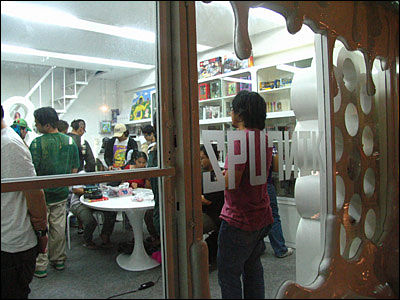 Sputnik has quickly become one of my favorite places in Cubao. Like its namesake, it's a symbol of much larger movement, just the first shot in a revolution of ideas. There's a much larger universe of comics out there, and Sputnik is our first satellite.
I'm looking for Sputnik Comics.