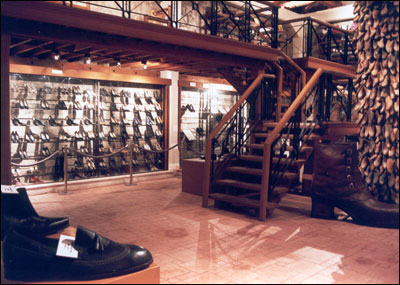 Ever wondered what the widow of a former dictator does with her thousands of shoes? In the case of former first lady Imelda Romualdez Marcos, a
shoe museum
along J. P. Rizal Street in Marikina City, has been built and dedicated in her honor to store part of her shoe bounty. The
Marikina Shoe Museum
is now housed in a proper facility managed by the city government of Marikina, not just to showcase Imelda's famous shoes but also to showcase the city's own shoe brands, designs and also some other shoes of famous local politicians.
It is a fitting role for the woman whose place in history was ensured by an extravagant lifestyle that saw her amass 3,500 pairs of shoes while helping her husband rule our poverty-stricken nation. When asked how many pieces the city government has, more than 700 pairs of the famous collection are apparently kept in this museum. The shoe collection features shoes made by Italian designers like Salvatorre Ferragamo, Charles Jourdan, Beltrami, Bally of Switzerland and our very own, Maro by Mario Katigbak, which was formerly sold at Rustans Department Store.
It is also a clever marketing coup for Marikina City, a small town on Manila's northeastern border. There isn't a lot of tourism in Marikina, but there's a lot of shoemaking, with some 40% of the town's 550,000 people involved. What better way to promote the two than a museum filled with Imelda's shoes?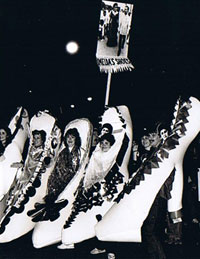 Until now, the surviving shoe collection was kept at Malacanang Palace, more or less where Imelda left them in 1986 when she boarded into a helicopter with her husband to flee to Hawaii. It was the current Mayor of Marikina, Marides Fernando, who was then the First Lady of the city who had the idea of asking the government for permission to rehouse the infamous footwear collection in Marikina.
Sadly, there are only less than 700 pairs left from the original collection – what happened to the other 3,000 plus pairs, nobody seems to know – but there's still enough to fill the glass display cases that line the two walls of the renovated 19th century rice warehouse.
Dressy Charles Jourdan pumps, comfy espadrilles, knee high leather boots, a shoe phone, all size 8 ½, compete for attention with photos of Imelda with other world leaders like Prince Charles, a French president, China's Deng Xiaoping, and the cigar chomping Fidel Castro of Cuba.
Squeezed forlornly into a corner, next to a small photo of the late president, are a few pairs of worn out-looking shoes that once belonged to Ferdinand. There's also a pair of current President Gloria Macapagal Arroyo's shoes, Gringo Honasan, Juan Flavier, Teofisto Guingona, Emmanuel Pelaez and church leader Cardinal Sin's loafers.
For educational value the second floor has displays of the shoemaker's tools and a diorama of Marikina shoemakers. Personally, I'd like to bring foreign friends to visit. A teacher at nearby Barangka Elementary School plans to bring her class to the museum as well. "It's part of the country's history," she says. But I ask, "do young school kids know anything about the 21-year rule of Imelda and Ferdinand Marcos? The same woman who allegedly pocketed something like 5 to 10 billion dollars of the country's wealth?"
"Not really," the teacher replied. "But they still know who Imelda is."
It seems that the Marcos legacy is infamy, but the former first lady remains serenely unperturbed by the tag. She's not at all embarrassed to be known for her shopaholic predilection. "They looked in my closets for skeletons, thank God all they found were shoes," she was quoted during the opening of the shoe museum.
First Image courtesy of the Marikina Shoe Museum. Black and white image of a protest held during Imelda Marcos' exile in the States provided by Vic Lactaoen.