Alice Blue Candles
posted on

Mon, 3 Jul 2006 12:00 AM
I first fell in-love with Alice Blue Candles at the American Women's Bazaar Christmas Sale last year. I would have missed their humble booth if not for the incredible 'throw' (candle-speak for scent dispersion) of their bestseller: the Cafe Mocha, one of five scents in the 'Cafe Collection' (consisting of Banana Nut Bread, Berry Crumble, Butter Cream and Dutch Apple Pie) which believe you me, are all good enough to eat.
"We haven't had to do that much advertising," says Tisha Gonzalez, co-owner of Alice Blue with pal (and business partner), Vencer Viray. "Alice Blue has been blessed with the magic of word-of-mouth marketing. There are times when an enthused customer will want to buy 30 or 40 of one candle - but we end up having to deliver to their home because we only have about a dozen at any given time."
Being an environmentalist, I can't help but delight in the fact that Alice Blue makes candles from soy wax, which, unlike paraffin wax candles are biodegradable, produce less soot and are extracted from a renewable source (soybeans). This, coupled with the fact that Alice Blue candles burns about 50 per cent longer than other candles of it's size (yes - this has been tested), are reasons enough for anyone to be an Alice Blue loyalist.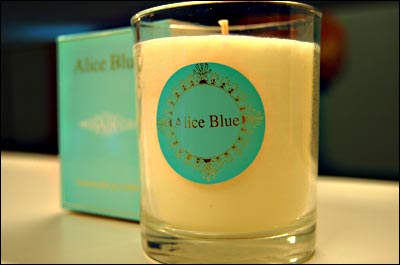 Don't be intimidated by the price (Php 395.00/six oz candle in glass holder) because you're buying something that will last about twice as long, not to mention leave a lingering scent of bliss, as the wax variety that you've been buying from the mall or the grocery store. Alice Blue Candles make for a perfect gift - whether it be in its single box, a set of two (Php 795.00) or a trio collection (Php 1,100.00).
The makers have added four new scents to the roster: Bamboo, Lavender, Lemongrass, and Vanilla Sugar - more reason for you to start enjoying the 'throw' of their soy candle scents!
You can e-mail Tisha Gonzalez at alicebluecandle@yahoo.com or call at (0916) 307-7466 to place orders or to request for a private testing - a 'throw' party! - at your home or small gathering venue.