The Precision Of An Approximation
posted on

Fri, 7 Nov 2008 12:00 AM
It's not often that a great indie band from the upper regions of this world visits this humble little country of ours. So, when one actually does, indie rock fanatics unite and have a field day. I'm already imagining a certain kind of giddiness tonight at
Warehouse 135
in Makati as New York-based band,
Plus/Minus
or
+/-
, performs to a crowd of more or less 350 eager beavers who were able to get a hold of the P1,200 ticket as early as a week before the band set foot on our shores.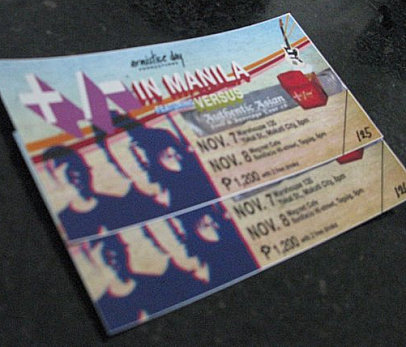 Tonight will feature local acts Ciudad, Ang Bandang Shirley and Taken by Cars as co-performers. The RSVP of the event's Facebook invitation says exactly 704 for both nights that the band will be having a show. They will also play in
Mag:net High Street
tomorrow, Nov 8, with Boldstar and US-2 Evil-0. Advanced math isn't even necessary to sum up that there is still a fairly sizable amount of people in Manila who utilize the Internet, their travels, their relatives and friends from abroad, to access music not distributed in the Philippines.
Plus/Minus is an indietronic trio composed of
James Baluyut
(vocals, guitar, keyboard, producer),
Patrick Ramos
(vocals, guitar, keyboard, drums), and
Chris Deaner
(drums, sampler, video director). If James' and Patrick's surnames sound Filipino, it's because they are. James shares that he was good at Math back in school. Nevertheless, their band's name didn't have anything to do with academics but with sports, since '+/-' refers to an ice hockey statistic used to measure the effectiveness of a player.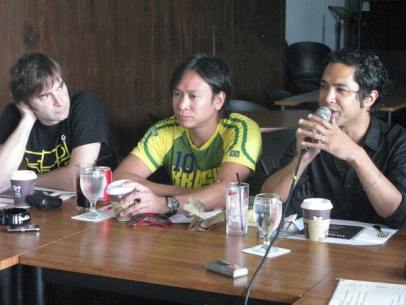 Plus/Minus is Chris Deaner, Patrick Ramos, and James Baluyut
Their music has been likened to the Japanese band, Toe, with obvious influences from the likes of Radiohead, Elliott Smith, Yo La Tengo and contemporary, Death Cab for Cutie. I admire all those artists so anything birthed from the consummation of all those guys, I deem a staple in my iPod. That's not all though, Plus/Minus is 2/3rds of highly influential 4-piece alternative guitar combo
Versus
, which is fronted by James' older brother,
Richard Baluyut
. Both Baluyuts are in town, which makes for a very riveting weekend for us Plus/Minus and Versus fans.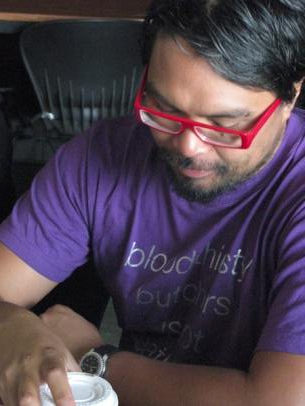 Richard Baluyut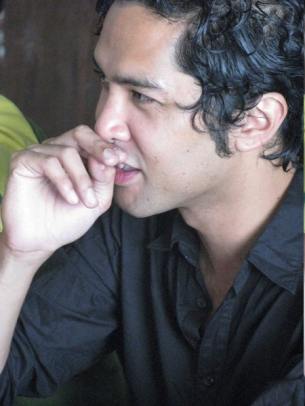 James Baluyut
A press conference yesterday at
Mag:net High Street
revealed the band for the first time in a manner far less intimidating than merely watching their music videos on YouTube, which are most often directed by the multi-talented Deaner. The three Filipinos in the group don't really speak and understand much Filipino but I'm pretty sure we felt kinship, like we always do, when we encounter a fellow Filipino from a foreign land. It's funny but it's not misplaced bias—I must say. The guys are insanely down-to-earth individuals despite their following in USA, Japan and Taiwan. They manage to talk about their music with such an unassuming tone and about non-music related issues with such fascinating detail, that it is impossible not to connect it with their approach to lyricism---which is always fresh but never over eager.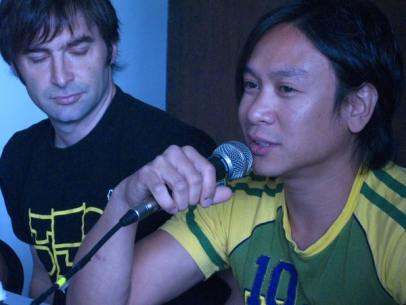 Chris Deaner and Patrick Ramos
At a more informal setting, over fried anchovies (dilis) and vinegar last night at
Mogwai
, Cubao X, Ramos and the younger Baluyut shares not being new to Filipino food, which makes their Japan stop in their "2008 Authentic Asian Food and Beverage Tour" the most standout in terms of exotic cuisine. Apparently, they were served huge, plump bugs there. That's not to say that the band is alien to Japan. In fact, included in their Self-Titled Debut DVD is a snippet from an actual Japanese show called "Indie Jozu," where Plus/Minus' albums have been featured twice. They also have a split EP with their friends, the Japanese punk rock band, Bloodthirsty Butchers. Such is their connection with the country that they have oftentimes toured there with Versus. More so, their latest album "Xs On Your Eyes" was released at an earlier date in Japan, compared to Europe and USA.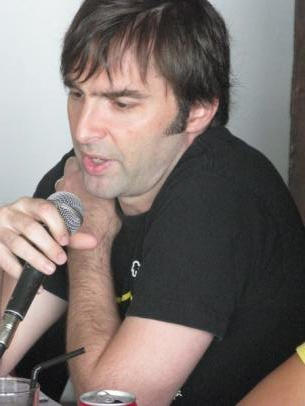 Chris Deaner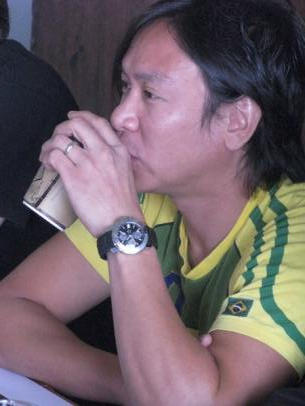 Patrick Ramos
This fourth installation falls under the label
Absolutely Kosher
records, with the lead track "Snowblind" rapidly finding its way to playlists and Myspace profiles. Ramos shares that this album has more of a "band feel," it being easier to be played live now, compared to their previous albums. Baluyut says that it being a studio album made everything more constructed. Personally, I rate a band's maturity based on their ability to coalesce brilliance and excitement into a subdued, tasteful form. Restraint whilst displaying genius is still a formidable trait. Knowing which to add, and which to subtract in the equation—and still arriving at a definite answer—is the real distinction of a true artist.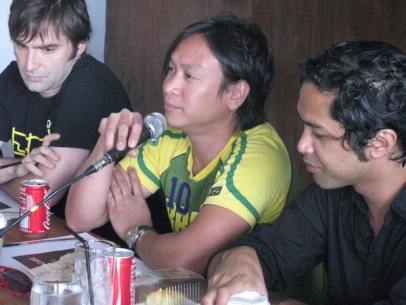 Check out http://www.plusmin.us and the band's MySpace at http://www.myspace.com/plusminusband.