Rap-public of the Philippines Vol. 2
posted on

Wed, 4 May 2005 12:00 AM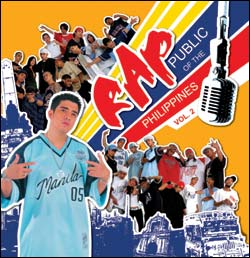 The 90s is considered as the Golden Age of Pinoy Rap with the introduction of hip-hop, beatboxing, and the surfacing of personalities that shape the local rap scene.
One artist who made an impact to Pinoy rap is Francis Magalona, who until now is considered as the Master of Rap. After him, several acts emerged like Andrew E., Denmark, and Michael V. who made rap a major trend at that time.
With the continuous popularity of this genre, noontime show Eat Bulaga introduced a contest in 2002 called Rap-public of the Philippines. The success of the contest to discover new talents led to the conception of the first volume of Rap-public of the Philippines album. It eventually produced hit songs like "Panaginip" and "Palasyo."
Now, BMG Records Pilipinas proudly announces the release of its much-awaited sequel: the Rap-public of the Philippines Volume 2. The album consists of 19 tracks including the carrier single "Doon Lang" by 3 YO Dorobo, which is now receiving massive airplay on major radio stations. Also reuniting to create this impressive compilation are Crazy as Pinoy (Huwad), Kamandag Ng Marikina (H2O), Koponan Ni Batute (Do It 2 Me), Yoza Clan (Alay Na Pag-ibig), Thug Rhyme (Nag-iisa), Pure Flava (Suntok Sa Buwan), Stick Figgas (Imulat), and 9MM (Boses).
One of the album highlights is a special collaboration between Francis M, Pikaso, and Gloc 9 for the song "Ikaw Lang Talaga."
Rap-public of the Philippines Vol. 2 is now available in CDs and cassettes at your favorite record bars nationwide under BMG Records Pilipinas in cooperation with Soundstage and FUBU.