Hopia Mani Popcorn Album Strikes Gold
posted on

Fri, 2 Feb 2007 12:00 AM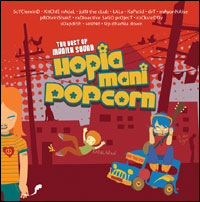 Viva Records' latest pet project, Hopia Mani Pocorn: The Best of Manila Sound, has been taking over the airwaves and record bars nationwide. Viva Records Assistant General Marivic Benedicto and Marketing Manager Bambi Diploma handed the GOLD award to the artists of Hopia Mani Popcorn in SOP last Sunday January 14.
Hopia Mani Popcorn features the best songs from the glorious times of the 70s and have it redone by today's hottest artists. Carrier singles for this album include NO TOUCH by Rocksteddy and IPAGPATAWAD MO by Mayonnaise. Other tracks include
Rock Baby Rock
from Kala,
TL Ako Sa'Yo
by Kitchie Nadal,
Kahit Maputi na Ang Buhok Ko
by Soapdish,
Bonggahan
by 6cyclemind,
Macho Gwapito
by ProteinShake. Other bands include Up Dharma Down, DRT, Radioactive Sago Project, Sound & Join the Club.
Rock Baby Rock
is currently enjoying top spot in MYX countdown while No Touch reigns over the radio countdowns. Other tracks are enjoying extensive airplay as well.
Hopia Mani Pocorn: The Best of Manila Sound
will be having its album launch on February 3 at Eastwood Central Plaza at 8pm. All bands from the album will be performing that night. Hopia Mani Popcorn goodies and special prizes will be given away. For more information visit
Viva Music
.