STAGES talent Sam Concepcion wins in 'Little Big Star'
posted on

Mon, 17 Apr 2006 12:00 AM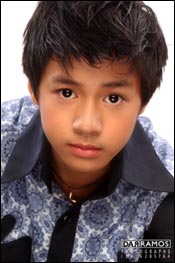 Dubbed Singing Crush ng Bayan, 13-year-old Sam gave a winning rendition of "I Can't Stand Still" from "Footloose the Musical," the highly successful musical produced by STAGES.
The same management team behind Asia's Pop Idol Christian Bautista, STAGES has been with Sam since he was 9 years old. Says theater stalwart and STAGES president Audie Gemora of Sam, "It's all very exciting because right now, he can already sing, dance, act and even host; and he still has all these years to perfect those crafts. By the time he reaches his peak at 17, 18, he will already be very well trained and he's going to be a total performer."
Born on Oct. 17, 1992, Sam started showing signs of the total performer in him at a very early age. He started singing and dancing at age 2 and by the time he was 9, he was already a very able dancer-with Gary Valenciano moves to boot!
Sam further honed his talents when he joined Playshop, the summer workshop for performing arts offered by theater group Trumpets. Since 2002, Sam has been perfecting his skills in singing, dancing and musical theater acting.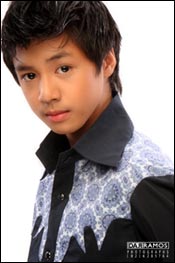 Sam's big break in theater came in 2002 when he played the young Jose Rizal in Musical Theater Philippines' (MUSICAT) "Sino Ka Ba, Jose Rizal?" Just months after, an improved and more confident Sam played Edmund Pevensie in Trumpets' critically acclaimed musical production of "The Lion, the Witch, and the Wardrobe." Over the next two years, Sam starred in two other highly successful productions by Trumpets-"Mr. Noah's Big Boat" where he did the voice of Japeth, one of Noah's sons, and "Peter Pan and the Time Machine," where he played Wendell, the young boy kidnapped by the vicious Captain Hook.
Aside from his projects in theater, Sam has also done hosting stints on TV. He used to be one of the kids on ABS-CBN's "Sineskwela" and was a regular host of ABC-5's "A.S.T.I.G," a Christian children's TV show and of "Whacked," a youth-oriented show by Nickelodeon. In 2004 and 2005, Sam hosted the popular Nickelodeon's Kids Choice Awards.
Whenever he wasn't busy with theater projects and regular hosting gigs, Sam would dabble in commercials. His breakthrough was the Maggi Sinigang sa Miso commercial where he came to be known as the very bibo "rapping kid.""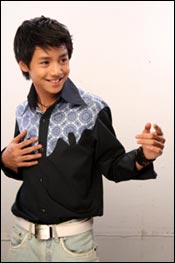 Then came "Little Big Star." With his good looks, high-energy dance moves and singing prowess, Sam was proclaimed the first monthly finalist in the show's Big Division and eventually won the title "Brightest Star.
Among Sam's future projects is a new fantaserye for ABS-CBN, "Super Inggo," where Sam will play Boy Bawang, the superhero idol of Inggo, to be played by LBS Little Division first runner-up, Makisig Morales. Sam is also the new teen wear endorser of a leading clothing company and will star in another Trumpets production, "Joseph the Dreamer," by the end of the year.
Other talents in STAGES' formidable lineup are singing sensation Christian Bautista, theater stalwarts Audie Gemora and Menchu Lauchengco-Yulo, hosts Patricia Evangelista, Gino dela Peña and Bettinna Carlos, and up-and-coming Filipino-American pop artist Ken Waymack. For booking inquiries, call 818-1111 loc. 225.