We all were shocked by the sudden passing of the Black Panther star, Chadwick Boseman last August 28. For four years, the actor battled with colon cancer without making it known to the public. "A true fighter, Chadwick persevered through it all," it was stated on the social media post that broke the sad news.
It was without a doubt that he inspired and made a huge impact on a great number of people from all around the world. As he shared in his commencement speech at Howard University in 2018, Chadwick even early on in his career wouldn't simply accept that a role given to him as a Black individual is stereotypical and misrepresenting. This character of him as a person, along with his charity work, made him even more deserving to stand as the King of Wakanda in the Marvel Cinematic Universe.
While it is clear that Chadwick's influence was most profound when he played Black Panther, he has also played numerous characters outside the MCU. If you're planning to binge all of Chadwick Boseman's films, here are some of the movies that you'd want to start with.
Sep 09, 2020 - youtube.com -

0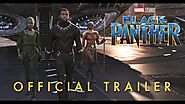 Chadwick Boseman is inarguably best known for his role as the Wakanda's ruler, King T'Challa aka the Black Panther. Many people perceived the MCU flick as more than a movie-- it was a movement. And with such an awe-inspiring production, story, and overall theme, the film and its characters led by King T'Challa have greatly impacted those who always felt contested by the world just because of their skin color.
"But in times of crisis, the wise build bridges, while the foolish build barriers. We must find a way to look after one another as if we were one single tribe." - T'Challa, Black Panther
Watch it on iTunes
2
Captain America: Civil War
Sep 09, 2020 - youtube.com -

1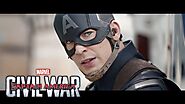 Black Panther debuted in the Marvel Cinematic Universe through the film Captain America: Civil War. And while its story focused on the rift between Captain America and Iron Man, the film's introduction to Chadwick's character was still on the foreground. Bent on revenge, a grieving T'Challa tries to get his hands on the Winter Soldier who was suspected of setting off the bomb that killed his father. But in the final moments of the film, as we see two of our favorite Avengers attack each other, there was T'Challa who finally realized how even the mightiest of heroes can be scathed by such hate.
"Vengeance has consumed you. It's consuming them. I'm done letting it consume me." - T'Challa, Black Panther
Watch it on iTunes
Sep 09, 2020 - youtube.com -

3
In Da 5 Blood_emphasized text_s, four African American Vietnam War veterans reunite in Vietnam to search for the remains of their fallen squad leader Stormin' Norman, played by Boseman, and the gold he helped them hide. Through this film, we get to glimpse the struggles of the African American people who, despite fighting and dying for the American flag during wartime, are still being neglected by their own country.
"We repossess this gold for every single black boot that never made it home. Every brother and sister stolen from Mother Africa to Jamestown, Virginia way back in 1619. We give this gold to our people." - Stormin' Norman, Da 5 Bloods
Watch it on Netflix
Sep 09, 2020 - youtube.com -

0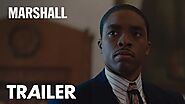 In this biopic, Chadwick Boseman plays the role of Thurgood Marshall, the first African-American Supreme Court Justice, in one of his most defining moments from when he was still a crusading lawyer defending the wrongly-accused people of color. In this case, Marshall must defend African American chauffeur Joseph Spell who was accused of raping a wealthy white woman. Because the judge of the case prohibited Marshall to speak up in court, he must guide his inexperienced co-attorney Sam Friedman on defending Spell's innocence while also overcoming the court's discriminatory views.
"The only way to get through a bigot's door is to break it down." - Thurgood Marshall, Marshall
Watch it on iTunes
Sep 09, 2020 - youtube.com -

1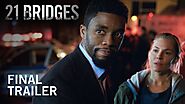 In this action thriller film, Chadwick Boseman plays the NYPD detective Andre Davis who gets caught up in a massive conspiracy while tracking down a pair of cop killers. As the citywide manhunt intensifies, authorities decide to put the island of Manhattan to a complete lockdown by closing the 21 bridges that connect it to the outside.
"You're the only cop tonight who speaks first and shoots second." - Michael to Andre Davis, 21 Bridges
Sep 09, 2020 - youtube.com -

2
In this film, Chadwick Boseman plays the funk music icon James Brown, so expect some amazing musical performances from the actor. It follows the life of the "Godfather of Soul" from his early years living in extreme poverty, his time in prison, and how he found a friend there who helped him out and launch his music career. Viewers can also get to see Brown's positive impact on the Black community, making them see their true self-worth at a time when they needed it most.
"I look after James Brown. You want to know me, I'll tell you. My daddy in the army. My mamma left. No one else helped me. No one else." - James Brown, Get On Up
Watch it on iTunes
Sep 09, 2020 - youtube.com -

0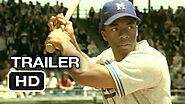 In this biopic set in 1946, Chadwick plays Jackie Robinson, the first modern African American Major League player. At a time when racism is rampant, the Brooklyn Dodgers' legendary manager Branch Rickey breaks down the color barrier in the league by signing up Robinson on his team. As they anticipated, hate from players and fans alike surrounded them but despite this, Jackie finds hope that he and his manager have made a game-changing move that will transcend their time.
"We had a victory of fascism in Germany. It's time, time we had a victory over racism at home." - Jackie Robinson, 42
Watch it on iTunes
Let us know which among these portrayals from Chadwick Boseman spoke to you the most by leaving a comment below.