Jaden Smith stars in the spectacular visual-effects adventure in "The Day the Earth Stood Still" with Keanu Reeves and Jennifer Connelly. A star on his own right, Jaden Smith, son of icon Will Smith and Jada Pinkett plays the role of Jacob, a frightened boy who is swept up in the arrival of an alien on earth.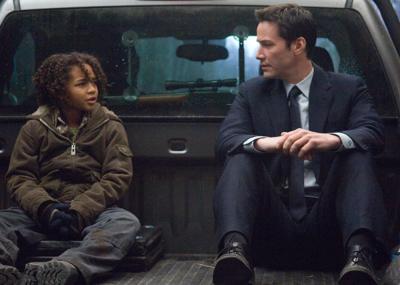 In this thrilling and thought-provoking film, Keanu Reeves is Klaatu, the alien who arrives on earth with a grim and urgent message for humanity. As world leaders decide on a course of action, Helen Benson (Jennifer Connelly), a scientist becomes embroiled in a momentous chain of events, along with her stepson Jacob (Jaden Smith).
Jaden excitedly tells more of his role in the movie and happily talks about his family, interests and hobbies.
Q: What kind of boy is Jacob, your character?
A: "Jacob is confused for most of the movie because he has no idea what is going on when this alien, Klaatu, comes to Earth. Jacob is just a normal kid but one day his life changes when he finds a guy in the car with his mom and does not know who he is. He thinks the guy (Klaatu) is going to be his new dad because his own dad died. But he has it all wrong; this is not a new dad, this is an alien who looks human.
Q: How do things change between you and Klaatu?
A: "I start to trust him. I am about to fall and he catches me and that lets me know that he has a little bit of human inside him; I start to feel really safe with him."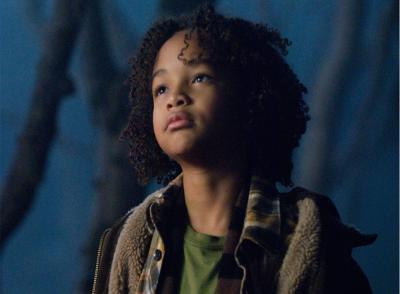 Q: How are you different from Jacob?
A: "We are not the same because if I saw an alien, I would probably not call the police. I'd think: 'We need to hide this thing under a blanket or something'. I would probably be nicer and more excited. Jacob is uneasy about everything."
Q: What was it like having Jennifer Connelly as your on screen mom in the film?
A: "It was actually really cool. She is very nice and I love working with her. We had a lot of fun on the set. She made me feel so welcome. Jennifer's son came to the set and we played a lot. We would talk to each other so I wasn't bored and that was fun."
Q: Tell me about working with Keanu?
A: "He is a really cool guy and a great actor and he is very, very funny. He told me all about the story and the movie and what it was about when we first started work because I didn't really know much about it. I have not seen the original film. He always had a lot of jokes and also made me feel welcome."
Q: What do you think the movie is all about?
A: "The film is really about being kind to the earth and to each other.'"