In the event that the Pope dies, the power of the Vatican resides in his right-hand man, the Camerlengo, until a new Pope is elected. In Columbia Pictures' new thriller 'Angels & Demons,' this key figure is played by acclaimed actor Ewan McGregor (Moulin Rouge!, Star Wars trilogy).
"My character, Carlo Ventresca, is like the Pope's assistant and he organizes the Pope's life," explains McGregor. "And when the Pope dies he is in charge until a new Pope is elected. And tradition has it that he smashes the Papal ring so that it's not stolen or used and he is the one who seals the doors when the cardinals go in to elect a new Pope. When the cardinals go in to elect a new Pope all the doors are sealed — I think symbolically now whereas in the past they really did lock them in there, so he's in charge."
According to McGregor, Angels & Demons is a fast paced thriller that grips the audience from start to finish. "I loved the script because it's a real page turner and it's an old fashioned race against the clock and I love films like that."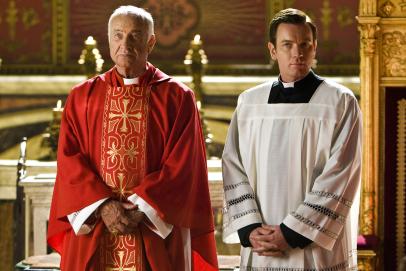 McGregor recalls one key scene where his character has to interrupt the cardinals and deliver a blistering speech warning them that they are in danger. Both the actor and his director agreed that the lengthy speech should be shot in one take, which is not an easy task. Good thing, his recent experience in Othello on the West End stage proved invaluable.
McGregor relished the opportunity to work alongside Tom Hanks and his only regret is that they didn't share more scenes together. "He's such a lovely man and a great, great actor – a legend. We have some stuff together, which was great, but really, our stories run parallel, so he's off elsewhere while I'm doing my stuff. I wish we could have done more."

Opening soon across the Philippines, Angels & Demons is distributed by Columbia Pictures, local office of Sony Pictures Releasing International. Visit www.sonypictures.com.ph to see the latest trailers, get free downloads and play free movie games.