In the original worldwide hit "Night at the Museum," Ben Stiller portrayed a night guard whose new job at the Museum of Natural History pushes him to discover his true potential as he attempts to survive a night in which every exhibit in the museum comes to life… and comes after him.
Stiller reprises his character in the upcoming sequel "Night at the Museum 2: The Battle of the Smithsonian" but in an entirely new situation. He's become a success. As an infomercial inventor, he's attained riches and even a smattering of fame, but he seems to have lost something vital that he can't quite put his finger on. But as soon as he gets drawn into this new and life-changing adventure at the Smithsonian — he's reminded of the importance of friendship and just how great following your wildest ideas can be.
For Stiller, the chance to reprise the role of Larry inside the Smithsonian was a childhood fantasy realized. Non-stop action and adventure awaits and so is Stiller's gab in the following q&a:
Q: In the sequel, how has Larry's character developed?
A: "Here, he is really successful; he is rich and has a different journey, which is about reconnecting with what makes him happy. He still comes back to visit his friends but he's moved on and has become a little distant from the life at the museum."
Q: How different is this from the first movie?
Our weekly highlights and entertainment guides, straight to your inbox
A: "Larry is in a different place this time. In the first movie, I was discovering things and having to react; I can not believe these things are coming to life. This time Larry isn't amazed by the exhibits coming to life because he knows what to expect. The first movie was kind of lonely because it was Larry against the exhibits. But this time Larry has someone to run around the Smithsonian with and that made it so much more fun."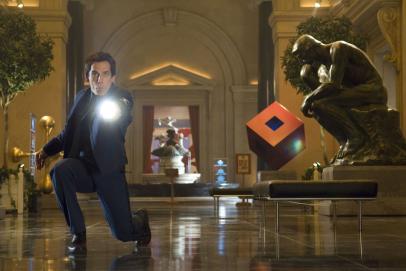 Q: Was history a passion when you were a kid?
A: "Yes, I don't know what it was but I just enjoyed feeling a connection with the past. I thought I wanted to be an archaeologist for a long time. I loved ancient Egyptian history. In fact, I just recently went to Luxor and Cairo in Egypt."

Q: As a father yourself it must be great making a film like this.
A: "My kids aren't that impressed. They see me as their father first and I am really happy about that. I also have to go away to do these movies. So all these things are complicated as parents. It is an interesting balance that you have to strike because you want your kids to enjoy the fantasy of movies but then, as a parent you want them to understand what you do so that you can explain why you are going away when you are leaving to go to work. Small kids don't get it and really there's no reason why they should. You say 'I have to go away to work' and they say 'but I want you stay.'"

Q: Overall, what can audiences look forward to with this film?
A: "An exciting story with so much more going on because the Smithsonian is not just one museum, so there are many different environments. We go into photographs; you see paintings come to life. You see rockets take off and fly around the Air and Space Museum. It is definitely a lot of fun."
Stiller is one of Hollywood's leading comic actors and filmmakers. Show business is in his blood. He is the son of husband and wife comedy team, Jerry Stiller and Anne Meara and as a child began making movies at home on a Super 8 camera. Always interested in films, he originally planned to be a director and is now an accomplished and innovative actor, director, producer and writer.
Stiller directed his first hit movie, "Reality Bites" in 1994. He co-wrote, produced and starred in "Zoolander" in 2001, which he also directed. He has appeared in dozens of hit films including "Flirting with Disaster," "There's Something About Mary," "Meet the Parents," "Meet the Fockers," "Along Came Polly," "Keeping the Faith," "Starsky & Hutch," "The Royal Tenenbaums," "Dodgeball: A True Underdog Story," "The Heartbreak Kid" and "Tropic Thunder."
"Night at the Museum 2: Battle of the Smithsonian" opens May 22 (Friday) in theaters nationwide from 20th Century Fox to be distributed by Warner Bros.