Ben Stiller is back for a new and extraordinary adventure with historical legends who come to life in "Night at the Museum 2: Battle of the Smithsonian." The movie brings back to life familiar and new legends of history when the magical tablet from the Museum of Natural History finds its way to the Smithsonian.
In this second installment of the Night at the Museum saga, Larry (Stiller) faces a battle so epic it could only unfold in the corridors of the world's largest museum. Now, Larry must try to save his formerly inanimate friends from what could be their last stand amid the wonders of the Smithsonian, all of which, from the famous paintings on the walls to the rocket ships in the halls, suddenly have a mind of their own.
The big trouble at the Smithsonian begins when the magical scroll that brings museum exhibits to life awakens Kahmunrah. To play Kahmunrah, Shawn Levy chose Hank Azaria, the award-winning actor with an extraordinary talent for transforming himself into a wide range of characters on stage, television and screen as well as performing an amusing array of voices for such animated hits. Says Stiller of the choice: "Hank can basically do anything with voices and characterizations, and with Kahmunrah he found the perfect balance between playing a truly evil villain and being really funny, too."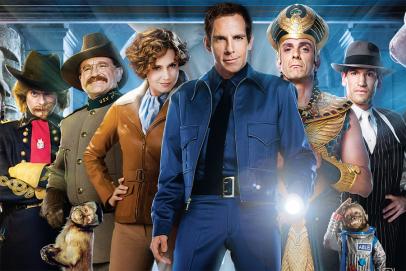 Another character without whom Shawn Levy felt there could no second adventure is Larry Daley's own inspirational hero, Teddy Roosevelt, played with the inimitable comic verve of Robin Williams. This time around, Williams portrays the outspoken 26th President of the United States in several different incarnations, from his wax statue in New York to an oversized bust in D.C.
"To be back as Teddy is wonderful," says Williams. "I've never done a sequel before so I saw it as a gift to have the chance to get back into the character of this remarkable man. There's something empowering and exhilarating about playing this dynamic human being who was not only a President but a botanist, a naturalist, a hunter, an author, a great cook and, according to his wife, a pretty good kisser."
He continues: "I'm a big fan of history – and of not repeating it. I love that this movie might get kids to ask who was Amelia Earhart or Teddy Roosevelt, and realize they're not just statues but were real people with fascinating personalities."
The new environment also was a big draw for Williams. "The Smithsonian is the next step up in grandeur," he says. "The idea of all the stuff in there, from the paintings in the art gallery to the planes in the Air & Space Museum — all coming to life — gives you an endless canvas to play with."

"Night at the Museum 2: Battle of the Smithsonian" will open May 22 (Friday) in theaters from 20th Century Fox to be distributed by Warner Bros.