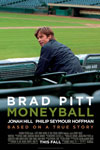 Moneyball tackles a very dry subject. Michael Lewis' 2003 book, with its depictions of baseball management conflicts and detailed analysis of sabremetrics and its effect on the game, doesn't seem to be a natural fit for cinema. But Moneyball turns out to be quite the shrewd adaptation, digging through all the dry data to find a rather compelling story of a couple of underdogs who overcome incredible odds. In short, they've created a rather astounding sports underdog movie.
In 2002, Oakland A's manager Billy Beane (Brad Pitt) found himself in a bind. His star players were leaving the team for greener pastures, and he didn't have nearly enough money to field other strong players. During a visit to Cleveland, Beane meets Peter Brand (Jonah Hill), an economics major with a radical new system that finds undervalued players. Beane decides to go against decades of established player scouting wisdom and adopts Brand's system. The two face plenty of adversity and risk their careers investing in the system, but their radical approach soon revolutionizes the way people looked at players.
The subject is kind of dry, involving the sort of mathematics that tends to make the average person's eyes glaze. And baseball isn't exactly a sport that the country is all too familiar with. Given that, Moneyball does an astounding job of making all that interesting. Some of the nuances of the true story are lost, but the film finds a rich vein of drama in the middle of all the analysis and sports talk. It's framed in baseball, but at its heart it's just a story of a couple of forward-thinkers going up against an entrenched system manned by people who have intention to change.
Besides that, the film creates a powerfully compelling character in Billy Beane. Through him, the film also becomes a story of personal triumph and redemption, the story digging deep into the insecurities that belie his seemingly brash nature. There's plenty of nuance in this story, and it triumphs in this character study alone. Snappy dialogue keeps things moving even when the movie trudges through the statistical minefield, and intelligent direction allows the scenes to really bring the human elements. It's not the flashiest of films, but it gets everything important across.
Brad Pitt is a key component to this film's success. Pitt musters all his charisma to tackle the issues of a once lauded athlete, struggling to find ways to succeed in spite of previous failure. He plays Beane as a person teeming with bravado but also paralyzed by fear. It ranks highly in his already formidable career. He finds great backup in Jonah Hill, who plays Brand as the opposite: a man of little outward confidence, but with full belief in his system. The two share a remarkable chemistry on screen. Phillip Seymour Hoffman also does wonders in a supporting role.
Moneyball is revelatory in how it finds action in sports even outside the playing field. It reveals a more complicated world governed by its own rules and superstitions, with players fighting for more than a single win. The film takes the structure of the underdog sports movie and spins it out into the realm of everyday life, finding the drama in a working man just trying to do his job. The only quibble here is that the movie just isn't equipped to tell the whole story: the A's don't do as well in the following seasons, and Beane now seems to be a shadow of what he used to be. But for the most part, there's something quite compelling about how the film turns his great moment into powerful cinema.
My Rating: