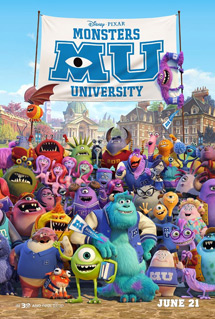 The recent Pixar sequels have all taken a familiar form. Rather than just tell purely original stories, they mimic a familiar film type. Toy Story 3, for example, is a prison break movie. Cars 2 is a spy movie. And Monsters University delivers a G-rated take on Animal House and the myriad of other raunchy college comedies. One hopes that the much-loved animation studio eventually lands on new ideas once again, but for now, what they're delivering is still pretty good. Backed by strong performances and excellent animation, Monsters University isn't revolutionary, but it's still pretty sweet.
Since he was a little kid, one-eyed monster Mike Wazowski (Billy Crystal) has dreamed of one thing: to join the Scaring Program at the prestigious Monsters University. He makes it there, but finds himself underestimated at every turn, especially by the popular James "Sulley" Sullivan. The two form a vicious rivalry, and their antics get them thrown out of the program. To get back in, the two are forced to work together, teaming up with the misfit members of the Oozma Kappa fraternity and attempting to win the campus scaring title.
The film mostly conforms to its setting, playing out as a G-rated version of the average campus comedy. There's a stuffy dean, a fraternity made up of outsiders, and some sort of grand campus-wide event that the characters have to win. When the film lingers in the formula, it isn't all that interesting. It's all clever and funny enough, but transposing these elements into a G-rated milieu doesn't provide any particular benefit. It's a lot of the same jokes, except tamer, and with monsters.
But the film doesn't wholly stick to formula, and it redeems in the end with an almost subversive take on the value of a college education. The film builds on the strong foundation of its characters, delivering an upbeat message that strays from the easy platitudes that children have been hearing for decades now. Mike and Sully are really well developed characters, and though their story has a predetermined ending, the film manages to find clever ways to subvert expectations. It helps a lot that the vocal performances behind them are so compelling. Billy Crystal raises his voice an octave to deliver an endearing adolescent determination. And John Goodman is magnificent in bringing to life Sully's jockish magnetism.
It probably goes without saying that Monsters University looks great. But it's worth saying anyway. One would expect that after all these years, CGI would hit some kind of technical limit. And yet the advancements made in this movie are still awe-inspiring. Pay special attention to the lighting in the movie. It is something that audiences tend to take for granted, but it is a huge part of what can make a scene visually appealing. The lighting in the film is eerily good; perhaps as close to reality as it can possibly be. Then again, there appears to be no technical limit that these animators aren't willing to challenge.
Monsters University can be a little clunky at times. Its adherence to the college comedy formula seems to limit the storytelling at points, the movie veering into classic setups to the detriment of the narrative as a whole. But all in all, the quality of the craft is more than evident. The general lack of new ideas is somewhat dismaying, but it doesn't ruin the effect of the obvious care that was still put into creating this film. It eventually breaks out of the easy rhythms of the cash-in sequel, delivering something a little more special.
My Rating: