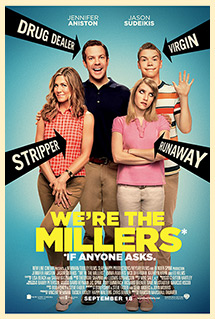 We're the Millers only occasionally gets the chance to be funny. Most of its time is spent on a plot full of holes and contrivances, leading the characters down a familiar path of becoming a family despite their obviously messed up differences. The film can be funny, but it often chooses not to be, adhering strongly to a narrative formula it doesn't seem to respect. The result is a film that only funny sometimes; and what funny it manages to eke out is mainly due to the efforts of its talented cast.
Middle-aged pot dealer Dave (Jason Sudeikis) has his stash and his money stolen by a bunch of street thugs. His supplier gives him a chance to make up for the loss: Dave needs to go to Mexico to pick up some marijuana and smuggle it across it across the border. Noticing that families get waved through pretty easily, he enlists his stripper neighbor Rose (Jennifer Aniston), awkward teenager Kenny (Will Poulter) and runaway Casey (Emma Roberts) to pose as his family. What ought to have been a simple trip gets complicated really quickly, as Dave contends with his new family members, a nosy couple, and an angry drug kingpin.
The film's plot concerns the characters becoming an actual family, despite early antagonism from all sides. It's a tried-and-true setup, but the film hardly seems committed to making it work in any organic way. Much of the conflict arises from Dave being terrible to his new family, which never really makes much sense. It's hard to see the thread between the easygoing if acerbic pot dealer of the opening moments and the mean authoritarian jackass that governs the rest of the movie.
The contrivance of the conflict makes the eventual reconciliation ring false. The film seems to recognize this, and barely makes an effort to sell the sentiment of that crucial moment. The film is much more palatable when it isn't so concerned with the primary plot. There's some funny material in here, mostly concerning the characters falling into their presumed roles while still applying their misfit sensibilities. It's all kind of fun when the characters are just hanging out, becoming the family that they never intended to be.
The humor is buoyed by terrific comedic performances. Jason Sudeikis is perfect in this role, with that naughty gleam in his eye belying his staunchly midwestern exterior. He can't commit to the sentiment in the end, either, but he makes a lot of this film funny. Jennifer Aniston is never given enough credit for her ability to land punchlines, but she's always had terrific timing. She doesn't quite fit the role of down-on-her-luck stripper, but her timing does help out quite a lot. Will Poulter and Emma Roberts are pretty good as well, with Poulter in particular able to balance the sweet and the funny in a way that the rest of the movie can't.
We're The Millers ends with a series of outtakes that reveal that the cast deserves a lot of the credit for the punchlines. It appears that the writers basically laid out a rickety skeleton of a plot and simply hoped that their talented cast would be able to fill it in. And to some extent, they do. The film is occasionally quite funny, with small moments that reveal a comedic sophistication unavailable to the bigger set pieces. But those moments are far and few in between. The rest of it is that same skeleton of a plot, where contrivance rules and characters don't quite make sense.
My Rating: