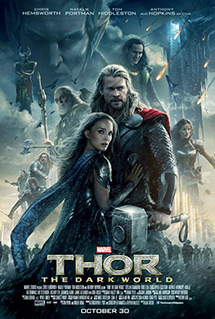 Thor: The Dark World, as with all the Marvel Studios films, doesn't really exist as its own movie. It's part of a bigger whole, and is thus tasked simultaneously with telling its own story while setting up what's yet to come. The previous movies have all had their flaws, but they always seemed to prioritize the former rather than the latter, each film given its own distinct personality. Thor: The Dark World feels different. It lacks definition, reducing the plot to a smokescreen for all the larger business in the background.
Thousands of years ago, the Asgardian king Bor defeated the dark elf Malekith (Christopher Eccleston), preventing him from using the ancient artifact known as the Aether to plunge all nine realms into darkness. In present day, Malekith awakens from his hidden slumber, and returns to reclaim the Aether and once again attempts to destroy the nine realms at their most vulnerable point. And it just so happens physicist Jane Foster (Natalie Portman) stumbles into the long buried artifact. The Aether enters Jane, putting her life in danger. Thor (Chris Hemsworth) returns to Earth and brings Jane to Asgard, hoping to save her. But in doing so, he brings Malekith right to his doorstep.
The film adheres to a very basic formula: bad guy looking for some kind of powerful weapon, good guys trying to stop said bad guy. This is a solid enough framework for a movie, but it tends to need a lot of flavor to make any of it memorable. This is exactly what Thor: The Dark World lacks. Its plot is kept excruciatingly generic. Malekith feels very much like a stock villain, interchangeable with dozens of others exactly like him. The peril isn't very well defined, which makes it hard to grasp the stakes in any given scene. We know that the good guys are doing certain things to stop Malekith, but we never really know what effect those things are meant to have. Everyone's just doing stuff, often in the most generic way possible.
The film operates on the presumption that an excess of bombastic computer-generated imagery can stand in for narrative detail. And to an extent, that is true. It certainly doesn't hurt that there's a lot of pretty things to look at, and that the fights feel ridiculously big. But every blockbuster nowadays offers plenty of computer-generated mayhem. It is in the more analog side of the equation that a film can find a measure of distinction. The few scenes that have the brothers Thor and Loki working out their relationship offers a bit of actual intrigue, but the rest of it feels like stalling for time until the next big fight.
Director Alan Taylor doesn't offer much in the way of directorial flourish. He shoots the movie much more conventionally than Branagh did, the film only really coming to life when people are hitting each other. The cast is still a major plus for the picture. Chris Hemsworth sometimes swallows his lines, but he carries the character's burden well. Tom Hiddleston is still terribly charismatic as Loki. He isn't given as much time as the character seems to deserve, but he makes great use out of the time he's given. He certainly makes Christopher Eccleston seem really wooden in comparison. Natalie Portman is still stuck with playing a weakly defined character, but she makes a lot of it tolerable.
Thor: The Dark World is the first of the Marvel films that doesn't really seem to have much of a purpose beyond setting up what's coming next. It mostly concerns itself with moving pieces into place, using a really generic plot as cover for all that setup. It is, as blockbusters go, still fairly competent, and it benefits from the fact that these characters are already well established. But it does feel utterly forgettable, with so little in it that defines it as its own movie. It is a featureless lump of computer-generated imagery, the movie basically living off its license.
My Rating: