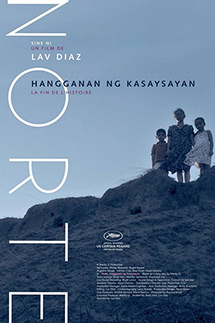 Lav Diaz makes films about the Philippines. That statement may sound like a very basic fact, but it takes on a larger meaning with Diaz. With every new film, there is an active attempt to capture the zeitgeist, to traverse the metaphysical landscape of the nation. His films are a document of who we are, where we come from, and where we're headed. This is why his films are long. It is not simply that his films take their time, though they do. It is that they cover so much, often combining real events with literary and artistic allusion to create a starting point for a thorough examination of the national psyche. Norte, Hangganan ng Kasaysayan is another film about the Philippines, in the most profound sense one can imagine.
The film takes place in Ilocos Norte. Fabian (Sid Lucero) is a law school drop out who spends much of his time talking idly about revolution. He espouses a radical philosophy that would employ violence as a remedy to injustice. His philosophy is tested when he resolves to murder his usurious landlady. He manages to get away with it, fleeing to Manila after alienating his friends. The guilt for the crime falls on Joaquin (Archie Alemania), a poor pirated DVD vendor struggling to make ends meet after an accident keeps him from working. While Fabian deals with his guilt in Manila, Joaquin rots in prison. Meanwhile Joaquin's wife Eliza (Angeli Bayani) continues to try and make a living for their family.
It might be helpful to note that the film is startlingly accessible. At 250 minutes, it is still undeniably long, but it is manageably so. And it's not really that much longer than some of Hollywood's output at this point. In exchange for the extra patience, the audience is rewarded with a fairly propulsive psychological crime story, one that works within the boundaries of the country's uniquely broken justice system. The film takes its cue from Dostoevsky, but it wryly separates the crime from the punishment. This is a portrait of the Philippines' particular brand of injustice; one built atop a history of endless inequality.
Diaz's expansive approach to cinema creates an experience that goes beyond the simple pleasures of plot. He conveys a richness of thought that cannot be summed up in narrative. This is a portrait of the country as we are now, expertly constructed from pieces of the national psyche. In its four-odd hours, Norte explores the nation's relationship with violence, depicts the lack of justice available to the poor, touches on the emptiness of some religious experiences, portrays life in the prisons, digs into the tyranny of family, holds philosophical discussions about our history and plays out a vast, crushing cosmic joke founded on real life tragedy.
This is all put together quite neatly as well, with a really technical package. The acting is stellar. Sid Lucero's intensity is put to great use as he plays out Fabian's descent into inhumanity. But the most remarkable aspect of his performance lies in his charisma, which makes the character seem all the more dangerous. Archie Alemania largely keeps his head down as Joaquin, making his bursts of emotion all the more effective. And Angeli Bayani is simply phenomenal as Eliza, the actress embodying the quiet mix of resolve and despair that characterizes the nation as a whole.
Norte, Hangganan ng Kasaysayan is probably the best film to start with if one is interested in looking into Lav Diaz's excellent filmography. Its length, though still formidable, is more than manageable. And its story is actually fairly straightforward. Most importantly, however, it is the rare Lav Diaz film that people will actually have access to. It remains a challenge to find a venue willing to screen Diaz's films. That it is screening at all, even in its current limited capacity, is an opportunity not to be missed. Norte is a powerful film that digs into every nook and cranny of our sad little republic, providing the kind of examination that has become increasingly rare in a nation so willing to forget its history.
My Rating:


—
'Norte, Hangganan ng Kasaysayan' will have special screenings in Ayala Cinemas throughout March:
March 11 Trinoma Cinema 4
March 18 Ayala Center Cebu Cinema 2
March 25 Greenbelt 3 Cinema 5
March 31 Glorietta 4 Cinema 1
All screenings start at 6:30pm, and will be shown with English subtitles. Rated R13 by the MTRCB. Visit Sureseats.com for ticket reservations.