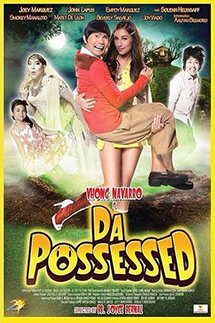 The first possession in Da Possessed takes place an hour into the movie. One would think that a movie called Da Possessed would be chock full of possessions, but this is not the case. It is concerned with many other things, very few of which actually matter in the long run. At times, it feels like the film is just making it up as it goes along, painfully stretching out random inanity and calling it a plot. It grows pretty tedious, and it upends what little appeal it has by going for cheap jokes.
Ramon (Vhong Navarro) has been seeing ghosts all his life. As a result, he's grown up a coward. When he sees anything remotely spooky or surprising, he runs back home and jumps into his mother's arms. To help his family keep their house, he puts aside his fears and gets a job as a landscape artist at a construction site. While on the job, he unwittingly frees three spirits seeking revenge on Don Demetrio (Joey Marquez), the owner of the property. The spirits use him as an instrument of their vengeance, possessing his body in order to carry out their plan. The film takes its sweet time getting to the point. There's really no reason that the film should be two hours long, but it is. The plot hardly moves in the first hour, the film largely wasting its time on long, pointless gags. Some of the ideas are funny, and the actors are certainly committed to their comedic conceits. But more often than not, scenes over stay their welcome. They drive jokes into the ground, wearing out the humor and the novelty through sheer repetition. What might be funny once is rarely funny the second time around. The fifth iteration is intolerable.
When the movie does get going, it refuses to make any sense. The movie never really gets around to explaining why the ghosts need Ramon in the first place. At one point, the ghosts are granted the power to levitate people, and hold them in compromising positions. And yet, rather than exercise this ability to further their revenge, they spend all their time mucking around with Ramon and his family. The plot as a whole is executed so halfheartedly that they really shouldn't have bothered anymore. It keeps introducing ideas that it doesn't follow up on.
Vhong Navarro does a fair Jerry Lewis impression in his portrayal of the cowardly Ramon. His talent for physical comedy is used well enough, his commitment to bits often overcoming the obvious limitations of the production. A throwaway reference to his recent troubles really taints his involvement however. After all the hullabaloo about how he was wronged, it seems pretty reprehensible to play that off for laughs. Solenn Heussaff continues to be effective in comedies, thanks largely to her willingness to look silly.
Da Possessed is a pretty bad movie to begin with. It is far too long, and too much of it feels lazy thrown off. But it lost all my sympathy when it made reference to Navarro's current case. It's wholly unnecessary, and it gives the entire project a taint of cheapness. This is standard operating procedure for local mainstream comedies of course. Few can go without breaking the fourth and referencing something in the news concerning its stars. But we shouldn't have to put up with that. It's cheap and awful and we all deserve better.
My Rating: