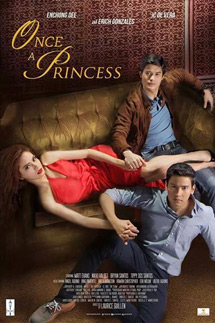 Once a Princess begins at a high school dance, and somehow ends with people pointing guns at each other. The film is given the unenviable task of connecting those two dots, turning a case of young puppy love into something worth killing over. It's difficult to imagine the film could actually pull this off. Once a Princess isn't that film, its approach entirely too simplistic to handle the strange balancing act between realistic conflict and full earnest romance.
Back in high school, nerdy, unassuming Leonard (Enchong Dee) managed to win the heart of Erin (Erich Gonzales), the "campus princess" of Gibbons International School. But Erin ended up breaking his heart, choosing to be with Damian (JC de Vera) the son of a wealthy congressman who could provide salvation for her ailing, bankrupt family. The movie then moves six years later. Erin and Damian are married and barely scraping by. Erin decides to get herself a job to earn money while Damian is sidelined with a leg injury. Her boss turns out to be a much-changed Leonard, and he's looking to show her just how different he really is.
The film doesn't really do a good job of selling either side of this romantic triangle. On the one side, you have a paper-thin villain whose love for Erin is never really explained. On the other, you have a petulant young man willing to abuse his position in order to get back at the girl who broke his heart back in high school. And in the middle is Erin, basically a golden prize to be fought over by these two terrible people. It's difficult to find much of a reason to care either way. The movie speaks in the language of romantic absolutes, but none of it is actually very romantic.
This might have been interesting if the film was more willing to wallow in the shades of gray that exist within this tricky situation. It would have been more interesting if Damian wasn't such an absolute tool, or if Erin wasn't such a victim. But the story never really gets around to turning them into real people. It instead spends more time detailing the features of a fictional app that doesn't even really seem all that useful. The film refuses to function in the real world, skewing operatic even as it deals with a conflict that requires a little more real world finesse.
Enchong Dee and Erich Gonzales prove to be a big part of the problem. Neither really seems mature enough to handle some of the bigger lines. It's especially obvious when the lines are in English. Everything comes out stilted, the actors unable to access the sentiment behind the words. The two certainly have ample chemistry, but this story isn't really served well by their combination. JC de Vera meanwhile is stuck playing the same one note over and over, the character resisting any attempt at definition.
Once A Princess is a good story in theory, but that isn't what plays out on screen. It just feels like a lot of people overreacting, the romantic side of this equation never really compelling enough to justify the story's operatic turns. There just isn't enough focus on how these characters actually love each other. The film gets too caught up in the details of this rather absurd plot and fails to build up the atmosphere of emotion.
Our weekly highlights and entertainment guides, straight to your inbox
My Rating: